kaibabylon
Member since Jul 21, 2016

Male
Phoenix , Arizona
Block user
Recent

Jul 15, 2021 at 7:20
Jul 15, 2021
Letter from the Editor: Pinkbike's Next Chapter with Outside
I have a stack of old Dirt Rag mags, MTB action, glad I saved them. I used to love Outside mag, but it is clearly an advertisement rag almost entirely now. Overall this is good, Ill ride more again, everything seems to be saying, "put the computer and phone down and go outside"

Jul 20, 2020 at 9:19
Jul 20, 2020

Jul 17, 2020 at 8:32
Jul 17, 2020

Jun 23, 2020 at 11:06
Jun 23, 2020

Selling
May 26, 2020 at 13:42
May 26, 2020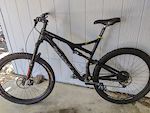 $1350 USD
Salsa Spec sizes and geometry: https://salsacycles.com/bikes/archive/2015_horsethief_carbon_1 Good shape, parts in good to shape. No major wrecks for me. I cut the seat post tube down 1/2 inch or so, seat tube was very high. I put 140mm new Manitou forks on last year or year before. Works great, I think 130mm is recommended factory max though. Forks are 29+ compatible. No major frame gouges. As far as I can see no cracks. Good components shape, new grips, Chris King BB and Headset. Negatives: Creaks at shock to frame pivot or that is where I think I hear it. Rims are narrow but they hold their true well, I am pretty mild rider though. I cut the seat tube down a tad. Not a big deal, but just have to disclaim as it is carbon frame. Buyer assumes risks. Selling because I have two bikes, really do not need them both. Local only, could meet somewhere if your in Flag, Phx, or Sedona. Located in Prescott. use pinkbike dm 2015 Carbon Salsa Horsethief XL 29" rims Tubeless Shimano XT Brakes XT Deraileur 1x11 spd WTB Seat New Shimano SLX Cranks Chris King Head Set Chris King Bottom Bracket Manitou Machete Front Shocks, 29" or 29"+ compatible 140mm Rock Shox Rear shock. Alex Rims Salsa Hubs Durox Handlebars Conti Front Tire, Tioga Psycho Rear Salsa Seat Post Clamp New Grips Profile design stem, new. Pedals, generic plastics.

Selling
May 26, 2020 at 9:31
May 26, 2020

May 9, 2020 at 7:46
May 9, 2020

May 8, 2020 at 17:25
May 8, 2020

May 7, 2020 at 19:21
May 7, 2020

May 6, 2020 at 18:21
May 6, 2020
Load more...