keenerob
Member since Jun 5, 2020

Male / 21
Hendersonville , North Carolina
Block user
Recent

May 12, 2021 at 6:16
1 day

Selling
May 12, 2021 at 6:15
1 day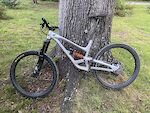 $4500 USD
Don't mind the dirt in these photos. Bikes in great shape. Clear ride wrap in all the right place on install. I've weeded it a couple times but no hard crashes. SHIMANO XTR SRAM CODE RSC brakes, 200mm rotors FOX 38 Elite FOX DHX2 with a bunch of different spring rates available CANE CREEK Headset, RENTHAL fat bars, ONEUP 210 dropper post. Stock e13 wheels or these new DT Swiss ex1700s, in which case, tack on another 900 to total price. Seat included, no pedals. Shipping and fees included.

Jan 10, 2021 at 18:20
Jan 10, 2021

Jan 9, 2021 at 14:59
Jan 9, 2021

Selling
Jan 9, 2021 at 14:58
Jan 9, 2021

Dec 15, 2020 at 18:51
Dec 15, 2020

Selling
Dec 15, 2020 at 18:49
Dec 15, 2020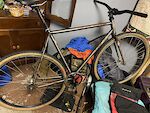 $1700 USD
Beautiful rust. Frame protector installed inside. New sugino 75 crankset bb, cane creek headset, Thompson seat post. Bunch of options for cockpit, let me know your preference. Velocity blunts or deep Vs, fixed or ss. 2000 shipped.

Dec 15, 2020 at 13:24
Dec 15, 2020

Selling
Dec 15, 2020 at 13:23
Dec 15, 2020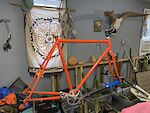 $700 USD
700 for frameset, Chris king headset, campagnolo bb crankset and front brake TT is 57 so it's like a 58. really easy geometry to fit your preferences Can build it complete as fixed gear or single speed with velocity deep v wheels and whatever other components we've got. That'll b 1000. I don't have spare components to make it geared right now Buyer pays fees, shipping. Usually takes me a day or two to get in on its way. Mild wear to paint, owner tried to remove crosscheck logo as shown, generally great shape.

Nov 20, 2020 at 10:24
Nov 20, 2020
Load more...