There are few trails in North America as radical as the Seven Summits. Built in the early 2000s as an adventure amenity to the small mountain village of Rossland, British Columbia, the IMBA Epic sanctioned Seven Summits has since become one of the most sought-after mountain bike trails on the continent. Traveling nearly 50 kilometers across seven peaks, through spectacular terrain on technical singletrack, the trail served as the ideal location to showcase Kona team riders
Barry Wicks
and
Spencer Paxson
in the second and final installment of
Kona's House of the Big Wheel
film shorts.
The goal of this piece was simple: to show how the Scandium
Hei Hei 29 Supreme
and the all-new carbon fiber
King Kahuna
hardtail are designed to excel against the rigors of the Long Sweet Ride. In this case, it meant having longtime Kona Team rider Barry Wicks hammer his 3-time BC Bike Race and 2011 TransRockies winning bike of choice, the Hei Hei 29 Supreme, while, Spencer Paxson, who was recently named to the US Olympic Long Team, twisted it wide open on a freshly minted King Kahuna 29-inch wheel hardtail.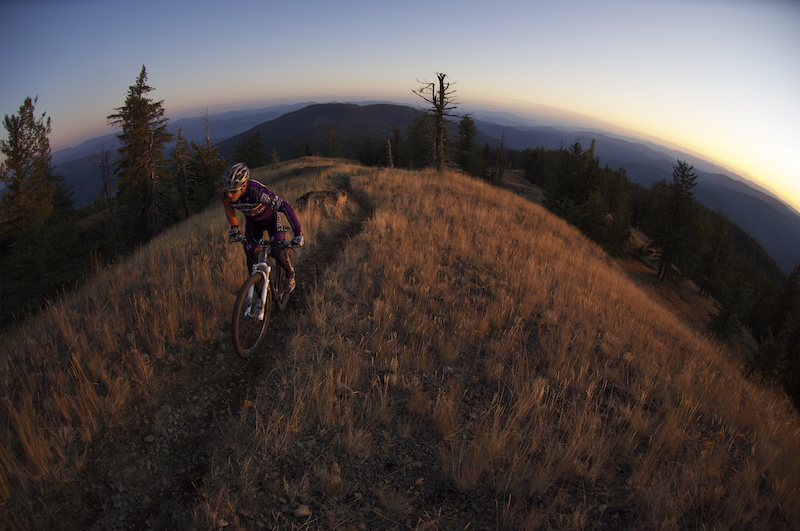 Spencer Paxson hammering up a Seven Summits sunset. Photo: Derek Frankowski
| | |
| --- | --- |
| | In three days of shooting we probably rode over 100 kilometers of singletrack. This was definitely the most fun, most demanding XC trail I've ever ridden. To ride it on a bike this quick and light was a dream. - Spencer Paxson |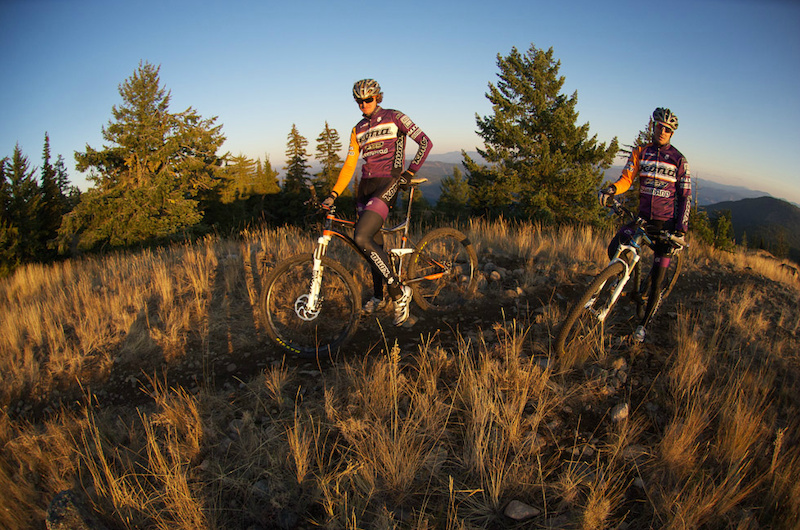 Kona Team trail shredders, Barry and Spencer. Photo: Derek Frankowski
| | |
| --- | --- |
| | To film XC athletes in spandex and short or no travel XC bikes just blazing high alpine singletrack at full gas from a helicopter is going to blow people away. Mountain biking is not just about getting rad on jumps, or shredding the gnar. It's about getting rad period, and I think we are showing another way to do just that. For us, it's about going out and just hammering it all the way to the floor every time, no matter what. - Barry Wicks |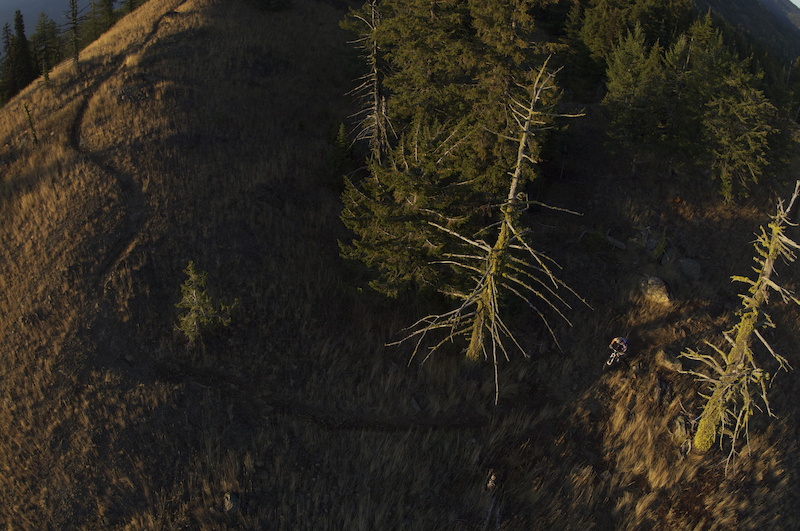 Spencer Paxson. Photo: Derek Frankowski
Shot over three beautiful fall days, with the first skiff of snow to hit the mountains of the Rossland Range this season, the resulting film is a look at what these bikes were both ultimately built for. No matter how technical or physically demanding the terrain, our 2012 House of the Big Wheel steeds are all about letting your inner animal run wild.
Make sure to watch
Wicks
and
Paxson
explain the bikes behind the business.
Watch House of the Big Wheel - Episode 1, the Honzo and Satori edit