kootenayrider
Member since May 30, 2005

Male / 47
Kamloops , British Columbia
Block user
Recent

Apr 28, 2022 at 8:11
Apr 28, 2022

Apr 22, 2022 at 10:58
Apr 22, 2022

Apr 19, 2022 at 17:39
Apr 19, 2022

Selling
Apr 19, 2022 at 17:39
Apr 19, 2022

Selling
Apr 19, 2022 at 17:33
Apr 19, 2022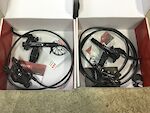 $280 CAD
Used for a few rides - from Large 2021 Norco Optic C2 Shimano build. Excellent shape. No rotors. Will ship at buyers expense. Thanks

Selling
Apr 19, 2022 at 17:27
Apr 19, 2022

Nov 3, 2021 at 9:24
Nov 3, 2021
Video: Mahalo My Dude at Whistler Closing Weekend 2021
Life is short - at the very least consider even spending maybe a month or longer there to 'feel' it out. There is such a thing as the 'grass is greener syndrome' though. Most of the times those vacation spots can seem to be the ideal area to move too but once moved, the reality can be much different. Having grown up in a tourist town and lived in a couple others, I've seen it all too often where people give it all up to move to their dream town but don't last long. Not everyone of course but a large %. Definitely worth exploring though as it might be all you've dreamed!

Oct 23, 2021 at 17:21
Oct 23, 2021

Afternoon Ride
13.6 km - 01:01 - 4 achievements
Load more...