ktrubin
Member since Oct 2, 2011

Male / 38
Houghton , Michigan
Block user
Recent

May 8, 2020 at 5:49
May 8, 2020

Apr 23, 2020 at 7:04
Apr 23, 2020

Selling
Apr 23, 2020 at 7:03
Apr 23, 2020
$10 USD
Selling: 6-pairs Crank Brothers Pedals. All $$ will go to local trails clubs. ---Edit---all sold with the exception of the gray Candys. I have been accumulating Crank Bro's pedals. 6 pairs at this point. Would like to get a few bucks out of em and donate the money to Copper Harbor Trails. I honestly don't know what these are worth so make some offers but keep it reasonable. Open to offers for the whole lot. I'm not listing prices but won't accept any lower than $10 per pair and nothing higher than $35 will be accepted per pair. Would like to get a couple bucks more for the mallets than $10 but I'm sticking to my $35 max. You cover shipping. Pics are of one pedal of the pair. CB Mallet 2: Used. Life left but cosmetically blah. Will need a rebuild. CB Mallet 2: Used. Life left. rebuild after another season. CB Candy 1 Blue: These are the best of the lot in great shape. CB Candy 1 Gray: Used. Rebuild after some more riding. Pretty good shape. CB Eggbeater 2: Good shape. Some rust on one pedal for some reason. Otherwise function excellent and have a couple seasons of riding before a rebuild. CB Eggbeater Original: Heavier but almost new. Comes with box and cleats. I also have two additional sets of cleats. First two to buy pedals get the cleats.

Sep 8, 2018 at 18:58
Sep 8, 2018

Selling
May 6, 2018 at 19:06
May 6, 2018

Selling
Sep 4, 2017 at 18:17
Sep 4, 2017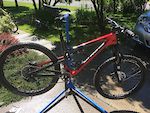 $2500 USD
Good shape large Rocky Mountain thunderbolt. Full carbon goodness. Built up as a workhorse and really kind of "agroed" out with a bigger fork, 1x, etc. Built it to ride like the Thunderbolt BC. Seriously great bike but it's time to try something else. -near new race face aeffect cranks, 1x. Cranks were new toward the middle of last year. -slx brakes -xo 11 speed cassette and derailleur, pretty amazed with how this has held up. -Stans flow wheels -35mm oversize Easton haven carbon bars, 760??? ish in width. None of that 31.8 stuff ;) -hilo dropper-125. Little play on top couple mils -Pike fork currently set to 140. Smooth as butter. Small blem on top of fork crown (not on stanchion) -Fox Performance Elite shock w/ remote two stage lockout....thought I would never use this and I use it every ride. -Don't know the weight off the top of my head but probably in that 26-27 range. It's light for full squish that's for sure. Only thing that won't come as pictured is the front tire. Will come with a High Roller II. Very well mechanic/shop maintained bike. Reasonable offers accepted. I bought this to be my do it all bike and it hasn't let me down. It's light, snappy, slack enough to get a little rowdy and with ride 9, Geo changes are quick. Because of its short rear end a lot of people think this bike behaves like a 26" bike (playful) but is as fast as a 29" bike. Do your century then ride some lifts. Review here sums it up, but mines built a little more stout than this; https://www.bikehub.co.za/features/_/gear/reviews/review-rocky-mountain-thunderbolt-750-msl-r4545 Let me know if you need more pics or have questions. Asking $2500.

Aug 27, 2016 at 18:41
Aug 27, 2016

Selling
Aug 27, 2016 at 18:40
Aug 27, 2016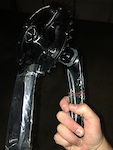 $45 USD
165mm, Press fit/BB30, new X5 cranks. Take off, never used. What ya see in my crappy pics is what ya get :). Great for a back up, kids bike...yada yada. They're cheap, I can tell ya that.

Aug 27, 2016 at 18:15
Aug 27, 2016

Selling
Aug 27, 2016 at 18:14
Aug 27, 2016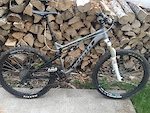 $1400 USD
**Email for better photos if you're interested. Selling my Kona Precept from a couple years ago. Here's Kona's description, but my bike has almost nothing stock on it: http://2014.konaworld.com/precept_dl.cfm Basically, I wanted a Kona process back in 2014 but nobody had one in stock...this was the best alternative. Upgrades include: -Xfusion Hilo Dropper Post (came with rigid seat post) -Lock on grips -WTB i23 wheels (lighter/stiffer than stock) -Rock Shox Revelation RCT3 Damper (a much lighter, much better feeling fork than stock---has the nicer RCT3 damper) -1x10 x9, wolf tooth converted drivetrain with clutch derailleur (lighter, more efficient drivetrain). -Deore brakes (slightly better than what came stock) Bike will not come with pedals and will come with different tires than what you see (probably a Maxis Ardent and a Nobby Nic). Couple notes on price. It's $1,400 unless: -If you do not want the dropper post (which is probably due for a rebuild) you can take $75 off the price. -I can throw in Crank Brothers 740mm carbon handlebars for $50 -I can throw in Shimano XT brakes for an extra $100 (otherwise, it will come with Deore's This bike is in excellent working condition and has been well maintained. The frame is literally almost flawless, forks is as well. Cranks are in very good shape. Bottom bracket is probably nearing end of it's life (probably could grease and re-install one more time). Wheels are perfect and true, hubs just rebuilt. This is a great bike for the money. Best fits people up to 6 feet tall (sweet spot would be 5'8" to 6'. Best offer. Message for more information. Shipping is an option, but will run an extra $100 to $150 depending on where you live, and will take me a week or so to get it packed up.
Load more...