kurt-heering
Member since Aug 26, 2010

Male / 24
Tsawwassen , British Columbia
Block user
Recent

Selling
Nov 5, 2018 at 11:09
Nov 5, 2018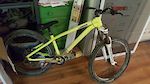 $1000 CAD
Great shape, very unique and rare frame. Used to belong to brendan howey. Rides great lots of fun for skate parks and pump tracks. Need gone asap. Currently 10 speed set up. Lots of new parts on it.

Nov 5, 2018 at 11:05
Nov 5, 2018

May 22, 2016 at 21:00
May 22, 2016

Selling
May 22, 2016 at 20:56
May 22, 2016

Selling
Jul 16, 2015 at 18:57
Jul 16, 2015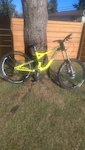 $2800 CAD
Need gone asap. Price is 2800$ firm, I paid over 6000$ new for this build and has barely been ridden. all the parts are perfect or in near perfect shape. Aside from the rims which have a few dings in them, but nothing major. the frame and cranks have been covered in protective tape since day 1 and are both in amazing shape. I am willing to ship at the buyers expense but low balls will be ignored... even if I get my asking price I will still be losing money... No trades. I don't want your x box, bmx bikes or hockey gear... WIll consider trading and adding cash for an e36 M3 or an e30. but nothing else. all parts are 2015 or newer and the bike rides awesome. The big wheels plow over everything while marzocchi keeps things smooth and plush, but the bike is still jumpy and lots of fun to throw around! Commencal supreme dh 27.5 size large Marzocchi 380 c2r2 with firm spring Marzocchi moto r2c with 400 pound Obtanium TI spring (fox bushings) front wheel: WTB i23 rim on hope pro 2 hub rear wheel: ( no rear rim included) hope pro 2 hub (sounds orgasmic) raceface sixc cinch cranks with 32T narrow wide ring Shimano DX pedals (will include straitline flats as well) raceface sixc seat post and atlas post raceface atlas cockpit/half nelson grips shimano saint rear mech and saint shifter shimano zee brakes maxxis minion tires (will include a fresh set of mud spikes) gamut chain guide UPDATE: THERE IS NO REAR RIM INCLUDED. DAMAGED IT A MONTH AGO AND HAVE NOT RIDDIN OR REPAIRED OT SINCE. THE RIM IS THE ONLY THING MISSING ROM THIS BIKE. I can email more pictures if needed. thanks for looking.

Jul 16, 2015 at 18:32
Jul 16, 2015

Jul 8, 2015 at 19:24
Jul 8, 2015

Added 1 video
Jun 15, 2015 at 20:48
Jun 15, 2015

Selling
Jun 8, 2015 at 21:13
Jun 8, 2015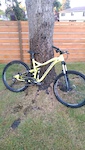 $1900 CAD
2014 Norco sight in good shape. no cracks or dents just a small scratch or scuff here and there. 27.5 wheels. has a lot of new parts. in a rush to sell so im open to reasonable offers. this bike is shred ready and can handle anything you can throw at it. im 5'10 and the bike fits perfect. it climbs and descends well. bike has been ridden for 1 season. but was not my main bike so its still in good shape. fork- Manitou minute wheels- brand new race face turbine tires- brand new shwalbe mountain king brakes-avid db1 - lots of life left brand new raceface 35mm atlas cockpit shimano slx clutch deralieur and zee shifter with fresh cable. titanium straitline amp pedals raceface narrow wide ring and straitline chain guide brand new raceface aefect seat raceface half nelson grips rockshox rear shock deore cranks, bb creaks a bit but nothing major. brand new chain

Jun 8, 2015 at 21:01
Jun 8, 2015
Load more...