lalomata
Member since Apr 15, 2015

Male / 49
Madera , California
Block user
Recent

Aug 21, 2018 at 11:17
Aug 21, 2018

Selling
Aug 21, 2018 at 11:17
Aug 21, 2018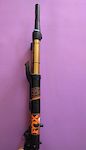 $600 USD
Selling my 2017 Fox 36 talas 140/160mm fork with three-position adjustment (climb, trail, descend) Used for three months and has minor cosmetic scratches. Doesn't affect its performance though, practically runs brand new. Selling because upgraded to wheels that require boost. $600 OBO. Buyer pays shipping and other fees. If local, available for pickup. If within driving distance with some sick trails, might be able to work something out also. Please call or text if interested.

Apr 29, 2016 at 12:37
Apr 29, 2016
Pinkbike Poll: Is the DH Bike Dead?
If I could only have one, since I am not near a park, it would be my nomad. Luckily I don't have to choose. I have a driver 8 for the park and shuttles. Plenty of people don't have to choose so the big bikes are not dead or dying. I am a decent rider, did 16 runs at Norhstar split among livewire, gypsy flame out, karpiel and boondocks. I would not even come close to that many runs on my nomad and I would hate to see what my nomad would look like at the end of the day.
Load more...