A special premier of the latest Secondbase film, ARRIVAL, will screen in San Diego, California at one off the city's better brew pubs. Join us at Saint Archers Brewery this Friday, October 25 at 7:30 PM. Details below:
ARRIVAL - Official Teaser on Pinkbike
Building on the worldwide success of their 2011 release, 'From the Inside Out,' SecondBase Films is proud to bring you a new mountain cycling actu-mentary: ARRIVAL. Presented by RockShox, in Association with Specialized, Clif Bar and Pinkbike.com, and with support from Trek, Whistler Mountain Bike Park, Devinci, and Evoc, ARRIVAL will bring viewers into the reality of a new generation of freeriders and racers. Starring Steve Smith, Logan Peat, Mitch Ropelato, Ryan Howard, Matty Miles, Bernardo Cruz, Kyle Norbraten, Dylan Dunkerton and Curtis Robinson. Written, directed and edited by the Coastal Crew, ARRIVAL also features the talents of a new breed of mountain bike filmmakers and photographers – including Nic Genovese, Matt Miles, Matt Dennison and Haruki "Harookz" Negochi.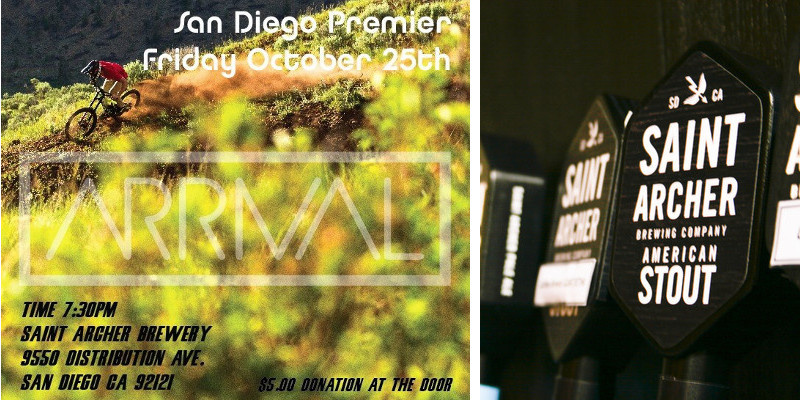 Event location:
Saint Archers Brewery, 9550 Distribution Ave, San Diego, CA 92121, 7:30 PM.
Saint Archers Brewery is the perfect location for this event as it's Co-owned by action sports legends Paul Rodriguez, Mikey Taylor, Josh Kerr and Taylor Knox. http://www.saintarcherbrewery.com
For additional information on the San Diego showing go to the
Facebook page.
Click here for a list of ARRIVAL premiers, worldwide.