lardman
Member since Nov 14, 2013

Male
Brighton , United Kingdom
Block user
Recent

Nov 5, 2020 at 3:41
Nov 5, 2020
Dainese Release Revamped Trail Skins Protection Line
My 'Trail skins2' were very comfortable to ride in, which is really good. Unfortunately, the first small off the bike i had, ripped the protective part straight off the sleeve. Not fit for purpose. Refunded from retailer. The R&D process for these pads must have been non-existent, which is strange for Dianese who are normally pretty good. I'd avoid buying these no matter how much 'improved' they are.

Feb 11, 2020 at 2:33
Feb 11, 2020

Apr 21, 2019 at 14:51
Apr 21, 2019

Apr 2, 2019 at 3:09
Apr 2, 2019

Selling
Apr 2, 2019 at 3:09
Apr 2, 2019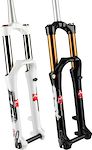 $250 GBP
Marzocchi 55rc3 Ti- Evo v2. – 170mm fork for 26" wheels. Straight steerer. Fantastic coil forks (as I'm sure most will know) which are super plush and equal to my current Ohlins Coil fork, but alas not in 29 flavour. Perfect for your 26" enduro/DH style bike. The CSU and internals are from the 5RC3 ti v2 – with more adjustability (the white ones), but the lowers are from a 55R. Windwave replaced the lower section, as the bushings were too tight and they didn't have any old lowers legs left. I'll take some more detailed pics if anyone is interested. These forks are a great condition low milage fork (with a few external scrapes as you'd expect), and have been serviced by Sprung about 1 yr back (who fitted new low friction seals) I only use these on my uplift bike, so have had about 5 rides on them since last service. Lovely buttery smoothness. £250 posted. £230 collected from Brighton.

Selling
Mar 1, 2017 at 15:02
Mar 1, 2017

Selling
Jul 4, 2014 at 7:09
Jul 4, 2014
$50 GBP
Pro2/Evo rear hub in GOLD. 32 or 36 hole. Consider built wheel, but ideally hub alone. Looking for 142 x 10 but would consider other variety (except for 150mm shells). Happy to consider one with service needed if the price is right.
Load more...