The weekend of July 5th-6th, 2008 marked the 10th Annual and Final installment for the World renowned Mount 7 Psychosis in Golden, British Columbia. Psychosis, which has been dubbed "the world's most demented downhill race" spans a total of 4000 vertical feet from the top edge of Dead Dog to the bottom of the Snake Run. Over the past 10 years the race has continued to grow and be graced with the presence of many notable Pro Racers including Ironhorse's own 2007 UCI World Cup Champion Sam Hill, Tyler Morland, Santa Cruz' Nathan Rennie, Chris Kovarik of Intense Cycles and Coves Bikes' Stevie Smith. With every year that passes- records get shattered and bones get broken as racers continue to push themselves to the brink of physical and mental exhaustion for the sweet taste of Mount 7 glory.The uniqueness of this event lies not only within the complexity of the technical singletrack that winds down the mountainside, or with the fact that it takes the Worlds fastest racers almost 13 minutes to get down, or even with the fact that it includes a long, steep and unforgiving uphill hike-a-bike section… As stated by a multiple-time Psychosis racer "The distinctiveness of the Psychosis Race lies in the fact that it can be compared to that of Baja 1000- one of the only races in the world where by "Joe Nobody" has the opportunity to shred the same knarly race course with the likes of the worlds best".
This year over 195 "Joe Nobody's" showed up to race some of the Worlds finest for the Pro "Psychos" Category. Teams and Racers came from all over Western Canada and as far as overseas to take part in the final chapter of the Psychosis story. The story of this insane downhill race has been around the world and back- featured in Bike and Decline Magazines and showcased in the new Collective movie Seasons. Hearing about the steep scree section aptly nicknamed Dead Dog, a massive road gap and the rocky, rooty merciless segments RTC and Wet Dream are enough to make anyone shake in their boots. With that being said there is an art to racing the Psychosis track in Golden- an art that has been mastered by the likes of Tyler Morland, Sam Hill and this year, Chris Kovarik who have all stood atop the podium.
With every year that passes the track gets beat down, eroded and ridden like nobody's business-this year's 10th Annual Mount 7 Psychosis was no different. Although the course saw a fresh covering of rain over night prior to Race Day, most racers described the conditions "like shredding on a powder day… where normal rules didn't really apply". Even having to walk one of the steepest sections due to utterly "greasy" conditions in the early morning didn't phase the racers. By noon those greasy sections had dried enough to produce some seriously tacky dirt that allowed for the fastest race times in Mount 7 history to be recorded. Sam Hill set a course record of 12:48 in 2007, a time which seemed unattainable by any other living, breathing human being. However, on Saturday, July 5th history was re-written when that record was not only be beaten but outright smashed by the top 3 racers that included Tyler Morland (3rd) of RockShox/Avid/Truvativ/SRAM, Nick Quinn (2nd) of Calgary Cycle/ Oakley/ Dakine and Chris Kovarik (1st) of Intense Cycles/Gold Coast MTB Club. All three racers upped the ante and performed near-perfect runs down the relentless Downhill track with skill, endurance, strength- and in the case of amateur racer Nick Quinn- a whole lot of determination and heart.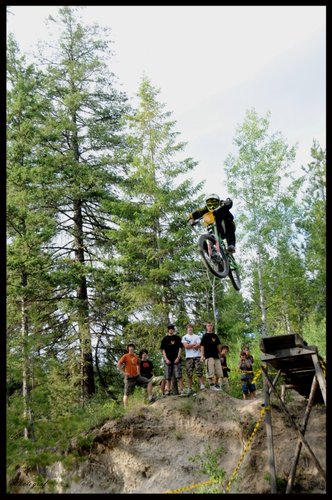 Putting together a near-perfect run on the Psychosis track is no easy feat and if you ask anyone who has raced it before they'll tell you that it is nearly impossible. Maybe there was something in the air that day, but all of the pieces of the puzzle appeared to fit together for Morland, Quinn and Kovarik with racers like Sam Hill of Ironhorse, Andrew Mitchell of Cove Bikes, Curtis Keen of Specialized and Brett Hornfelt of Calgary Cycle not far behind.
Calgary Cycle racer Nick Quinn is no stranger to the Psychosis Race, in 2006 he finished 4th behind Morland, Rennie, and Kovarik and in 2007 he finished 6th. This year everything seemed to click just perfectly for Quinn who has been so close to the podium in the past. Quinn races for the Calgary Cycle Downhill Team who are sponsored by Santa Cruz, Troy Lee Designs, Dakine, Chromag, Oakley, Thomson, Block 8, Chris King, Mavic, Pioneer, Stripe Tech and Visions. The Calgary Cycle Team continued to be a presence at this years Psychosis Race thanks in part to excellent finishes by Quinn and Hornfelt. Luke Stevens and Cody Ratte two of the up and coming young guns placed 2nd and 4th respectively in the 5K Race.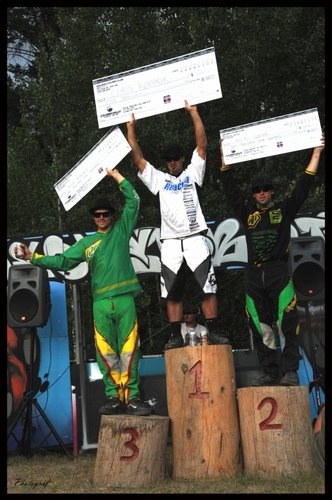 So as the Psychosis era comes to a close, a void will definitely be left in the Downhill Race World. The Golden Cycling Club has done a spectacular job over the past 10 years to have this event evolve to where it is at today. Countless hours go into the planning and organizing of every aspect of this race and without their dedication this race would never have become what it is and will go down in the history books as.... legendary.
"
Psychosis will be missed by many in the coming years. It's sad to see her go, but she had a great run!
"