The People have spoken and the nominee list has been shortened down to 4 (or 5-6 if there was a tie) riders in each catefory for the 6th Annual Alberta Freeride Awards. It's your turn once again to pick who you think should take home the goods on Sunday, March 16th at
Canada Olympic Park.
To vote all you have to do is visit the
Alberta Freeride Award
website and click on the 'vote now' button. The choice is yours in all 13 categories, feel free to browse the photo gallery to find pictures of the nominated riders to check out just what they can do on a bike.
Be sure to come out to COP on the 16th to see who will win big this year.
Event Details:
Fat Tire Race start
: 6:30pm
Award Ceremony anticipated start
: 9:00pm(ish)
Hosted by none other than Mr. Brad Ewen of Crankworx and Psychosis fame!
Screening of the wicked DH movie Earthed 5- The Law of Fives to follow awards ceremony
Giveaways including a Devinci District 2, Dakine & Block 8 goodies, Raceface Parts and a Santa Cruz VP FREE Frame!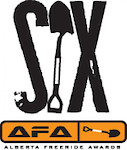 After Party Start Time
: 10:45pm(ish)
Featuring live DJ Marco Primo, cheap beer and tons of giveaways including many, many DVD's and a sweet Devinci Frantik 1!
The 6th Annual Alberta Freeride Awards are proudly brought to you by Devinci Bikes and Calgary Cycle. In addition, sponsored by Dakine, Raceface, Santa Cruz, Block 8, Canada Olympic Park and Pinkbike.com.