We asked Lee Lau, who wrote the foreword to the Locals' Guide to North Shore Rides, to dig through his archive of old photos and come up with some incriminating favourites. Some of you may be old enough to remember the "good old days", or some of you might just laugh and point at the crude gear and funny clothes, but hopefully you will find this quick glimpse of North Vancouver mountain bike history entertaining. All of the photos below are from his albums, taken roughly between 1997 and 1998 - not that long ago, but it looks like a far away time and place.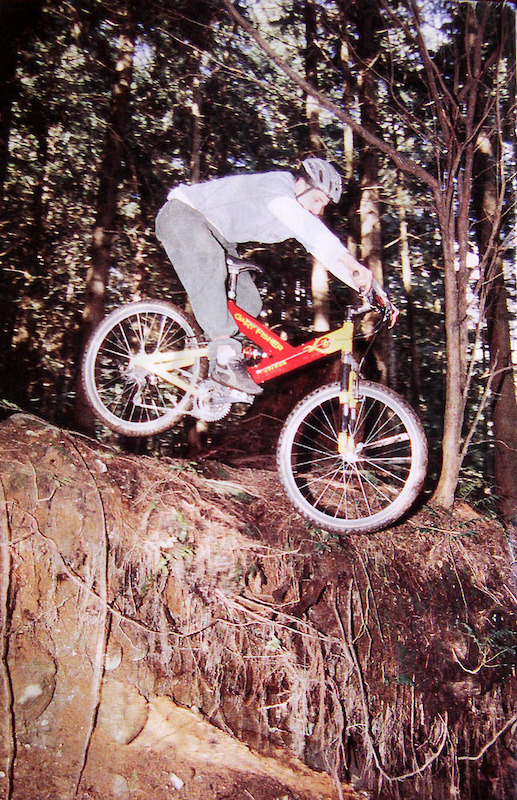 | | |
| --- | --- |
| | This photo of Wade Simmons, shot by Ian Hylands, was for one of the first guidebooks of North Vancouver's trails (unfortunately out of print). Derek Westerlund and Bjorn Enga were doing that old guidebook and needed a shot, so they dragged Wade out of the Cove bike shop where he was working as a wrench. Wade dropped the "Crater" on Mt Fromme on a borrowed Gary Fisher Joshua - he always delivers - and went on to become a professional freerider who was inducted into the Mountain Bike Hall of Fame. Check out the sweet pant clip that he's using to keep his sweat pants out fo the triple ring crankset. |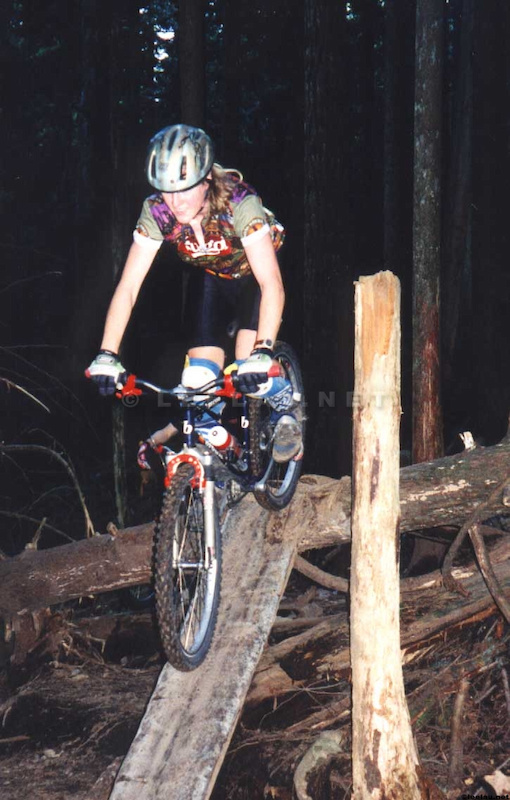 | | |
| --- | --- |
| | This shot is of Sharon Bader, the co-author of the Locals' Guide trail book. She hadn't ridden on the Shore for a while, but I had some old armour retrieved from a local shop dumpster dive for her to wear. Those were different times! Sharon is on the Bark Bridge section of Ladies' Only, on her hand built Brodie Expresso steel hardtail, complete with styling Judy XC front suspension and rocking a full xc lycra kit. Good thing she rides like a girl! Sharon went on to become the President of the NSMBA, helps to organize mountain bike events and authors guide books. |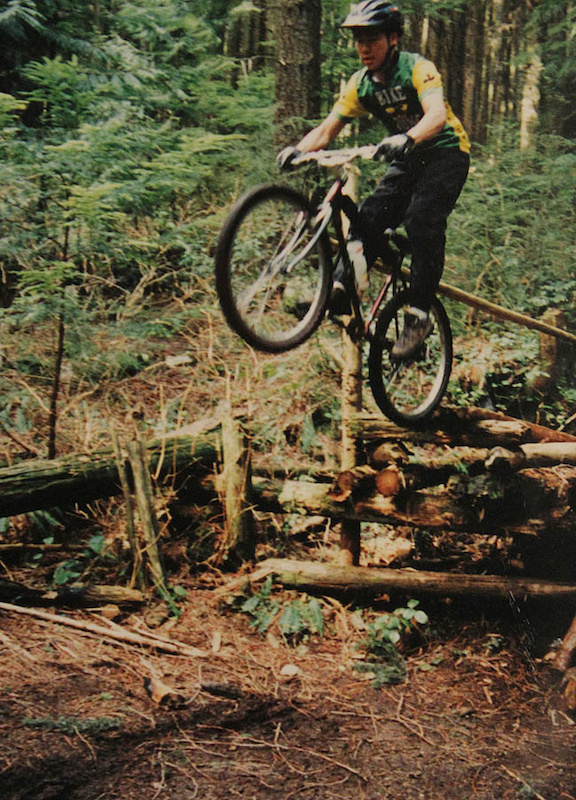 | | |
| --- | --- |
| | Long before Harookz ever held a camera he knew how to perform for the lens. Here he is on a rigid steel hardtail launching off of a drop to flat on Pink Starfish. This is at the site of the old cabin that's now collapsed. Harookz is now a successful professional photographer. Is that a top tube pad on his bike? |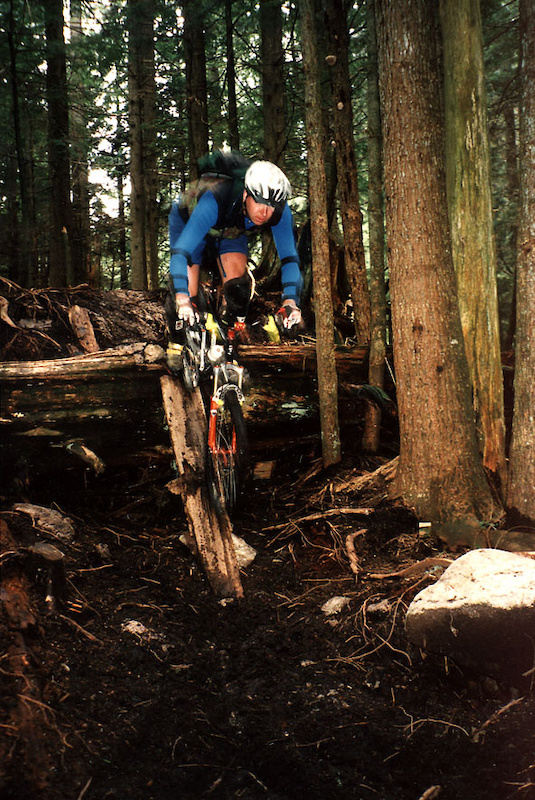 | | |
| --- | --- |
| | On a dark, wet day Noel Buckley navigates some cedar wood skinnies on Bookwus, Mt Fromme. Noel went on to found Knolly, a manufacturer of high end mountain bikes. On the front of Noel's bike you can see Marzocchi's first edition of their Z1, a four inch travel fork that changed how suspension was perceived. No, it wasn't light, but it's open bath design and smooth stroke blew minds at the time. |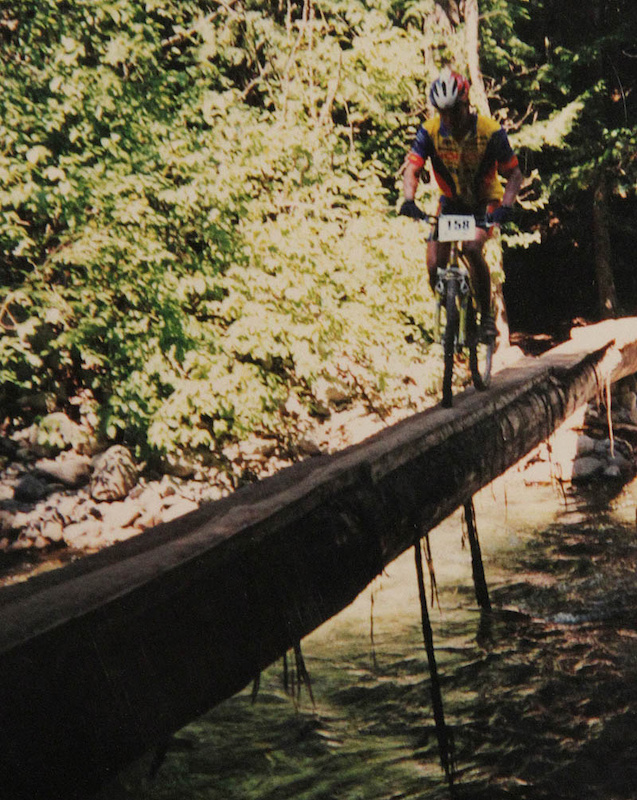 | | |
| --- | --- |
| | This is a shot of myself, taken the day before racing the Canada Cup XC up at Whistler. I had the number plate on for the next day's race already (talk about keen!) and didn't have the sense to rest before the race. This was on River Runs Through It, and I'm riding a beautiful lime green Norco Torrent with a whopping 80mm travel Marzocchi up front. The municipality didn't have risk-managers go through the trails and put up rope railings to keep us safe back in those days, so I ride it clipped in with fully lycra. |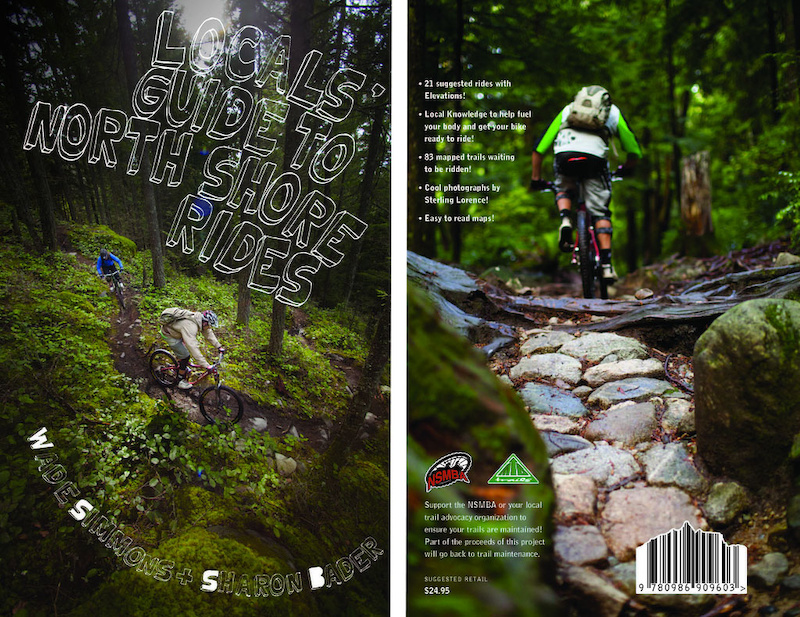 Want to create some of your own North Shore memories? Check out ''
Locals' Guide to North Shore Rides
'' to find your way around the 'Shore
Did you enjoy the quick trip down memory lane? Want to see more vintage photography? We'd love to hear your early mountain bike memories - put them down below!