On July 7, 2017, a rider was injured when riding into barbed wire strung at neck height on a trail in
West Bragg Creek
(the area is south of Calgary). The rider was injured. His bike was left at the scene as his friends evacuated him for medical attention and subsequently stolen. No precise trail location has yet been disclosed pending further investigation. Riders are advised to be cautious.
The rider's mountain bike was left at the accident scene and was stolen. A revisit of Pinkbike's coverage of the
use of game-cams to collect evidence about trail sabotage
occurring in North Vancouver would be appropriate at this time.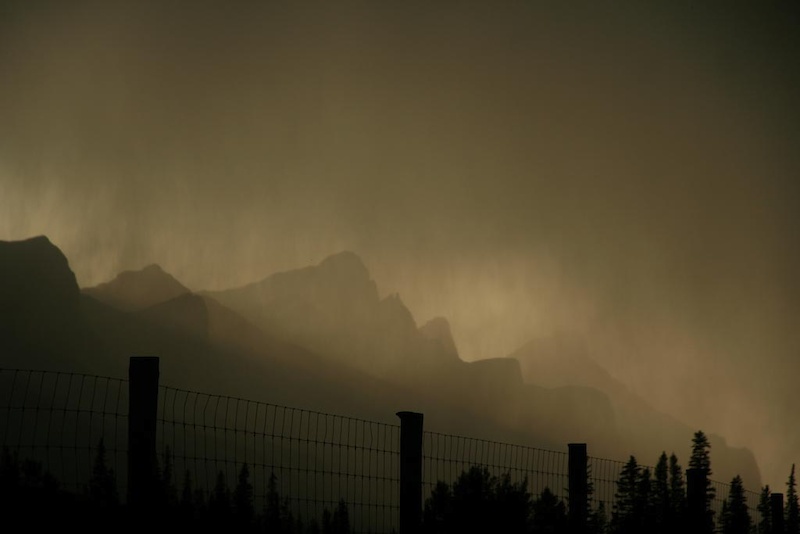 File photo of storm clouds over Three Sisters near Canmore

An update from the

Calgary Mountain Bike Alliance

follows

July 7, 2017 incident report. Note that

GBCTA is the Greater Bragg Creek Trails Association"Hi folks, we just got word from someone associated with the GBCTA:

Incident at West Bragg Creek

The GBCTA has received a report that several mountain bikers were injured on the west Bragg Creek trails after being clotheslined by wire strung across the trail between trees. Cochrane RCMP has not received an incident report, but encourages trail users to use caution on the trails. We are attempting to obtain further information as to the location and date where the incidents occurred. Anyone with information on these incidents, or further encounters are encouraged to contact Cochrane RCMP immediately, or call 911.

Note that the name of the trail the incident occurred on was not provided. If you do come across something like this, get some pics/video, note the precise location and try to make it safe so that nobody else gets hurt."

July 8, 2017—update. Note that WBC is West Bragg Creek.

"Update: WBC incident!

In light of this incident, the Province has asked us to do a few of things to make sure the trails are safe:

1. Tell everyone to

be careful

! Take it slow for now.
2. To report back to them on the the safety condition of trails. If you can confirm that a trail in the Bow Valley, Calgary, or Kananaskis regions is safe, please let us know in the comments below.
3. If you do see a hazard on the trails get GPS coordinates using your phone, take photos, and do your best to make it safe for other trail users. Report it to us at info@cmbalink.com.

Also, in the confusion of this senseless event, the victim had to leave his bike on the trail, and it is no longer there. If you have seen it please let us know, or consider contributing to get him a new one on his Go Fund Me page. That, and a description of the bike are in the link below.
Help us prove to the perpetrator of this crime that they have accomplished nothing!"

Other information from CTV news

is here

The rider's account is here

from CBC