Update
#1
- October 28th, 2016
On October 27, 2016, the CMHC met with various parties to discuss their future intentions for the large block of land owned on Mount Seymour. To summarize the new developments, the CMHC confirmed that their concern was liability and that they were willing to discuss ways for all recreational users to access trails on the CMHC lands in the "short to medium term". The Province of BC's responsible agency is RSTBC which has a track record of successfully managing and sanctioning recreational trail access. No further color was given on proposed long-term access by recreational users of the land.

*CMHC has responded and stated that responsible recreational use will be permitted. They have not articulated a stand on organized or commercial events as yet.
The NSMBA released
the following statement
with respect to the meeting which states in par that:
| | |
| --- | --- |
| | The CMHC acknowledges that they did not conduct sufficient consultation with user groups and neighbouring land managers before posting the updated signage. |
No meeting minutes have been provided by any of the parties. The CMHC refrained from commenting on the NSMBA's statement but provided the following statement (a portion excerpted below) :
CMHC is pursuing a coordinated and consultative approach to identifying future uses of the land.

The best option for the short to medium term is to find ways to permit recreational use in a way that is safe for users and reasonably mitigates liability risks to CMHC. The longer-term site review will take into account the prior use of the land and related environmental aspects and a best use strategy for the property will be developed.
| | |
| --- | --- |
| | As a result of the meetings, and information brought forward by interested parties, CMHC and the Province are prepared, as co-owners, to permit reasonable and responsible recreational use of the property. Users are reminded that persons entering this land do so entirely at their own risk and that the owners are not responsible for any damage or loss to property, or personal injury. |
Going forward, CMHC will work closely with the Province to consider the management of appropriate recreational usages of the property.
The DNV did not reply to requests for comments on the meeting.
David Stuart, the CAO of DNV had previously stated the DNV's willingness to explore managing the CMHC lands on Seymour for recreational use. Longtime trail advocate Sharon Bader stated that if the DNV was to manage the land then the results would generally be positive. Bader participated extensively in the DNV's
Alpine Recreational Strategic Study
process which resulted in many of the trails on Mount Fromme attaining sanctioned status. According to Bader "
the DNV was responsive, listened to user groups, and were very practical in managing trails, allowing volunteer groups both to access trails and to maintain them
."
John Hawkings confirmed that the provincial agency at the meeting is
FLNRO
(Ministry of Forestry, Lands and Natural Resources Operation) confirming that the Recreation Sites and Trails BC ("RSTBC") arm of Forestry is the arm of government handling permitting processes and management of recreational trails on BC land. Hawkings further stated that RSTBC would be involved with discussions concerning the CMHC lands.
Todd Hellinga of the
Whistler Off-road Cycling Association
("WORCA") had encouraging words concerning the prospects of sanctioning trails under the RSTBC umbrella explaining that RSTBC is proactive and works in collaboration with WORCA. Hellinga added
"thousands of km's of previously unauthorized trails have been brought into the legal fold through processes in conjunction with clubs and FLNRO so there is sound reason for cautious optimism"
.
Lawyer Sean Rowell of
Perry and Company
explained that the law under which RSTBC would sanction trails was the
Forest and Range Practices Act
adding that the Forest Act made it a civil offence to construct trails without permission and that directors could be held liable for the actions of employees who had constructed trails. However, Rowell added that the same s. 57 had been applied throughout BC to legitimize trails in diverse jurisdictions citing the examples of
Smithers, Burns Lake
(see Pinkbike coverage here) and other areas in Northern BC where there had been substantial government help in sanctioning and creating trail systems.
---
On October 10, 2016, trail users and residents neighboring Mount Seymour found
No Trespassing
signs placed over 25 access points and trailheads indicating that access was prohibited. Mass confusion ensued. Very few users and/or residents knew that the
Canada Mortgage and Housing Corporation
("CMHC"), a Canadian Crown Corporation providing mortgage insurance to homeowners, owns a swathe of land on Mount Seymour in North Vancouver.
The signage potentially affects all recreational users of these trails whether they are hikers, dog walkers, trail runners, mountain bikers, parents, kids, old people, or young people. We caution that this does not necessarily mean that all trails are closed. What this does mean is that a significant number of Seymour trails are on lands signed as private and prohibited for access. This article will describe what has occurred and potential impacts.
---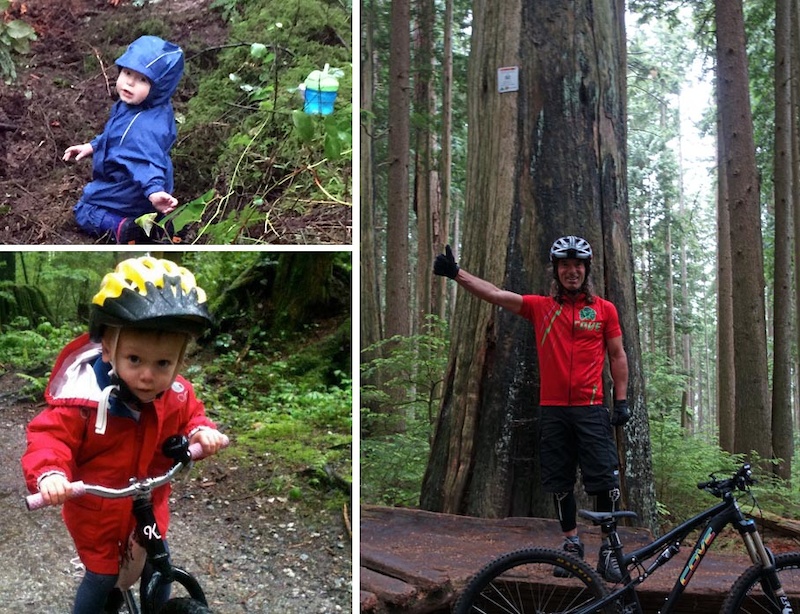 Various users of the Seymour trails. Top L - photo SharonB; Bottom L - photo MeghanB; Right - Chaz on a Cove Group ride when the C-Buster signs were installed. The trail was built by Cove Bike Shop riders in the late 80s.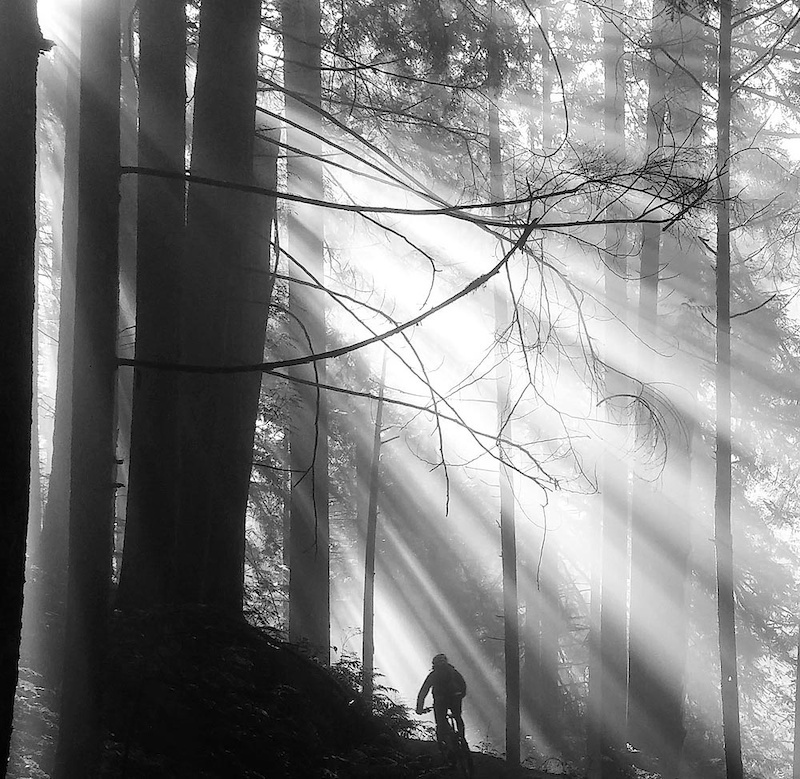 Fog and trees of Seymour.
---
Mount Seymour
Mount Seymour is a prominent peak in the eastern part of Vancouver's North Shore. Trailforks lists 72 trails on
Mount Seymour
. MTBTrails'
Locals Guide to North Shore Rides guidebook
describes Mt Seymour as the "hard working, blue collar brother" able to accommodate a diversity of users and lists 42 trails. The trail number discrepancy can be explained in that Trailforks segments trails into different sections.
Mount Seymour is surrounded by the municipality of the District of North Vancouver ("DNV"), a city of 85,000 people. Land in the Mount Seymour area is owned and managed by a multiplicity of land managers; the DNV, Metro Vancouver, BC Parks and private landowners such as the CMHC.
The area is heavily forested and cherished by all users who as recently as the mid-90s won a land zoning battle to have 1200 acres of land protected from residential development. Trails are used by residents and visitors to the area throughout the year for recreation.
Mount Seymour mountain biking trails
Young families use Mount Seymour trails - Sarah Fenton Tippie picture
---
CMHC Lands on Mount Seymour
On Thanksgiving Monday, October 10, 2016;
No Trespassing
signs were installed on the perimeter of the CMHC's landholding with no prior notice given to either neighboring land managers, trail users or community organizations. Thirty-eight trails are potentially affected as being partially or completely located within the CMHC's landholding.
How did the CMHC come to own 640 acres of land in the middle of North Vancouver? References are from Donna Sacuta's definitive account of the
history of the Blair Rifle Range in North Vancouver
. In 1927 Canada's Department of National Defence ("National Defence") expropriated this land parcel from DNV for a make-work military installation and rifle range. This land thus became federal crown land (Sacuta pp 4 - 6). The area was largely unsettled at the time and the DNV did not have much choice in the matter. As the DNV grew and residential development began to surround the area National Defence conveyed the land to the CMHC via the Crown Assets Disposal Corporation (now known as
GC Surplus
) thus transforming the land from crown land to a private landholding (Sacuta, pg 28-9). This was a mechanism to sidestep First Nations claims on federal property and evidently was somewhat successful as the land has stayed somewhat under land claims radar.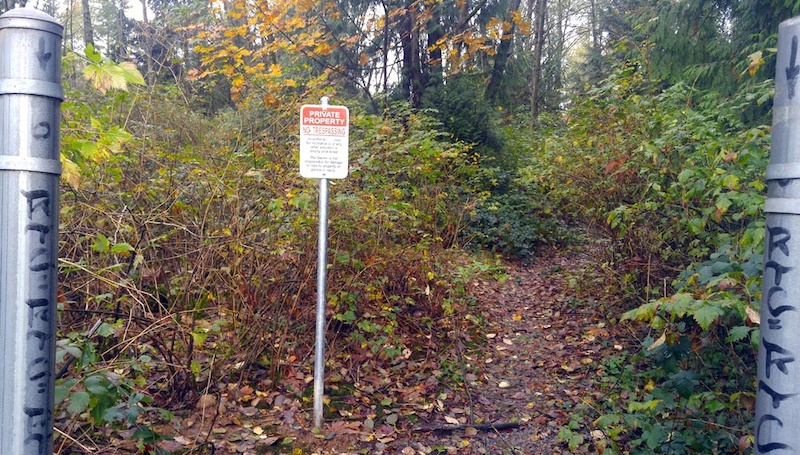 CMHC sign at the entrypoint to the Blair Rifle Range from Mt Seymour Parkway.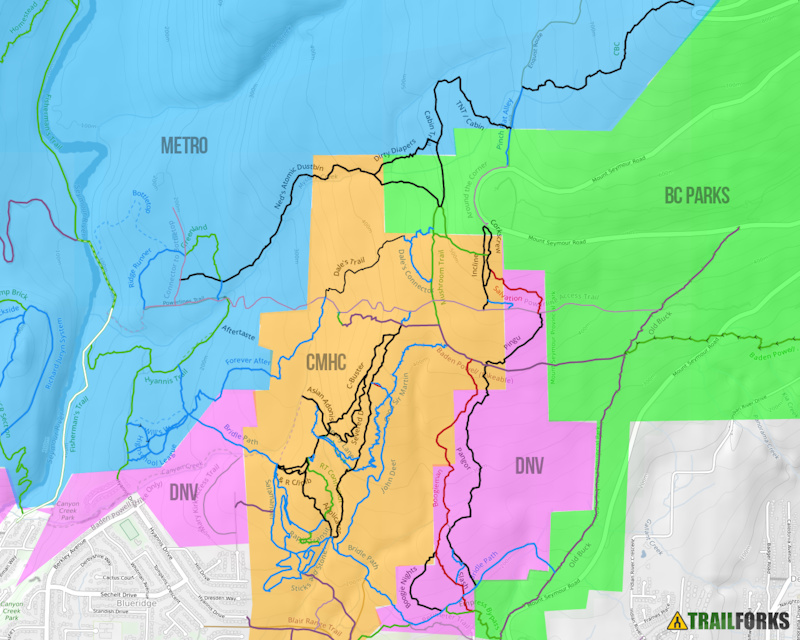 CMHC lands are in yellow - many recreational trails are wholly or in part within the CMHC boundary. View biking trails on the interactiveTrailforks map. This map draws from the DNV's Geoweb GIS database and can be considered definitive).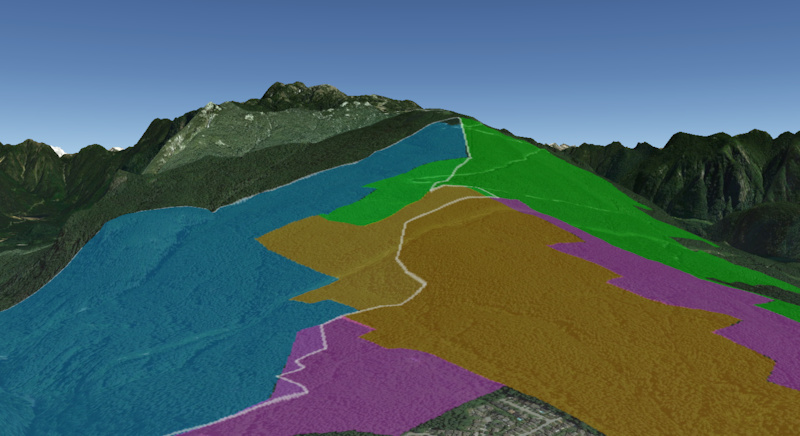 3D representation of the CMHC landholding on Mount Seymour. CMHC lands are in brown.
---
Tracing the same map seen above and searching against the public British Columbia Land Title and Survey ("LTSA") database results in a hit for 8 parcels of land (see the land parcels
here
).
The total value of these 8 parcels is $151 million but can be considered grossly understated as the values are historical from 2010 especially considering that the Real Estate Council of BC's estimates for bare North Vancouver land appreciation is approximately 180% from 2010 to 2016 (depending on location).
List of affected recreational trails including hiking, walking and biking trails
---
It should be noted that any land valuation is highly speculative as a significant portion of the CMHC lands cannot be developed. In large part due to the Seymour community's active lobbying, DNV zoned the bulk of the 644 acre CMHC parcel for parks and recreation (details
are here
). Litigation ensued between the parties with the
BC Court of Appeal deciding in DNV's favor in 2000
, therefore upholding the parks and recreation zoning and settling the matter.
Impact on trail users
Trail users have stated bewildered and surprised reactions to the CMHC signs. DNV Councillor Mathew Bond has been active in informing the community about this issue and solicited comments from users
via Facebook
.
Blueridge residents Aaron and Cheryl Sauve hike and bike in the Seymour trails. They relayed that the Seymour trails were a major factor in why they bought their house where they did and why they moved to North Vancouver in the first place, relocating from Seattle. In their words:
"they are some of the best trails in the world, and it would be horrible if our kids had to 'trespass' to enjoy them."
. According to Riverside residents, Glade and Jen Schoenfeld, their family will continue to use the CMHC trail stating
"This is not a protest or act of defiance. In the most simple terms, you can not keep kids out of the woods. My real concern is that the signs will prevent proper trail maintenance, the trails will fall into disrepair creating real hazards. If safety is the guise for restricting this current action has the potential to become a self-fulfilling prophecy."
Amberlea and Jeremy Schaab trail run and bike and also confirm that they will be continuing to use these trails;
"my son just started riding single track and Seymour is where most of the beginner trails are."
---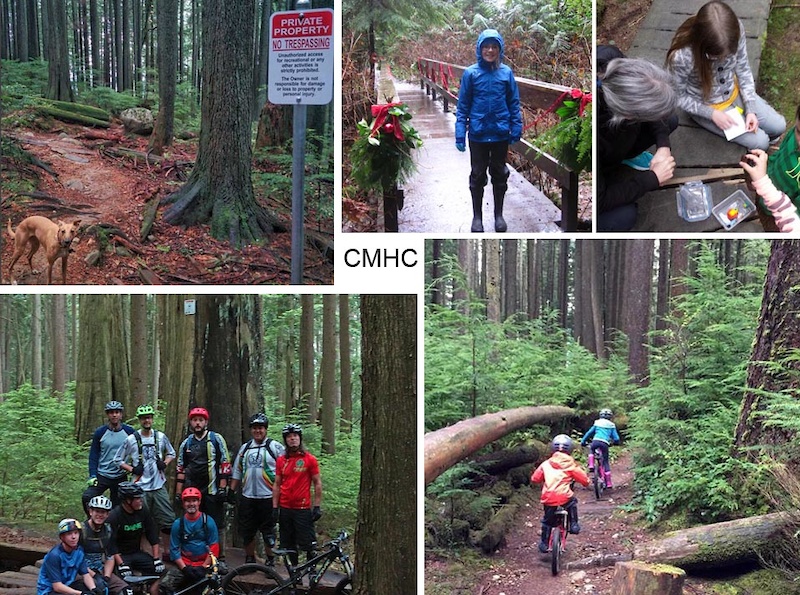 Users of Seymour trails. Upper shots from L to R: Photo by Blaise Ratcliffe. Photo by Lisa Patterson. Photo by Lisa Patterson Bottom R: Photo Aaron Sauve
---
Commercial entities who use the trails have also expressed similar disappointment at CMHC's actions and uncertainty about continued access to trails on CMHC lands. Barry Rueger of the
North Shore Professional Dogwalkers' Alliance
conveyed that the licensed dog walkers who might have used these trails in the past will be avoiding them in large part due to insurance concerns at least until the confusion has been resolved. Graham Archer of
Kintec Footlabs
stated the importance of the CMHC trails to trail runners and his business in that the trail network is ideal for trail running in being lower grade which allows for great 'runnability' all the way up to Baden Powell which allows for higher mileage all within a relatively safe and accessible area. Kintec uses these trails for trail clinics and race training and will be looking at whether insurance coverage dictates changing trail usage patterns.
---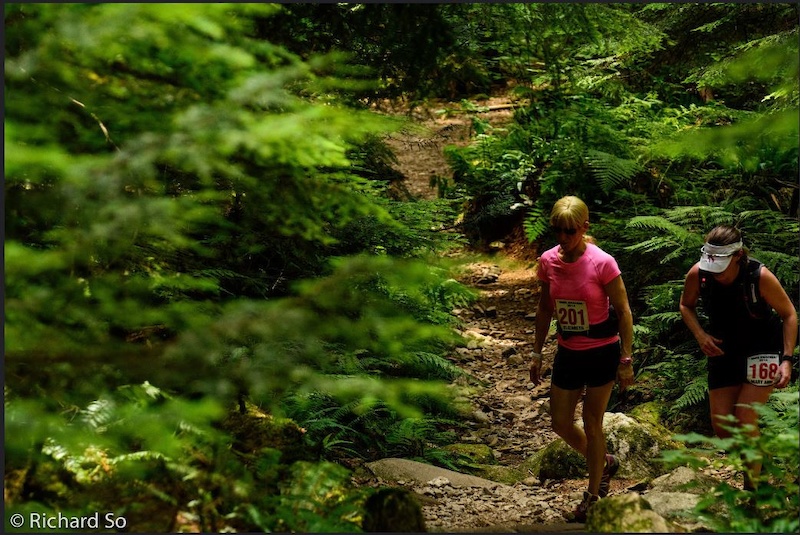 Kneeknacker trail run - July 12, 2014; Photos at the 3/4 mark at the Hyannis Aid station and the Seymour Grind. Photo by Richard So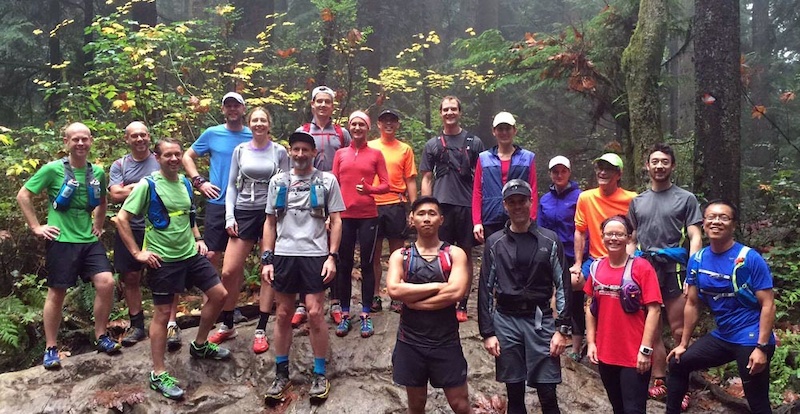 Kintec Footlabs's trail running and race training clinics on Seymour trails Photo - Graham Archer
---
Commercial and organized biking-related organizations will also be adversely affected - all citing insurance concerns. Speaking on behalf of the
BC Bike Race
, Andreas Hestler added that the BCBR would be looking at alternative options for different trails to use and may consider moving the course to a different city altogether. Hestler explained that the BCBR applies for and administers 110 permits per year and has no issue with applying for and complying with permit terms but that should obtaining permits from the CMHC be as difficult in the future as it had in the past then insurance concerns may militate in favor of changing the race.
NSRide
is the biggest mountain bike club in North Vancouver. Senior ride leader Brian Brittain confirms that NSRides will be changing its ride patterns to not use trails in the CMHC lands also citing insurance concerns.
A local trail organization, the NSMBA has announced that all trail maintenance in the CMHC lands
is suspended
; NSMBA director Penny Deck explaining the reasons being insurance issues. NSMBA director Brian Earle added that the grassroots Fiver race series will not take place on CMHC lands until the uncertainty is resolved also due to the same concerns. Cessation of trail maintenance would end the NSMBA's volunteer trail maintenance on trails on the CMHC lands after a 16-year run (the first recorded formal trail day held by the NSMBA on the CMHC trails was on
Severed on May 28, 2000
.
CMHC statement and "Safety"
In response to requests for interviews Karin LeBlanc of the CMHC emailed as follows:
Canada Mortgage and Housing Corporation (CMHC) and the province of British Columbia jointly own a 644-acre plot of land in North Vancouver. The land neighbors parks that are popular with nature and outdoor recreation activity enthusiasts. However, the land is not a park or a recreation area. Recently, updated and additional signage was put in place reflecting current and long-standing policy with respect to use and access to the property.

At its core, this is a safety issue. In our continuing role as co-owner and manager of the land, and in the interest of advising the community, these signs were installed as an immediate measure. CMHC recognizes the concerns raised as a result of this updated signage. Currently, steps are being taken to engage with interested parties, including the province and the local municipality, with a view to considering options for future use and ensuring a coordinated approach to managing and monitoring the use of the property.
---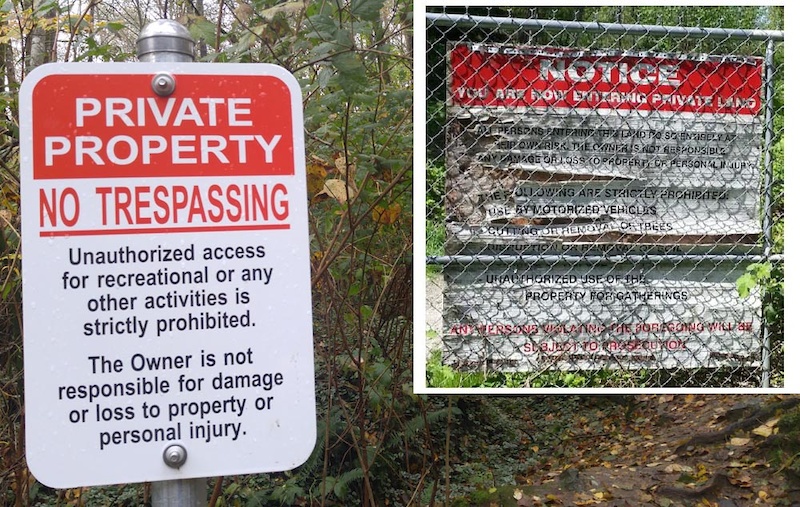 New CMHC sign. Old CMHC sign in inset.
---
It is worthwhile to parse the CMHC statement. The old CMHC signs were hard to find and were indeed decrepit and barely legible. The CMHC did not provide a response when asked if there were specific concerns leading to replacement and updating of the signs. The CMHC did not provide a response when asked if the CMHC's "
current and long-standing policy
" towards recreational use is to prohibit access
Eyewitness Ken Lang of Vancouver was riding when he came across two people identifying themselves as with the CMHC installing the No Trespassing signs at the Corkscrew/Salvation trail intersection of Seymour. Lang asked if this meant that his group could keep riding that trail. Lang's recollection is that the CMHC personnel stated that they were not "saying anything"; that the CMHC now wanted to be more involved and that the safety concern was in relation to structures. CMHC spokesperson Leblanc did not clarify if CMHC's safety concerns were specifically concerning structures.
Lawyer Sean Rowell of
Perry and Co
. commented that "safety" was an ambiguous term potentially having many meanings but possibly encompassing liability. Rowell, whose main area of practise includes real estate, explained that in British Columbia landowner's liability is addressed by the
Occupiers Liability Act
as amended by the
Occupiers Liability Amendment Act
. (collectively the "OLA"). According to Rowell a recreational user on BC lands, in certain circumstances, is owed a diminished duty by a landowner, with the landowner only liable to the user if the recreational user is injured because of a landowner's intentional acts or "reckless disregard". On being shown the text of the CMHC signs Rowell commented that it was curious that the signs lacked any identification signing trails as "recreational trails"; an element that would confer upon the CMHC trails the protection of the BC OLA laws. Rowell also added that it was unnecessary under BC law for lands to be signed with No Trespassing or to prohibit recreational access for landowners to invoke the shield of the OLA.
Further to the topic of safety Douglas Pope of
North Shore Search and Rescue
confirmed that NSSAR responds to very few incidents in this area. A comment was also sought from DNV's Fire department which provides first responder services in the CMHC lands with no answer being provided at this time. Pinkbike will update when an answer is received.
Potential outcomes
DNV Councillor Mathew Bond commented:
"The sudden reiteration of a decades-old, unenforced policy is causing a lot of concern for trail users of all kinds and for local businesses".
adding that many trail users had expressed a strong connection to the Seymour trails and their deep disquiet with the uncertainty introduced by the CMHC
No Trespassing
signage.
Sharon Bader is a long time resident and user of the trails on the North Shore as well as a co-author of a
biking guidebook for Shore trails
and had this to lend from a historical perspective.
"When I started hiking and biking in the North Shore in the late 90s, all of Cypress was signed as private, no trespassing and most of Fromme was signed as private, no trespassing. And surprise, surprise there were people hiking, walking, and biking on all. of. these. trails. Fast forward to now. There's a dialogue happening in Cypress in West Vancouver. DNV has been terrific and much of Fromme is sanctioned. Metro has also been terrific and trails on their land are also sanctioned. The outlier is CMHC. They have been utterly silent. I respectfully submit that if these trails are a concern to them that they should reach out to the community of users. That would be a respectful thing to do.
Bader opined that many recreational users will ignore the CMHC signs just as they ignored other posted signs.
---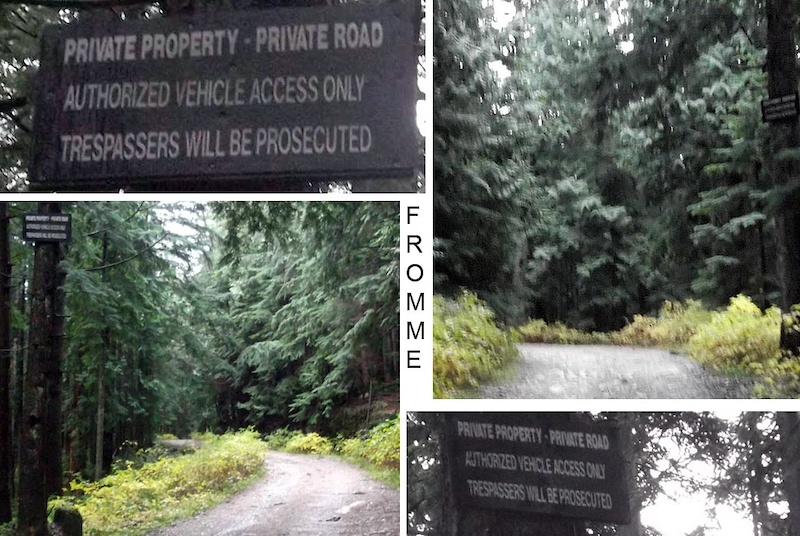 Trespassers will be prosecuted signs on Mountain Highway on Fromme placed by Grouse Mountain. Locations are at Air Supply between the 5th and 6th switchback and close to the 7th switchback. Thousands of hikers, runners and bikers go by these signs year after year.
---
Alan Bardsley is a long time resident of the District of West Vancouver ("DWV") and trail access advocate. Bardsley observed that British Pacific Properties ("BPP") a landowner of large land parcels in West Vancouver has
Warning
signs and has built gates on major access points. These gates are left open, which is consistent with their intent to be a good corporate citizen. While BPP does not support any trail work on their land, they have reached out to recreational users regarding future plans. It is envisioned that hiking, mountain biking, and other outdoor recreation will be a major activity at their next development,
Cypress Village
.
---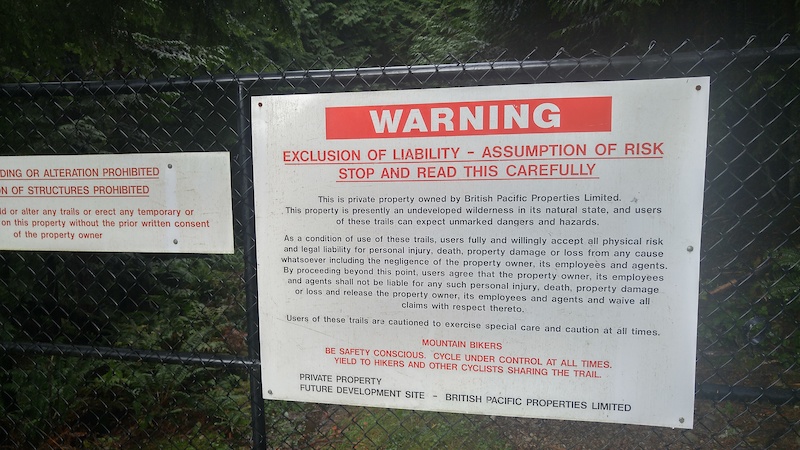 Warning signs installed by BPP at gates (left open) at trailheads. BPP only signs areas as No Trespassing where active construction work is ongoing and where heavy machinery is in use.
---
Bader, Bond, and Hestler (for the BCBR) added that the CMHC has been notoriously unresponsive to questions or permit requests for decades. It appears that there may be some changes on that front; the installation of the
No Trespassing
signs being the foremost indicator of such.
DNV's Chief Administrative Officer David Stuart relates that the CMHC had meetings with the DNV and other neighboring land managers in June 2016. During that meeting Stuart commented that some DNV residents had raised concerns about trail maintenance efforts in the CMHC lands; and that DNV Parks then forwarded those concerns to the CMHC. However, Stuart clarifies that DNV only can manage lands either owned by the DNV or where the DNV has permission to do so.
Stuart further advised that DNV offered to share its experiences with the CMHC with its success in cooperating with volunteer organizations and also, to discuss possible ways in which the DNV could assist in managing CMHC land; however, no responses were received to such offers. Like the DNV, Metro Vancouver also reiterated its long-standing policy towards actively engaging with user groups and collaborating with volunteer organizations and affirmed that it only has an interest in managing trails within Metro's jurisdiction.
---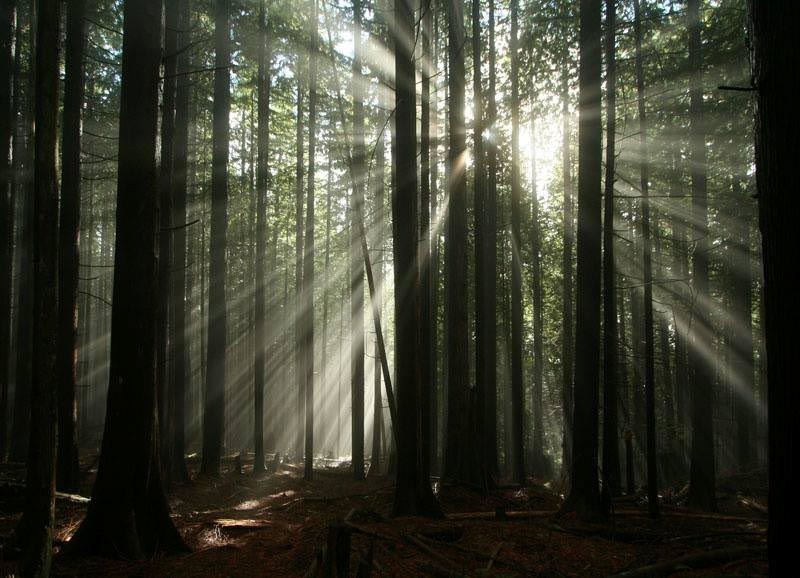 Seymour light
---
The outcome of the CMHC
No Trespassing
signs is indeterminate. As of the present, the CMHC is not actively enforcing the No Trespassing signs. A search of the BC
Court Services Online public database
discloses no applications for injunctions by the CMHC pursuant to enforcing trespass actions. The ray of light is that the CMHC appears to be taking steps towards community engagement. Leblanc of the CMHC advised that they have scheduled a meeting with
"interested parties, including the North Shore Mountain Bike Association, the province and the local municipality, with a view to considering options for future use and ensuring a coordinated approach to managing and monitoring the use of the property."
Users of the trails and readers of this article can help by staying informed. The situation is fluid and Pinkbike will update this story as it unfolds. A significant landowner of North Shore trails has seemingly awoken from indifference and indicates that it wishes to engage with users who have recreated on their land for decades. This is hopefully a positive development.
As the intent of this article has been to relay news and distinguish news from speculation editorial comments have been left out. Please feel free to ask questions in comments, ask for opinions and, in particular, to add to
Councillor Bond's request for comments
should you have personal notes to add in respect of your use of the Seymour trails.
Resources and references
:
-
Donna Sacuta
historical article re the Blair Rifle Range
-
David Hay article
"The Wild Game of Occupiers Liability" re Occupiers Liability in BC
-
Mary MacGregor article
"Occupiers Liability Act Amended" re Occupiers Liability in BC.
-
Mary MacGregor article
"Trespass I" re the Trespass Act in BC
-
Mary MacGregor article
"Trespass II" re the common law tort of trespass in BC
-
Graham Litman and Matt Hulse article
"ENHANCING PUBLIC ACCESS TO PRIVATELY OWNED WILD LANDS" re Trespass, Occupiers Liability and Right to Roam laws
-
CMHC land parcels
on Mount Seymour
(About Lee Lau: The author is a founder and former President of the NSMBA. He hikes and bikes and lives in the vicinity of the Seymour trails. He was not compensated for this article by Pinkbike or any other party.)