|| Meran (Ashbach & Hafling/Merano2000) || Bruneck (Plose & Kronplatz) || Valle Aurina ||
Other South Tyrol stories
||
Introduction
---
A bit of geography for typical North American short attention spans is warranted. South Tyrol or Südtirol/Suedtirol is a province of Italy enjoying considerable autonomy. It's 7400 sq km so about the size of Delaware (ie, it's not big). 510,000 people live here.
After our first mountain biking trip to South Tyrol (Pinkbike story
here
) we found out that the region is not exactly undiscovered. South Tyrol is big in the hiking and trekking world; and is also well-known among German-speakers who are attracted to the region for reasons of relative affordability; friendliness of the people, awesome infrastructure for the alpine and a long riding season (lifts and gondolas here go till October long after the Swiss and French Alps have shut for the season). Finally and most importantly this area offers true legitimate alpine and Dolomites alpine singletrack riding in sharp contrast to other areas (ahem Cortina) where you get one look-at-me-I'm-so-enduro section followed by kms after kms of doubletrack and road!
Before World War one, Südtirol was part of the Austro-Hungarian empire. Following that war Südtirol was annexed by Italy. Despite numerous attempts by the Italians to encourage immigration to their northernmost province, the majority of the population is Austrian-German and mainly German speaking (although many people here also speak Italian and, particularly in the tourism industry, English). For various economic, cultural and political reasons (
read about it more here if you are interested
) the Italians have largely used a hands-off approach in dealing with Südtirol. It means that Südtirol is basically Italy run by Germans, everything works efficiently and on time. Yet the Sudtirolians seemed to also have adopted some of the best parts of Italy; they are fun-loving and warm. And their food….wow.
---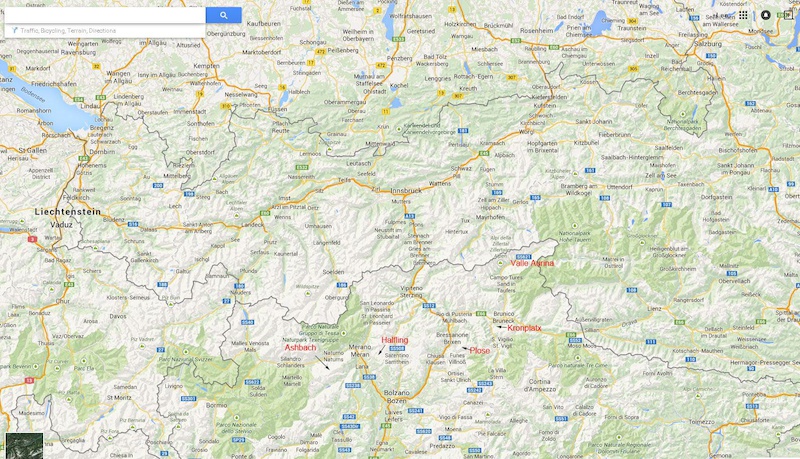 This map of South Tyrol puts its location into context. It's the northernmost part of Italy sandwiched between Switzerland, Austria and the rest of Italy. Click on the picture for more detail.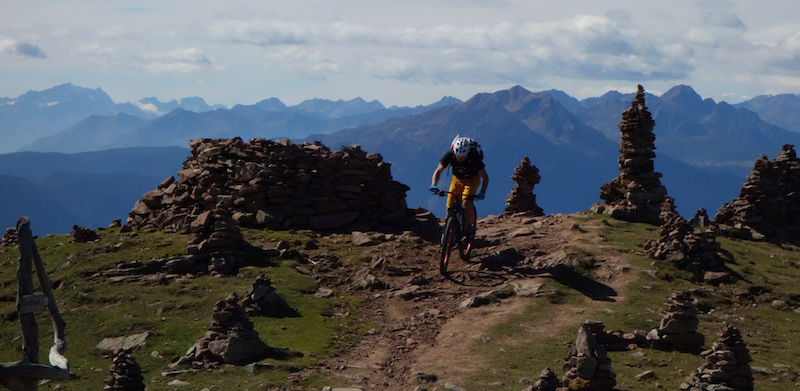 Meran and Dolomites views. Meran is one of the larger cities in South Tyrol. It's been constantly inhabited since 300BC and about 38,000 people live there.
Kaiserschmarrn (shredded dessert pancake) at a Meran-area alp restaurant
---
Halfling and the Merano 2000
The place at which we stayed is a Bike-Hotel (the
Design Hotel Tyrol
) located at Rabla, a small village close to the larger town of Meran. From Rabla we are picked up by bike shuttle provided by the good guides of the
Otzi Bike Academy
. One aspect of the South Tyrolean bike hotel packages is the ability to bundle transportation, local knowledge, accommodations and food into a seamless hassle-free package. This is exemplified in how easy it was to get around on today's ride where we literally coasted downhill about one minute to a pick-up point then are are driven to the small village of Hafling Dorf at about 1300m where we start our ride.
From Halfing Dorf we split into two groups; one more into tech trails and one more into sightseeing and mellow rambling. Our more tech trail group climbed to Wurzer Alm and continued on to the Stoanernen Mandlen (the Stone Men) on a mix of first double track then singletrack via a mix of doubletrack and technically challenging climb. The climb took us to a little over 2000m well above treeline but on a gradual ascent. After a photo op at this stunningly beautiful location surrounded by Dolomites and mountain views we descend on a mix of fun singletrack and doubletrack through fields and rolling terrain to a hut called Möltner Kaser (1806 m) where, of course we eat Kaiserschmarmm and drink beer. Following this pleasantly indulgent lunch break in typical South Tyrolean sun we broke off our subalpine food coma-induced to ride technical challenging singletrack where the roots and drops made us recall our North Shore bike handling. Then we were back to Wurzer Alm and a final climb to Hafling Dorf. Our guides from Otzi bike were Klaus (the owner) and fast Freddy. Boris the owners of the Hotel Design Tyrol also joined us for the day showing his freeride steez.
Trailforks
---
The Otzi Bike Academy shuttle van is a tremendous way to get around. It's a transportation and local knowledge service offered by the Bike Hotels.Climb to the Stone Men plateau on the Merano 2000 trailsand now for our descent..Lunch stop at another conveniently located Alps restaurantWe definitely could get used to thisMore descending after lunchFinal rip down to an idyllic pastoral village
---
Rabla and the Ashbach
In Rabla most of the biking is off the Aschbach Gondola. From here you can do a few different variations. Of course all climbs end at a hut, which in South Tyrol are referred to as Alm. Our ride took us up a doubletrack to Naturnser Alm where we had the usual indulgences of snacks, beer, coffee and cake. From Naturnser Alm at the subalpine we then climbed the ridge to the beginnings of alpine. From there we proceeded on doubletrack meandering across subalpine then treeline to VigilJoch/St Vigil. After VigilJoch we finally found singletrack taking trail 29/27 on the Stuanbruch route back to Rabla.
It must be said that this area is more about potential than anything. In particular this area is exceptionally popular for hikers and we were travelling at a time which is still a high-season for hiking so one can definitely see the potential issues for hiker-biker conflict. The legitimate bike trails stop short just as one is in the alpine and apparently there are plans to expand biking to the trails in the Hochwart (2680m) and Dreihertenspitz area to the west of where we turned around (
map here
). Unfortunately our ride in the Ashbach trails was interrupted by lots of logging on the singletrack descents and we ended up looking at potential rather than riding the goods.
Trailforks
---
The Ashbach Gondola. Hikers mixing with bikers harmoniouslyGondola puts you up 800m to 1440m. We still had to climb 445m to treeline at the Naturnser AlmWell-signed bike-specific doubletrack climbA small taste of alpine trail. There is more trail provisionally slated to be open which will greatly expand possibilities. But till then they are just possibilities.Brake burner descent down a mix of mostly doubletrack with some singletrack to about 550m at Rabla - a 1300m descentSomething you will see almost everywhere in South Tyrol and no doubt in much of Europe - but perhaps never in such huge gargantuan piles!
---
Where to stay
The South Tyroleans have the biking experience figured out. Basically a collection of hotels have set up infrastructure (guides, bike storage, trail information etc) and collaborated to establish a consistent customer experience. They've done so via their
Bike Hotels
concept. In the Meran/Rabla area we stayed at the
Design Hotel Tyrol
near Meran and were wonderfully hosted by Boris Frei.
Food is beyond description. South Tyrol is now part of Italy but used to be part of Austria. Consequently Austrian/Tyrolean culture is fused with Italian culture. The larger towns are also a melting pot of ethnicities as many peoples from the rest of Europe have found South Tyrolean friendliness, enterprise and ingenuity a draw for employment in the tourism industry. Therefore expect to be delighted by European fusion food and have your palate (and not just your bike) experience adventure. Expect also to be pampered and hosted in fine fashion. Call us jaded Vancouver/Whistlerites but we found the price of the packages to be totally reasonable with prices running about 90 EUR/day inclusive of food and accoms. Expect to pay approx 20 EUR/day for the bike transport and a local to show you around.
---
I am in love with the food!Wish you were here Brule!My man Klinton never said Nein when I asked for seconds or thirds for dessertMap of the general area. To the left is the Ashbach area. To the right is the Halfling-Merano2000 area. Select larger to see more detail
Look out for part two coming next Sunday.
---
MENTIONS:
@leelau
---