Day One - Simplon Pass | Day Two - Planetenweg - Zinal | Day Three - Illsee-Parilet | Day Four & Five - Becs de Besson/Val d'Herens | Day Six & Seven - Crans Montana
---
Bettmümpfeli
-
Crans Montana
is one of the biggest ski resorts in Switzerland; a country known for skiing. The area is actually a tourism region built around the two regions of Crans and Montana. While known mostly for skiing Crans Montana actually has a
decent size bikepark
and, as many other Swiss regions, many hiking trails accessible by lifts and bikes. Located on the north side of the Valaisian Rhone east-west valley the bike park and many of the trails have southern exposure and consequently open for biking fairly early in the season (the bikepark opens in late-May). It's a huge area boasting "117 km of marked pistes, two downhill runs and the Kona- Bikepark" (per
Tourism Switzerland
)
The two villages are located at 1500m far above Sierre at 533m at valley bottom. There are buses which take you to the Crans Montana resort but of course there is also a funicular railway taking pedestrians and bikes to the top. Unlike our previous destinations of Val d'Anniviers and Val d'Herens, Crans Montana is more touristy. In itself, this is not necessarily bad but come here expecting a more packaged experience as opposed to a choose-your-own-adventure type of undertaking.
Crans Montana Bike Park
On our first day here our weather luck is not for the best. The rain and low temperatures scrapped plans for us to do a ride to the valley. Instead we tried to time a weather window and sample the trails of the
bike park
. As of summer 2014 there are three trails, each between 5-7km long. We took the 6 km long Mont-Lachaux track which is a flowy, bermy trail with optional easy lines for beginner/intermediates. Unfortunately by the time we got to the top our weather window was gone, it started to rain HARD so we just booked it out of there after giving our
Alpine-Trails
bikes a good thorough mud-bath. What we saw of this bike park was encouraging. Views were splendid. Even though it was late in the season brake bumps were not too bad and the trails were in pretty decent shape. There was not the half-hearted genericness which we've seen in so many Euro bike parks and instead, dare I say, there was even some flow. You can also see some excellent photos by Alex Boyce who got a weather window earlier in the morning
here
.
---
Top of the trailNice berms. Martin practising sliding through slick greased cornersMuddy! Lee's little Swiss cow buddy got a bit dirty
---
Tour de Plaine Morte
The next day the skies were blue, the air crisp. We decided to attempt the ride from the Plaine Morte Glacier to Sion.  
Plain Morte
is a glacier located at about 2750m (
it keeps receding
so this height keeps changing). In winter it's accessible by gondola and cable car but in summer all one gets is a gondola assist followed by a long bike ride with some hike-a-bike on ski-hill access roads. We took a chance to see how much snow there would be. Our first clue that this ride might be challenging was on the 700m gondola ride from Montana to
Cabane des Violette at 2200m
. The mountains not far above us were already pasted white.
---
The Gondola to Cabanes des ViolettesOne of the rideable sections getting to the climb to the alpineSnow at the top, mostly ice but enough to make it cold but not enough to make it a good old deathmarch2927m, BRRRRR. We decided here to not go further as it was pretty icy
---
After arriving at the top of the Funitel gondola and peering into the windows of the luxurious
2900m elevation restaurant
(closed as it was late in the season) things looked spicy. There was certainly enough snow to make the high alpine rocks icy and sketchy thus dashing my dreams of riding what has been described as "
the longest single trail of Switzerland
". We pressed on a little further past the Funitel so we could look down on to the glacier. It would have been quite the sketchy traverse in bike shoes and with little margin for error the decision was made to turn back.
---

This was filmed on the Plain Morte to Sion descent. Hope we get to do this one day.


---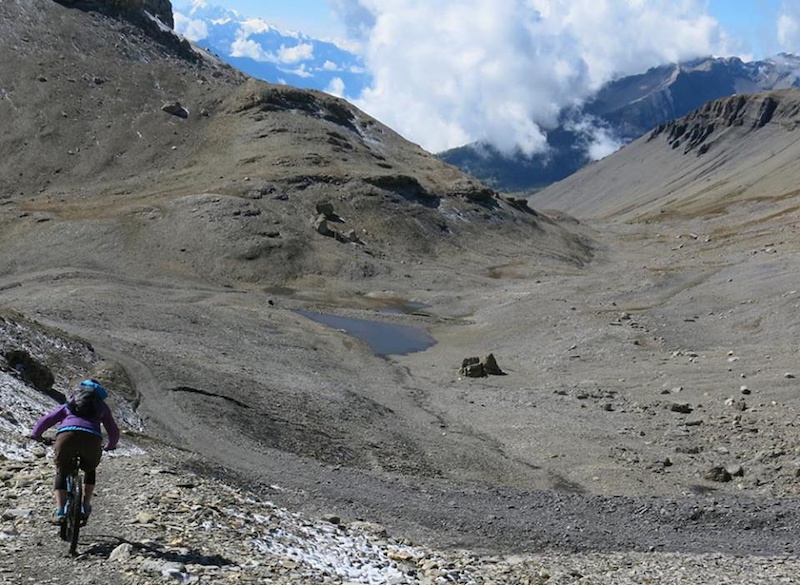 So we head down

To the sub alpine we go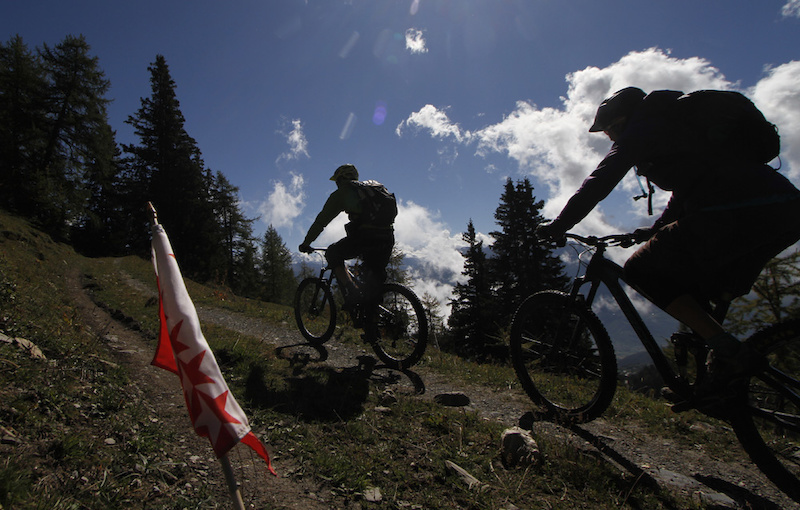 A lot of elevation drop - a different world


---

After losing substantial elevation very quickly we were back down at treeline. It was still cold but snow was absent. Unfortunately our route meandered through some lower forest trails which unfortunately had gotten the double whammy of getting wet then getting hit by cows so we got to practise saying chue scheisse, chue flade, merde de vache, merda de la muca. All was not lost though as we got to check out some classic Valaisian culture at the Cave du Sex and ambled by some of the fabled fighting Valaisan cows fortunately without getting into any fights. This route ended up descending some exceptionally scenic and gorgeous singletrack to the town of Salgesch where we found a nice car wash to clean muck of our bikes before the road ride back to Sierre and the funicular back up to Montana.


---
We go through some muddy cow pastures, the rains the day before sure didn't helpCoffee and Meringue at Cave du SexThen we head down to the forest trailsTechy and fast Ending the ride in a wine growing town with a convenient garage to wash off chue scheisse
---
Where to Stay
We stayed at the Hotel Olympic. Check out the Tripadvisor reviews
here
. On balance we wouldn't recommend staying here. Although it was a convenient location close to amenities in Montana, staff were indifferent at best and not at all helpful either at checkout or during dinners.
Nice location on the main street. Quiet but then it was not the busy seasonStandard breakfastNice rooms. We had the half board meals which were ok. It seemed to us like it was a chore for the waitress to serve us though
---
We wish to thank Tourism Switzerland, Valais Tourism, Brig Simplon Tourism, Sierre Anniviers, and Crans Montana for their support.



Useful Links



Mountain Biking Switzerland - Graubunden and Zermatt (5 parts on pinkbike)
Mountain Biking Switzerland - Grindlewald/Jungfrau and the Eastern Valais (4 parts on Pinkbike)
SBB - Swiss Transit System
Alpine-Trails - recommended guides
Swiss topo maps
General tips and tricks
Tourism Switzerland
Tourism Valais
GraubundenBike
Edelweiss Air - (direct from Vancouver and many other west coast cities to Zurich)Part OnePart TwoPart ThreePart Four
---
MENTIONS:
@leelau
@Alpine-Trails-Switzerland
---