Cross country riding in Sovereign Lakes, Silver Star Provincial Park.
In
part one
we looked at some private trails in Silver Star and public trails around the Predator Ridge area. There's a ton of riding choices in the Vernon/North Okanagan area. To get a taste for an area we hadn't explored we met Matt Ball to show us around Sovereign Lakes. This is an area located in a provincial park with trails side by side and weaving in and out of XC ski trails. The trail history here is one of unsanctioned trails built for downhillers that got adopted into a formal trail system. It's quite the testament both to BC Parks (Okanagan) and to the locals that this happy understanding came about.
---
---
And this is where we come to Matt, who is the President of NOCS (
North Okanagan Cycling Society
) the club which maintains the public trails in the Vernon area. Along with Claudia Sorensen, Matt is also one of the principal trail builders in Sovereign; a busy guy and one of the heart-and-soul advocates who gets things done for trails that you will ride and which will blow your mind. In short, while riding Sovereign we navigated 'old' 1 to 4-year-old trails that had an amazing diversity of technical challenge both up and down. Even the older trails were true narrow singletrack carpeted in pine needles interspersed with rocky rolls and roots.
NOCS has trail building and maintenance dialled and has been able to build trails in the last 3 years with permission from the Provincial Parks in large part due to the efforts of Matt, David B, Mark D, Claudia, Cam, the builders at
Olympia Cycle
and countless other volunteers. The current NOCS effort is to fundraise for signs to help navigate the exceptionally confusing and intricately laid out Sovereign network. You can use Trailforks to get around but even so, trust me - signs would come in handy.
To help NOCS with fundraising donate through
Trailforks
to
North Okanagan Cycling Society
.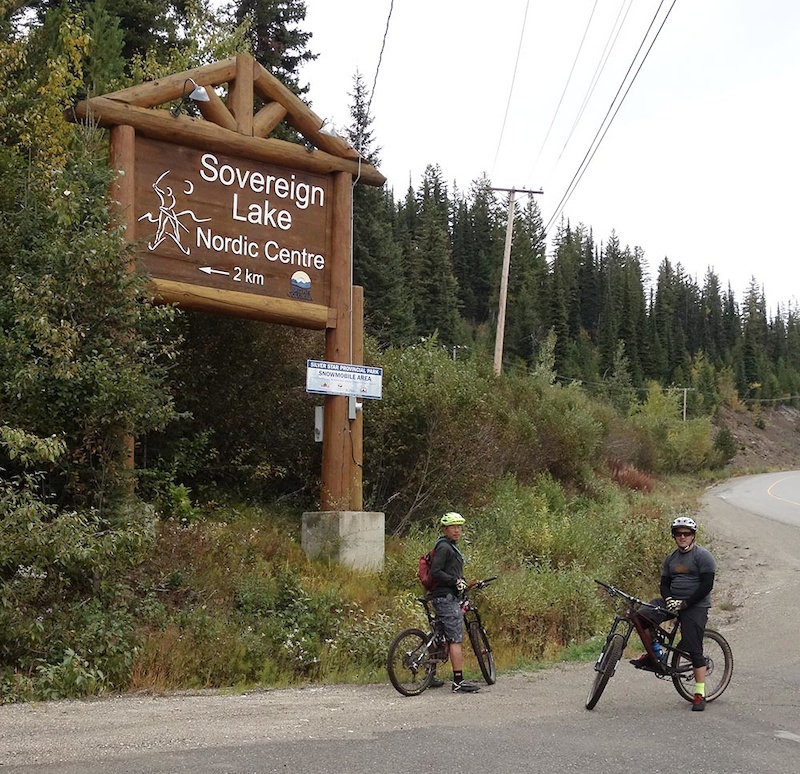 Matt and Lee at the entrance.








Kalamalka Provincial Park
As you drive down Hwy 97 approaching Vernon you will see a distinctive blue lake. This is
Kalamalka Lake
; a Provincial Park that allows mountain biking and which cooperates with mountain bikers eager to do trail work and maintain existing trails - Hallelujah! NOCS has an agreement with BC Parks to build and maintain trails in the area. This partnership has borne fruit in that the Kal Lake area has some incredible trails within the vicinity of Vernon. Not only are there short loops suitable for quick rides; there are long epic-style ride possibilities.  NOCS and countless volunteers work on the Kal Lake trails but a special shout out is due to Ernie Bru and his crew especially for the work on the
Pali Gap
trail
We like to access the park from
Kidston Rd in Coldstream
, a small town North of the lake. There are two areas to park outside the Provincial Park parking lot. Pictured below is one of the areas with the BC Parks Kiosk. You can also park at the end of
Cosens Bay Road
off Coldstream Rd. Be aware that the parking areas haven't caught up with the popularity of the trails especially on summer weekends. Luckily we are on bikes and can park a distance away and pedal to trailheads. For the purposes of this trip we did a short scenic route (the aptly named
Lookout Trail
), described below.
You can also ride a 4-6 hour epic which includes a significant climb on singletrack described
here
as the
Kal Lake Epic
(which includes 31.2kms of 90% singletrack and 1970m of climbing - ouch). Pictures from the Kal Lake Epic are in a separate
blog post
; You can do all sorts of variations in Kal Lake which overlay portions of the BC Enduro Series courses (described
here
). Diversity and choices are the name of the game in Kal Lake.
Accommodations
We stayed at the
Lodge
in Predator Ridge. This dog-friendly hotel offers excellent service plus well stocked and comfortable rooms. They even have a valet that will take your bikes and secure them safely! It's well worth mentioning yet again that the resort has true bike trails right from the door and chipped in to build the
Ellison Connector
trail that connects the resort to the
Ellison Provincial Park trail system
. Predator Ridge also supports NOCS by way of sponsoring toonie races.
Predator Ridge might look like your classic real estate and golf course tourist conurbation but take a deep breath. They truly get biking and they want to bring in and support biking. Additionally, there's a lot going on here for non-biking family members. There are all sorts of outdoor and indoor facilities plus activities for kids. Pretty much a turn-key setup for getaways.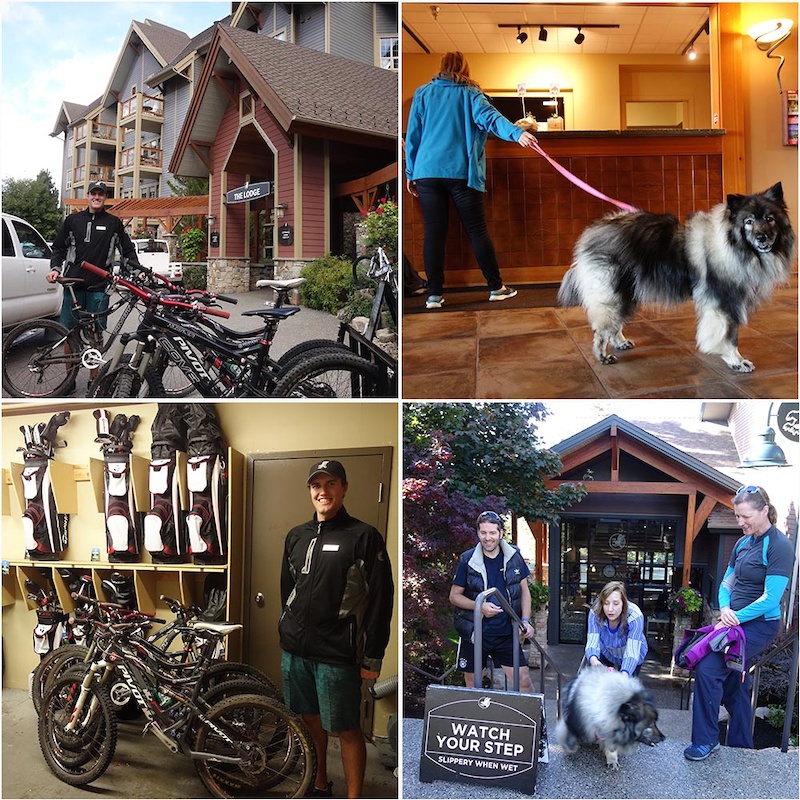 Even Ophelia was impressed with the bike valet!.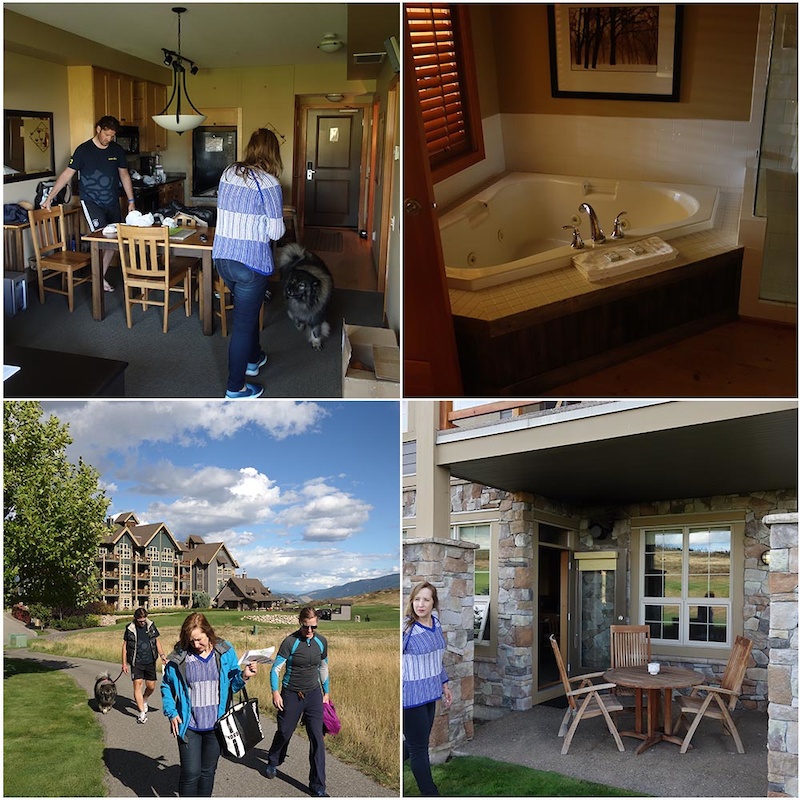 Spacious rooms, soaker tub, nice patio and easy walking trails for your dog.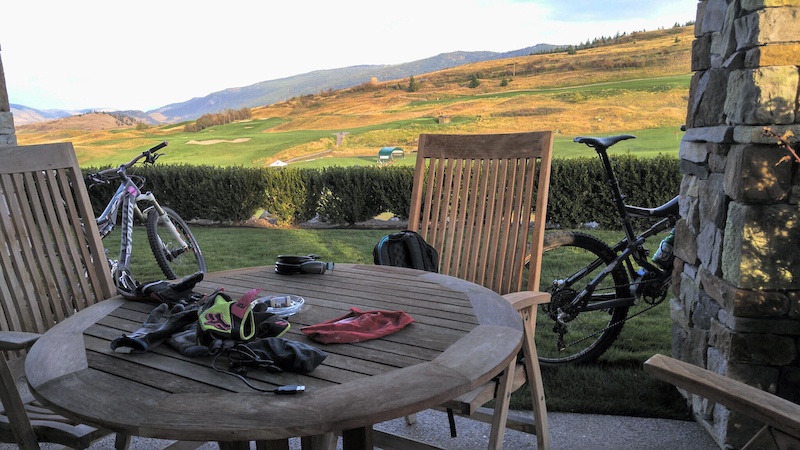 Deck views and place to chill.
Food
At the Predator Ridge Resort, they have a very nice restaurant with an amazing patio, the
Range Lounge and Grill
. The food here is very good, but not for budget travelers (but did we mention it's oh-so-good!). They also have a store (the
Commonage Market)
, which has soups, sandwiches, coffee, and other sundry items you may need. They have food there too that you can buy and cook in your room - perfect for budget options. The only thing which is lacking is a BBQ; that would be perfect for those summer or warm fall evenings.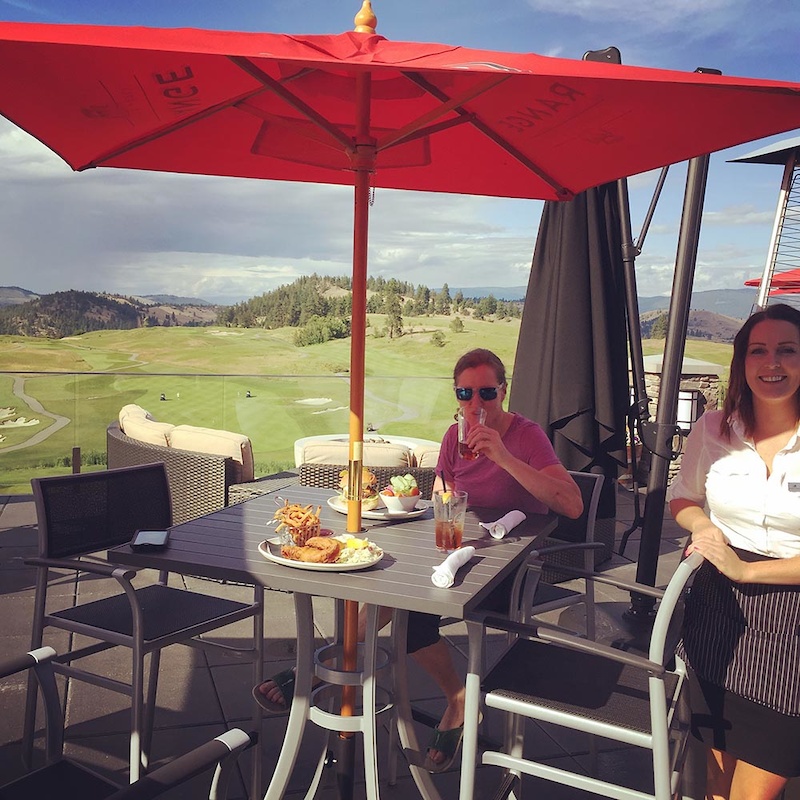 The Range's patio with a view of the golf course.
Maps from Trailforks
Sovereign Lakes
Kalamalka Park - Lookout Trail
---
MENTIONS:
@leelau
/
@trailforks
---