leigh4013
Member since Apr 13, 2008

Online
Male / 45
Tunbridge Wells , United Kingdom
Block user
Recent

Aug 26, 2020 at 7:59
Aug 26, 2020

Jun 15, 2020 at 7:51
Jun 15, 2020

Selling
Jun 15, 2020 at 7:14
Jun 15, 2020
$300 GBP
For sale is my 2010 Orange Blood Full Suspension mountain bike frame with Fox DHX RC4 rear shock and maxle only. (Bike stand not included)
 I have owned this bike frame from new and was purchased from Bromley Bikes in June 2010. Its is the 17" model and it has various scratches use as would be expected I have tried to capture these in the photos but it is still in great condition, and the worst is the scratch on the top tube as shown in the photos, there is no dent and the colour is Passion Red. Frame details: • · The frame will only run 26" wheels and has 125mmtravel. • · Requires a 1 1/8" external headset • · Has a 27.2 seat tube and I will also include theOrange Strange q/r seat clamp. • · Has a 73mm Bottom bracket with ISCG old mountsall threads fine. • · The rearend is 135 x 12mm and I will include the maxle that came with it. The rear shock I upgraded to a FOX DHX RC4, it has a 600LBspring but I will also include the spare 550Lb and 500lb spring. It truly is an amazingshock with so much adjustment on it you can set it up however you want, itfeature High Speed compression (HSC) adjust, Low Speed compression Adjust(LSC), Rebound and Bottom out control / Ramp up that is controlled by addingair and adjust the blue collar. This has been serviced regularly and is ingreat condition. Also included in the sale is a spare rear dropout and a brand new never used set of spare rocker swing links with new bearings. Any question or further photos required just ask. Sad to see go but I don't ride as much now as have a young family, hope someone rebuilds and enjoys this awesome bike. Please note this will be posted via Parcelforce48hr.

Jun 15, 2020 at 0:45
Jun 15, 2020

Selling
Jun 15, 2020 at 0:40
Jun 15, 2020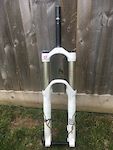 $250 GBP
2010 RockShox Lyrik RC2 DH 26" suspension fork, solo air 160mm travel or 170mm with spacer removed. 200mm Straight 1 1/8" steerer and 20mm axle. I have had these forks from new and have had them serviced regularly and are lovely smooth action forks with all controls fully working. They have a few scratches on lower leg from use but the stations are immaculate, great forks I will post using Parcelforce 48hr. Cheers

Jun 6, 2020 at 12:51
Jun 6, 2020

Selling
Jun 6, 2020 at 12:49
Jun 6, 2020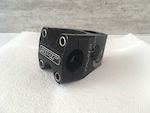 $20 GBP
DMR Headstock stem for sale to suit 25.4 bars. 50mm Length, Offers accepted. Thanks

May 21, 2020 at 0:01
May 21, 2020

Selling
May 20, 2020 at 23:55
May 20, 2020

Dec 18, 2019 at 0:33
Dec 18, 2019
Load more...