Enjoy some highlights from the 2011 Shine Queen of the MTN. Hope it inspires you to come have some fun!
We are pleased to announce that Shine is partnering with MTB4HER to host Pumps on Pedals, at the Northstar Bike Academy on August 22nd for women of all abilities. Although Pumps on Pedals is in its first season, each clinic has drawn over a dozen women to the mountain, and continues to grow with this latest clinic.
Shine Riders Company strives to illuminate and inspire female mountain bikers, create opportunities in the bike industry for them, and to connect members with others in the ever-growing Women's Freeride Movement. Whether you are a racer, freerider, coach, photographer, writer, film-maker, weekend warrior, newbie, or just checkin' out nature, Shine Riders Co. is sure to resonate with your luminescence. Membership is free and riders of all abilities are encouraged to submit stories and events. Riders can stay updated by joining the Shine email list.
Lindsay Beth Currier (LBC), IMBA ICP certified coach and Shine founder will be joining Joh Rathbun - a freelance action sports writer and professional downhiller with almost 20 years of gravity mountain biking experience. Together, the duo bring nearly 40 years of mountain bike knowledge and fun times, and have been working side-by-side for almost 3 years to connect the women's mountain bike community in Northern California and beyond.
Partnering with MTB4HER - the first digital mountain bike magazine aimed at women - to help build the women's community in Lake Tahoe, both LBC and Joh will be working with the Northstar Bike Academy to provide a safe environment to ratchet up your skills while enjoying the camaraderie and encouragement of other women on the lift-accessed trails.
LBC said, "Both Joh and myself consider this our "home mountain," so we're pumped to share the stoke with like-minded women in such a beautiful setting!"
We'll be meeting at the bottom of Big Springs Gondola at 4:45 pm, and tires roll at 5, until 7pm.
While the clinic is FREE, keep in mind that you will still need to buy lift tickets, and as always, please bring enough food, water and necessary accouterments to keep your happy selves… happy! Full face helmets, flat pedals, knee guards and elbow guards are required for the downhill clinic. Rentals are available. This is a no-drop clinic, with the emphasis on having fun. So be prepared to have fun in a low-pressure, yet boisterous ride with Shine and MTB4HER. We hope to ride with you then!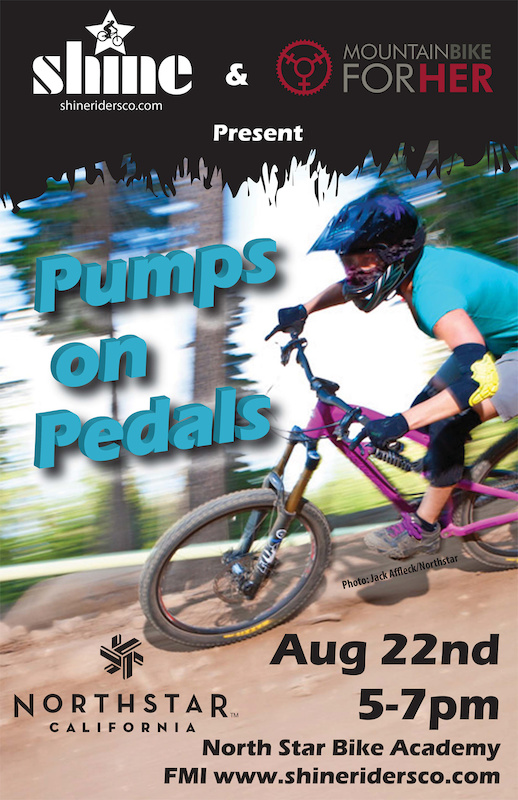 For more information please visit
shineridersco.com
.
---
Northstar California
Trailforks.com