llaskin
Member since Sep 10, 2005

Male / 96
Long Beach , California
Block user
Recent

May 25, 2016 at 0:59
May 25, 2016

Selling
May 25, 2016 at 0:46
May 25, 2016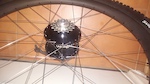 $1340 USD
I am selling a rear 32 spoke mountain bike wheel. The carbon rim and high-end Sapim spokes are new and have never been ridden on. The hub has been ridden on about a dozen times and is still with-in its break-in period. The rim is carbon and 40mm wide. The 14-speed internal gear Rohloff Speed hub is the black, OEM, disc brake version with the hollow quick-release axle and the shifter. It comes with everything you need to run the hub. I have the original box and manual with a bunch of accessories. For more info on the hub read this: https://en.wikipedia.org/wiki/Rohloff_Speedhub It has black Sapim alloy Polyax nipples. The spokes are Sapim Super Spokes. These are literally the lightest and strongest steel spokes ever made. A new grade of stainless steel enables Sapim to reduce the diameter of the spoke, whilst increasing its strength and fatigue resistance. You can read up on them here: http://www.sapim.be/spokes/butted/super-spokes They sell for $5-8/spoke! Many people use these for downhill or on light road wheels that only have a few spokes. Again, they are brand-new. I Just built up the wheel. The brand-new carbon rim is a 26" Nextie MTB Rim 40mm width Clincher Hookless Tubeless Compatible Mountain Bike [NXT26H02] I built the wheel for myself. I was a bike mechanic and frame builder for 10 years. My plan with this wheel was to run a 26-Plus tire (like the Surly 2.75" one in the photo, which doesn't come with the wheel) which inflates to about 27.5˝ overall diameter, which gives all the benefits of a larger diameter 27.5" tire, like ground approach angle and more footprint, but with the easier maneuverability of a 26" diameter tire.

Sep 19, 2008 at 14:55
Sep 19, 2008
send the frame to greece?
Load more...