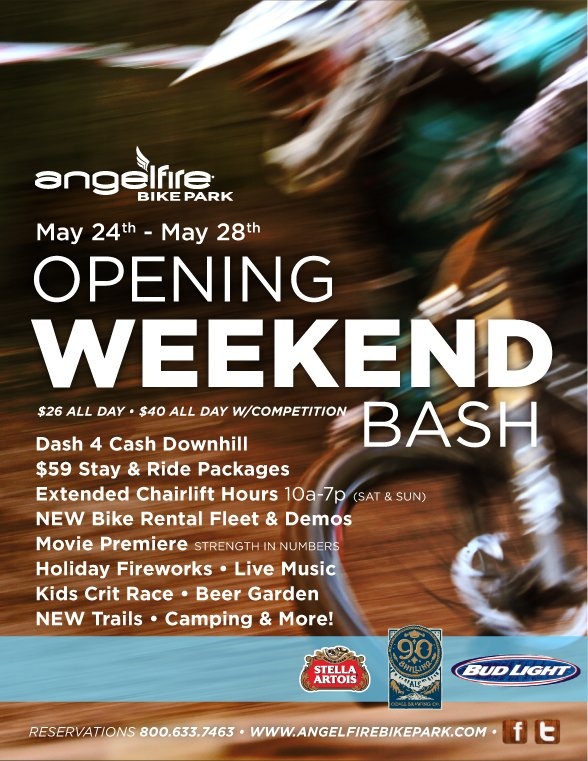 Want to knock the dust off your DH rig? Or maybe you just want to try out your new steed for the season? Summer is right around the corner and your buddies want take the first road trip of the season, what better place to clear your head than the new and improved Angel Fire Bike Park.
Our lifts are opening Memorial weekend May 24th- May 28th. The weekend will be filled with plenty of fun things to do such as: the new Strength and Numbers movie premier by Anthill Films, Dash "4" Cash Downhill, live music, Fireworks, Kids crit race, camping and more.
Last year the trail crew built over eleven miles of trail, making this season the biggest to date!
With over 40 miles of trail, and 24 miles of new trail this year on the tip of the shovel to be made in 2012, Angel Fire Bike Park is making a big statement in the bike park industry this year. Plans this year include; major expansion in Candyland, new 12 mile xc loop on the backside of the mountain, four new gravity trails, the completion of boulder dash, upgraded drop zone, and last but not least, improvements to all existing trails with a big budget for bridges!
Bike park director Hogan Koesis says, "Senior management wants to see 100+ miles within the next few years, a daunting task, yes, but we've got an ambitious trail crew this year, and a ton of resources to throw at the project, so we're all super stoked to be a part of the revolution that this mountain has been waiting on for quite some time".
Lift-tickets are still cheap at $26 a day and a season pass is only $229, which includes three free days at Trestle Bike Park. Angel Fire Bike Park is also offering great deals on stay-and-ride packages starting at $59pn/pp.
Heckle your parents, convince your friends, and make your way over to Angel Fire, New Mexico Memorial weekend with your friends and family to shred your bike.
For General Information & Reservations contact: 800-633-7463, Fax 575-377-4200 reservations@angelfireresort.com
List of events this year at Angel Fire Bike Park:
The 26th ANNUAL CHILE CHALLENGE (PRO GRT)
JUNE 8 – 10th -- DH, DS, SD, XC
More of the same racing you have come to love from the Mountain States Cup!
OSO HIGH MOUNTAIN BIKE XC RACE
NEW MEXICO OFF-ROAD SERIES - NMORS
#7
JUNE 30 – JULY 1
Each series XC race will be an independent qualifying event for USAC MTB Nationals. The final overall series standings will be used to determine 2012 USAC NM MTB State Champions.
ANGEL FIRE'S 3RD ANNUAL FREERIDE FEST – LABOR DAY WEEKEND
AUGUST 31 – SEPTEMBER 1
Angel Fire is going to be hosting the 3rd Annual Freeride Festival over Labor Day Weekend. Beer, Free gear, and a movie premier.
THE RED BULL FINAL DESCENT
SEPTEMBER 29
The last mountain bike event of the season, the Red Bull Final Descent is an intense 12-hour endurance downhill mountain bike challenge for sport, expert, and pro-class mountain bike riders.
USA CYCLING COLLEGIATE MOUNTAIN BIKE NATIONAL CHAMPIONSHIPS
OCTOBER 18 – 21
USA Cycling named Angel Fire Resort's world-class bike park as the host site for the second year. Top college mountain bikers compete for national titles in cross country, short track cross country, downhill, and dual slalom events.
Angel Fire Recap Video
2nd Annual Freeride Festival
Candy Land