lovetheride4204mike
Member since Oct 8, 2006

Barrie , Ontario
Block user
Recent

Selling
Aug 13, 2020 at 16:52
Aug 13, 2020
$280 CAD
RC3 Damper. Solo Air Spring. 42mm Offset. 6" tapered steer tube. Good shape. needs seals.

Selling
Jul 25, 2020 at 19:32
Jul 25, 2020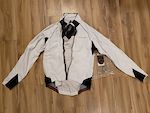 $100 CAD
Brand New, Never worn. Very high quality, light, thin, stretchy cycling shell jacket. Waterproof and breathable membrane with no separate liner: the liner material has been printed directly to the inside of the membrane. Purpose-designed for cycling with stretch sections - shaped and trimmed for proper positions. Includes small pack bag. Cost twice as much.

Selling
Jul 25, 2020 at 8:31
Jul 25, 2020

Selling
Jul 25, 2020 at 4:22
Jul 25, 2020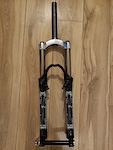 $200 CAD
Great fork. -You won't find one in better condition! -Very little use since rebuild with 10wt oil and Marzocchi seals. -Good trail performance with open bath SSVF Damper. -Springs feel a bit firmer than the soft noodles that come stock although I havn't checked. -External rebound and preload, both with significant adjustments. -30mm aluminum DJ stanchions -Mg Powerwrap 'M'-arch -QR20 plus 20mm axle -long 8" steer tube -Includes original axle

Selling
Jul 19, 2020 at 18:19
Jul 19, 2020
$30 CAD
Great bar. Triple butted 7075 T6. Said to be indestructible. Scratches and blemishes are only in the finish, not effecting strength. 40mm Rise. 715mm Width. 8° / 3° Sweep.

Selling
Jul 19, 2020 at 18:04
Jul 19, 2020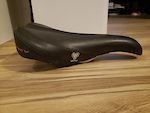 $30 CAD
-chromoly rails. -comfortable. -squishy padding. -legendary whale-tail shape with drop-nose. -excellent all around/trail seat. -good seated stability. -doesn't get in the way or catch when standing. -durable. -has a mark on the back from one time the tire bottomed out on the seat.

Selling
Jun 10, 2020 at 17:59
Jun 10, 2020
$150 CAD
Stanchions and bushings in good condition. Fresh service with 10wt oil. Brand new "Enduro brand" dust and oil seals. Classic Marzocchi open-bath, dual-sprung fork. Great trail fork. 192mm steer tube. 30mm aluminum dj stanchions. IS disc and v-brake mounts. Medium springs. Much lighter than similar Marzocchis. Hex key 20mm axle that sits flush with drop out. Made in Italy.

Selling
May 23, 2020 at 8:38
May 23, 2020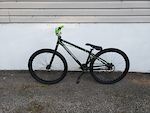 $375 CAD
-DMR Sidekick 2 - 21.5" TT. -chromoly street/dj fork. -Black Market Bada Boom bars - 3" rise - 715mm uncut. -Deity 50mm stem. -Article 2 pc mtb cranks - 170mm with external bearings for 73mm bb. -DMR "USA to Euro thread" bottom bracket adapter. -Hayes MX3 brake, set with short pull for gyro/bmx lever. -rear Ditch Witch rim / WTB hub with 10mm solid axle. -front disc wheelset with 10mm solid axle. -specialized street tires. -beefy dj headset. -sleeved bushing chain. -dj pedals. -axiom seat post. -big 155 specialized seat. -new grips / new gyro cables. -brake/gyro works well. -lots of brake pad life.

Selling
May 19, 2020 at 11:27
May 19, 2020

Selling
May 19, 2020 at 7:18
May 19, 2020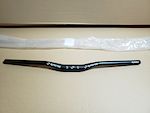 $35 CAD
Nice bar, Comfortable sweep, Quality flat black finish. Not used much, Very good condition. Said to be very strong, Light Weight. Double Butted. 20mm Rise. 675mm Width. 9° / 4° Sweep. Uncut
Load more...