Pedro's has been long known for their line of lubrication, cleaning, and bike tool products. Although they offer a very impressive Master Took Kit with over 60 tools, it is most likely way out of the budget and needs for someone like me that can handle simple tune-up work but still relies on a mechanic from time-to-time for some of the more serious jobs. Thankfully Pedro's has someone like me in mind by offering the
Pedro's Starter Kit
!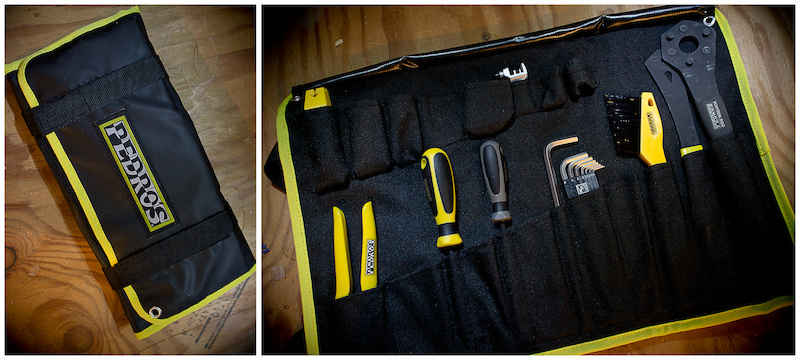 Specs
MSRP: $150
Includes the following tools
• 7pc L Hex Set w/ Holder: 1.5, 2, 2.5, 3, 4, 5, and 6mm hex sizes.
• 8mm L Hex
• Tire Lever Pair - Yellow
• Cassette Lockring Socket
• Phillips
#2
Screwdriver
• Flat 5.5mm Screwdriver
• Apprentice Pedal Wrench
• Six-Pack Chain Tool with Spoke Wrenches (3.2, 3.3 and 3.5mm)
• Cable Cutter
• Cog Wrench
• Toothbrush
Also included in the Pedro's Starter kit is the
Burrito Wrap
which is made of a durable and waterproof exterior which makes it pretty rugged for tossing in your trunk for a race weekend without worrying about damage to your tools. And if bench space is at a premium, you can hang the wrap by the two metal grommets for a more convenient setup at home or on the road.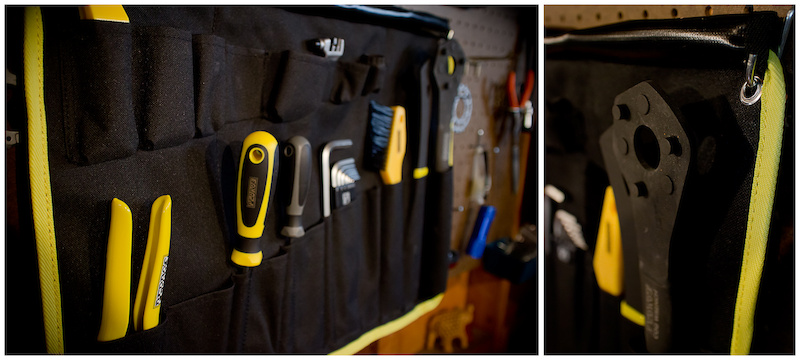 With 20 pockets, there is plenty of space to add additional tools that you may already have in your arsenal.
Top // What is included with the Starter Kit
Bottom // Loaded with additional tools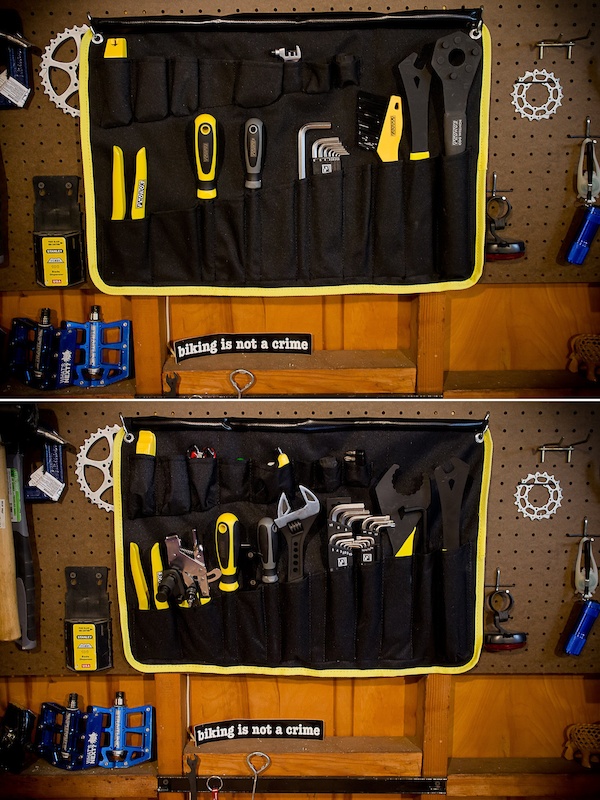 Initial Impressions
Compared to other offerings for tool sets on the market, I was happy with the price point of the Starter Kit at $150. Most people may already own a screwdriver and allen key set, but I liked have a dedicated set of bike tools so I'm not constantly packing/unpacking tools when taking the kit with me. I was happy to finally have a proper pedal wrench as well as a nice set of allen keys. The exterior material on the Burrito Wrap is SUPER rugged and I have no qualms about being rough on it (as things tend to get banged around in my trunk with bike and camera gear).
What can be improved
My only gripe was the initial 'break-in' of the pockets in the Burrito Wrap. The material is THICK and very tough, which is great for durability and longevity but can sometimes make it tough to remove/insert tools into some of the tighter pockets at first.
Overall, I think the Starter Kit is perfect for someone that wants to start working on their own bike or may already have some tools but wants a way to organize and transport them seamlessly from the workshop to the pits. With extra room, you have the ability to expand and grow your tool kit as your wrenching skillset improves.
For more information visit Pedro's website
HERE