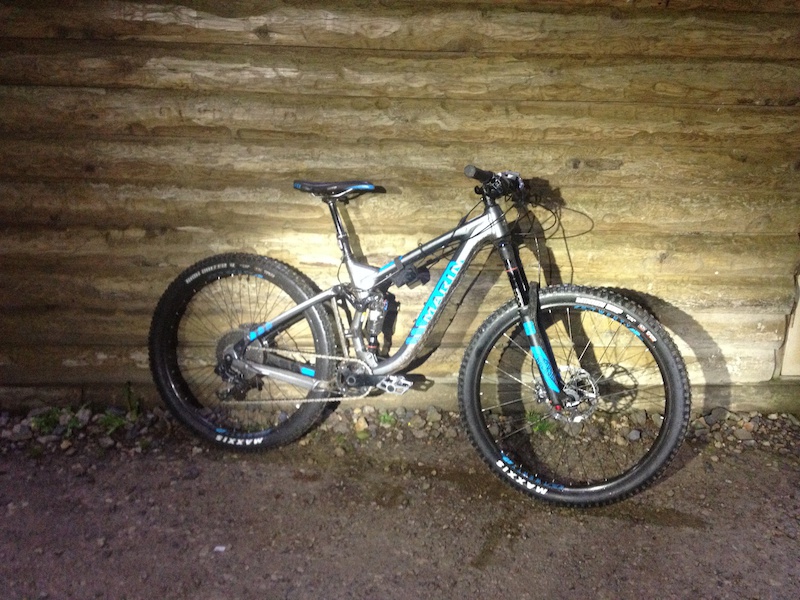 Speculation:
- 6061 Aluminium Frame 27.5" Wheels, 150mm Travel, Quad 3 Suspension
- Rockshox Pike RC 27.5" Fork, Solo Air, 160mm Travel
- Rockshox Monarch RTR Rear Shock, Rebound, Compression, OneLock Remote Lockout Adjust, 200x57mm Stroke
- Maddux HD510 Rims, Double Wall, Disc Specific, 27mm Inner Width, Tubeless Ready
- SRAM X1 Rear Derallieur, 1x11 Drivetrain
- Forged Alloy 1x11 Crankset, Hollow CrMo Spindle, Narrow-Wide 32T Ring
- Shimano SLX Hydraulic Disc Brake
- KS LEV Integra Dropper Post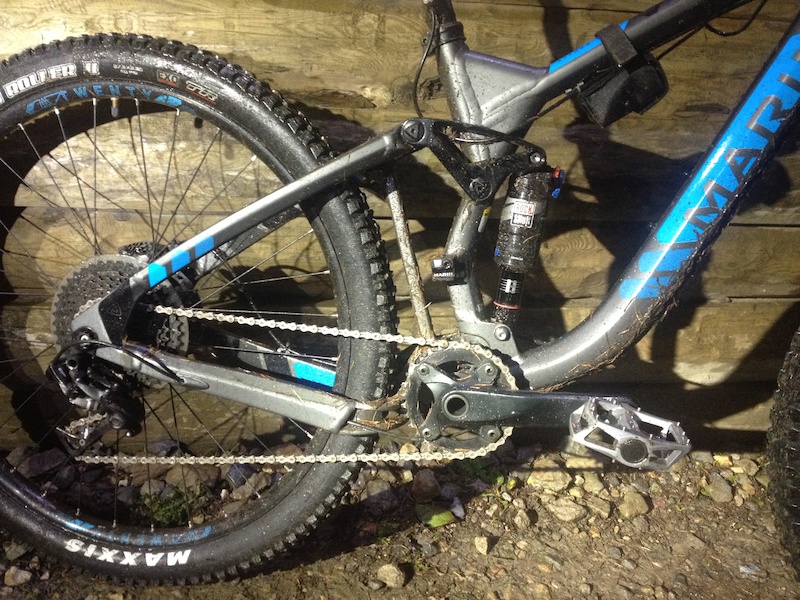 On finding out I could go with the guys from work to demo a fleet of Marin bikes, I was super excited! Despite being a brand that hasn't been at the forefront of the UK market over recent years, I still had faith in the bikes we would be riding. Back in the day my Uncle's Marin got him around the Alps and he wouldn't just ride any old bike. As far as I know he still has the bike, but either way I was intrigued to see what today's Marin bikes could do.
Due to the dark nights now being upon us, we would be testing the bikes out aided by lights. As I approached the Marin van in the car park at Llandegla, I cast my eyes upon the bikes on the stand trying to figure out which one was the smallest! Then I spotted the Marin Attack Trail 8. To any new readers this was a BIG step up to what I normally ride XC on. Just looking at the Attack Trail, I had a feeling this bike possessed the ability to put a smile on my face.
On the first loop of a short test route, whilst we made our way up the first few ascents the first thought that came to mind was the seated pedalling position. It was perfect for my height (of 5ft 3"), and by this I mean not too upright or too far over the front of the bike. I didn't feel uncomfortable pedalling.
However, at times on steeper ascents it felt slightly sluggish to pedal, but one credit to it despite this is how it kept traction. Rather than taking the easier lines up the ascents I chose the more rocky and greasy lines just to see how the bike dealt with it. I was totally expecting it to lose traction on the rear wheel, but it steadily made its way over the greasy rocks no problem.
Where I did find it struggled was tight, uphill corners. On the start of the Julia's Trail at Llandegla there are a handful of these types of corners, and first time round I was unsuccessful in getting up them. By the last time round our short route I managed to get up them, but with great precision moving the wide bars around trees! The fact I got up the corners on the last loop suggests that once the new owner becomes accustomed to the bike they wouldn't have a problem with this. Narrower bars could possibly solve the issue, but if it was my bike I would be hesitant to do this so as not to take away from the Attack's ability to descend so effortlessly which I will come to shortly.
When the terrain became slightly less steep, the difference in power I could put through the cranks was surprising. With a productive 'attack' position, I soon found myself picking up speed once heading down some singletrack. Everything I did on the bike felt like it added to the motion of moving forward. Leaning into corners, the attack position, feathering the brakes into corners and letting off allowing me to hit the apex. I was working with the bike, not against it.
If you've been following my recent blog posts you'll know I've been hitting a lot of jumps recently! So I was slightly disappointed we couldn't hit my favourite section of jumps on the Black trail on-board the Marin's. But the jumps on the Julia's trail were sufficient enough to prove to me this bike meant business. I'll admit it first time round I didn't hit the jumps. Having such a light bike and rear end felt slightly odd! Good but odd.
After gaining confidence on the bike, my second time around I was going to put the bike through its paces. Approaching the jumps, I soon found out it was surprisingly easy to get up in the air. Being a night ride and relying on one light, I couldn't hit them as well as I would have liked. But I still hit the jumps! Attempting hucking off one jump, I was soon in the air praying the landing went smoothly. I've ended up landing in bushes/puddles on night rides before. Not fun, just wet and cold! And thankfully the landing did go to plan. And with the bike feeling perfectly balanced on landing I could continue riding and focus on the trail ahead of me. I'm not sure why I was so worried about jumping with the bike because I felt incredibly in control of the bike whilst air-born.
On the route we did it had a variety of corners, from flowing singletrack to some tighter, technical ones. It sounds a bit of an odd comparison, but you know how you lean into corners on a road bike and it holds its line? That feeling of flow when you hit a few corners straight after each other? I've never felt that on a mountain bike before. Rather than a burly, aggressive bike which I am so use to handling, the Attack was so effortless to ride. I'd managed to unlock a smooth style of riding. Where I would often rely on being able to drift into corners, I didn't feel the need to because I had complete faith in the Attack's ability to hold the line I had chosen.
To help control my speed I had Shimano SLX brakes at my disposal. And they felt completely different to any brakes I had used previously. When I first sat on the bike in the car park, I was worried about the power of the brakes. They didn't feel quite up to the job. But I was proved wrong once on the trail fairly quickly. The brakes contributed to not having to rely on drifting to get around corners. I could feather the brakes and gradually get down to the speed I needed to get around upcoming corners, I also didn't find myself braking going round corners either. Another bad habit of mine, but the Attack seemed to stop that!
On every loop I was unleashing more and more of the Marin Attack Trail's potential. All of the components combined with the frame worked well for the short time I was riding it. On finding out the retail price of the bike, this was another thing that surprised me. At £2500, to me, this bike is also incredibly good value! I think the full potential of the bike could be unleashed on a trail, funnily enough, like the Marin Trail! Something less man-made and more natural.