m-sor
Member since Jun 9, 2006

Male / 30
Bend , Oregon
Block user
Recent

Mar 15, 2019 at 11:58
Mar 15, 2019
QBP's High-End Whisky Carbon Components will Sell on Amazon & eBay
@Myfianceemademedoit: I don't know the details around how QBP is going to select it's group of eligible shops but if I was still involved with an LBS I would be working hard on getting qualified as a reseller and building my Amazon business. Based on this press release it sounds like its a fair playing field for any LBS to come to the table and become a part of this decision. FYI, the Amazon channel is my specialty so if any LBS want to have a conversation around building a successful Amazon business, let me know ;)

Mar 14, 2019 at 14:37
Mar 14, 2019
QBP's High-End Whisky Carbon Components will Sell on Amazon & eBay
@jpdincv21: Asking your customers (or potential customers) to simply "spend more money" and do so because they should apparently feel bad for the people who "need to put food on the table" is the exact reason so many bike shops are failing. I come from 10+ years at a LBS which failed to evolve and ultimately went out of business. Large e-comm sites like Amazon are not the bad guys here, they're not out to destroy small business and make everyone homeless and hungry. e-comm is simply an evolution of the way consumers are shopping based on competitive pricing, convenience and selection. There is room in this world for high quality bike shops who treat their customers with respect and know how to wrench. Those shops though, need to adapt to the idea of companies transitioning to D2C, selling on Amazon and doing whatever else they need to do to grow their business. Like it or not, everyone is going to worry about their own business first, successful businesses will evolve and grow, that's what makes them successful.

Nov 12, 2016 at 14:15
Nov 12, 2016

Nov 11, 2016 at 15:32
Nov 11, 2016

Nov 9, 2016 at 9:58
Nov 9, 2016

Selling
Nov 9, 2016 at 9:58
Nov 9, 2016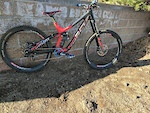 $2999 USD
This bike is well equipped to handle whatever you through at it! With a carbon main frame and aluminum rear triangle it is light, snappy and durable. Without the upgrades this bike was $5800 retail. Upgrades include: Carbon Race face Sixc cranks Carbon Deity Mohawk handlebar 35mm long Deity direct mount stem The bike is in LIKE NEW condition and has honestly barely been ridden. Sick bike at a sick price! Worth a look if you're interested in a DH bike.

Sep 27, 2016 at 13:56
Sep 27, 2016

Selling
Sep 27, 2016 at 13:54
Sep 27, 2016

Jul 22, 2016 at 10:48
Jul 22, 2016

Selling
Jul 22, 2016 at 10:47
Jul 22, 2016
Load more...