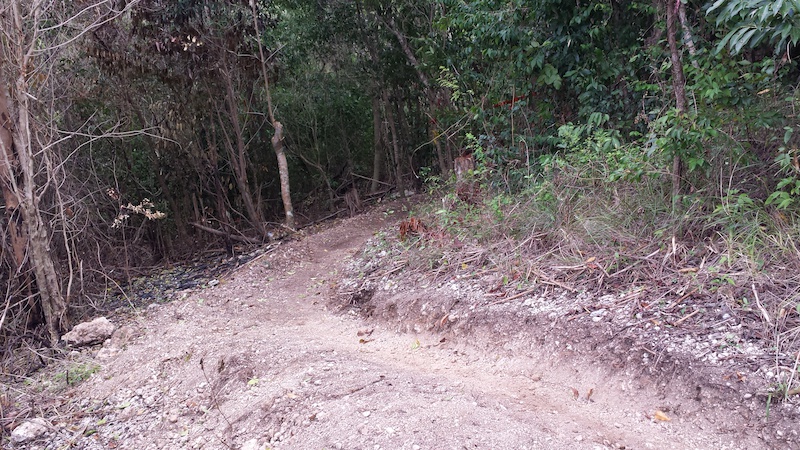 Massive respect to all riders taking time to read this as you are the the brave Nomads of mountain biking that are seeking adventures in paradise.
This was my 15th year trailblazing and my 17th riding in Jamaica. In the last 6 years I have been blazing in the Westmorland Mountains of Jamaica's Westend and particularly in Red Ground & Good Hope that overlooks all of Negril's 7 miles of beach and endless cliffs.
For 4 years I hacked my way around laying flags, marking my line choices and features found in the jungle that seem to be the most difficult, fun and tech worthy. Eventually I cut 3 DH Enduro style trails and 2 XC semi DH trails that were unconnected and sat in a raw state awaiting trail work. Every year I returned to Red Ground I would find a plethora of deadfall, overgrowth and general nastiness caused by the previous season's weather that sometimes featured hurricanes. Needless to say it was a chore to just bring back the raw trails to a ridable state each time and then leaving was depressing.
This season when I arrived Jan 6th I was in shock.........a drought was underway during the rainy season.......a dream come true for me. My trails were clear and others I have given up on due to massive overgrowth were clear enough to mark and cut.
I was finally in a position to build trails with actual trail tools. Colin, Micheal, Spice, Gold Teeth and myself began a two month trailblazing session. Even with the most basic tools we were able to bench cut and build berms. The Trail Boss Rogue Hoes were our main tools along with each of us carrying a machete, foldable saw and other trail tools including a sledge and pick axe. Harvesting dirt is now an option we never had before.
Leaving my mark seemed to be the way to attack this system as I realized that just clearing and advancing was useless and is not sustainable. Like other footpaths I have been using for 17 years the riding problem in Jamaica is CONTINUITY. Returning to a trail a few weeks later you never know what you will find and what has changed. The riding here is sketchy at best with the crazy weather the landscape changes with every rain or seasonal change.
Our 1st problem was penetrating the surface to bench cut. Not having motorized tools we picked, dug and hacked our way through the surface and it was not easy....we were getting no where. The top layer is made of hardened limestone mixed with marl and chunks of baseball sized rock and some sections are woven with vines and roots forming a tough carpet. Some of the foliage including the roots have acidic sap and irritating surfaces that cause your skin to boil and bleed. I had to spend as much time learning about the flora and fauna as I did teaching my crew all the vast knowledge I have acquired about building sustainable trails and trail features like berms and rollers.
To our surprise once we dug down the 6+" of thick jungle carpet we found black dirt.......jungle gold. The 2 problem spots, one being the jungle and the other the rock hard surfaces were now becoming my best trails. Using Rasta lore we worked on rain days cutting through the wet carpet and digging into damp limestone. The result is exactly what I was hoping for.
Rusted Roots is the premier Negril trail that got the most work as once we started we just could not stop! Scrub'a'dub was cleaned and we removed all the pedal grabbing ground vines and painstakingly removed the overhead dead crap thats wound up like a spider web of overhead vines and dead branches that fall creating a dangerous ride. The XC trail, the Ganja Graveyard, got a major clean up including the removal of all ground vines and burying the roots. We also had to tame down the insects and ants as some sections that were inundated with many species of biting ants were burned out and relocated.
The biggest advancement was cutting a short 100' trail we named the 40 legged connector. Like the name says it joins the XC trail near it's end to all the DH trails so a massive loop was formed. We now no longer have to ride up the Whitehall paved road named "the monster" by a numerous very capable riders.
The rides can now start in reverse by riding up the XC trail to the peak a 1/4 mile from where the 2W1LJ DH trailhead is located at the Great House. You can drop in to either Rusted Roots or Scrub'a'dub and then ride back up the Ganja Graveyard to start all over again. I consider the XC trail to be an intermediate to advanced uphill tech making it a fine compliment to the enduro style DH trails so a fit rider will not need a shuttle to session the DH trails. I have to admit I thought I was getting nowhere after 5 years and it seems the tide has changed and I now have a handle on the trailblazing in Negril's dry and tough surroundings.
There will always be more fun and new sections to add to Rusted Roots but for now the premier trail sits in fine shape waiting to take on any rider or weather. Next build session will focus on applying the same treatment to Scrub'a'dub and the Ganja Graveyard. After those 3 key trails are done and complete with bench and berm builds I will start work on my long lost friends.........2 major trails.........1st off=the JAMBA DH and a nugget called Spanish Gold Teeth a longer XC trail that took a beating the last 3 years.
So it looks like 2017 will feature the beginning of fun bridges, stunts, features and even creative rest stops.
A major thank you goes out to the people who have my back deep in the bush and to those who have supported my Rasta ventures over the decades leading me to this place i'm at and I can say it is a comforting spot I am in now after a long 7 years trudging back to where I once was. There are a lot of people who have fought my advancements and builds both local and foreign and I have seen my fair share of expats scheming to unhinge my visions and goals. Thank you........that just made me stronger.
This year saw my first sponsorships with full support from a few key players. Lupine Lighing stepped up and has supplied me with enough lumens to light up Orange Hill in the form of Piko lights, Gretna Bikes has donated a few nice bikes to compliment my stable and we now have a driver and shuttle vehicle when ever we need it. Also Rusty has built me a bike repair shop in the main floor of his castle where I have a plethora of support in the form of bike parts and tools and a safe place to store a growing quiver of nice mountain bikes all loaded with UST knobby tyres.
The major respect goes to my crew. These guys I consider my close friends work in any conditions and do not complain. Three of them have yards and farms that Red Ground trails run through adding stop overs on the tours and security for our rides. They have formed a bond between myself and the Red Ground people that is unmeasurable who are some of the warmest folk you will ever meet.
That's all for now......keep the rubber on the trails and your ass on the saddle. Respect to all you dirtbags.
Marsh......