marcpetrie
Member since Jan 17, 2013

Male / 30
Québec City , Quebec
I like bicycles.
Block user
Recent
Selling
Aug 13, 2020 at 8:13
Aug 13, 2020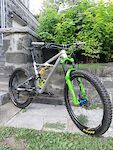 $3900 CAD
2017 Large frame -Crank race face -Derailleur/shifter Gx -Fork DVO diamond 170mm boost -Ohlins coil spring (2 coils) -Wheelset 27.5 nobl carbon with Onyx hubs + cushcore -Handle bar Enve carbon with Renthal stem -Brakes hope E4 Major tune up made this winter. -Bearing maintenance done. -Cables changed. -New brake pads -New chain and 32T chain ring -Suspension maintenance done -Tires were changed -Paint was striped with a clear coat on aluminium Since this tune up, I have rode it a dozens of time for 2020 season. The BB was greased but is probably starting to fail. I can hear it creaking from time to time in torquy situations. Thanks, Marc
May 6, 2020 at 5:35
May 6, 2020
May 4, 2020 at 9:08
May 4, 2020
Selling
Apr 6, 2020 at 9:36
Apr 6, 2020
Apr 3, 2020 at 13:17
Apr 3, 2020
Dec 6, 2019 at 11:12
Dec 6, 2019
Video: Friday Fails #95
2:05 I saw the exact same face smash spinal cord dismantlement scorpion of death type of crash unfold right before me at our local trails in Quebec city. This dude was trying to make his girl execute a double black drop way bigger than the one in the video. She got served proper let me tell ya... My 0.02$ don't skip learning steps, master small features before attacking bigger ones.
Selling
Jan 19, 2019 at 12:01
Jan 19, 2019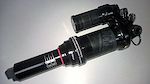 $300 CAD
I have a RockShox Monarch Plus, Rx All-Mountain Tune, AUTOSAG, rebound and 3-position compression adjust, 216x57mm SPECIALIZED ENDURO SPECIFIC. It came off my enduro comp. Thank you
Sep 20, 2018 at 16:21
Sep 20, 2018
Selling
Sep 20, 2018 at 16:19
Sep 20, 2018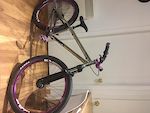 $1000 CAD
STREET/PARK/DJ SPANK TWEET/SDG/DEITY COMPONENTS SPANK 28 WHEELS ON SAINTS HUBS HYDRAULIC TEKTRO REAR BRAKES KENDA BLOCK 8 SIZE MEDIUM
Load more...