mattdavis458
Member since May 4, 2017

Online
Male / 51
Rio Rancho , New Mexico
How many bikes is enough? N+1=#, where N is the number of bikes you currently own.
Block user
Recent

Dec 22, 2020 at 17:59
Dec 22, 2020

Dec 7, 2020 at 14:13
Dec 7, 2020

Selling
Dec 7, 2020 at 14:12
Dec 7, 2020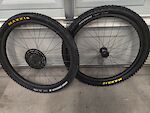 $850 USD
Wheels for sale. 27.5 boost front and rear wheels. Intense brand Carbon Fiber, 31mm internal, 37mm external widths. 28H. Front is used with stickers removed, rear is a brand new crash replacement rim. DT Swiss 350 hubs, boost, 28h WITH 54T upgrade kit already added. Set up tubeless (of course, but no sealant yet, fresh for you to add). BRAND NEW TIRES!!!!!!!!!!!!!! Assegai front and High Roller rear. Also included is the E*13 9-46 11 or 12 speed cassette (i have to count, might be 11). So story goes, bought bike and rear rim was cracked bad. Bought a new wheelset so I could ride bike. Worked out with Intense to get a new matching rear carbon rim, but I had to buy it. Well, got the rim, built the wheels, selling bike and wheels and I bought a 29er and garage space is running out. I want to pass on a sweet wheelset to a new owner. 27.5 and ready to mount up and go ride. These are light and nice. DB spokes, DT Swiss squorax nipples with washers (had to buy special nipple tool from DT Swiss to lace the wheel). Wheels are true and sweet, hubs are cleaned up, greased and ready. Just mounted the newer cassette and the tires. PRICE IS SHIPPED in USA. Paypal or Venmo accepted. Message me here or text with questions. Thanks. Matt

Dec 7, 2020 at 13:10
Dec 7, 2020

Selling
Dec 7, 2020 at 13:09
Dec 7, 2020
$350 USD
2019 Rock Shox Yari 29er fork. 51mm offset, 7 1/2" steerer tube length, boost. I bought it for a 29er project that did not transpire and now is just moving around the garage like the Elf on the shelf. It has been threaded for OneUP EDC tool, but can take a star nut. Comes in the fox box, but with the space reducers in a bag. It is like new and I think came off of a Transition Smuggler. I was gonna keep it and put a Charger 2.1 upgrade kit in it, but I bought a new bike instead. Serial number is in pictures so you can look it up on rockshox website. Price is shipped in USA. Paypal or Venmo accepted. Msg me here or send text. Thanks. Matt

Dec 7, 2020 at 11:09
Dec 7, 2020

Selling
Dec 7, 2020 at 11:08
Dec 7, 2020

Dec 7, 2020 at 10:46
Dec 7, 2020

Selling
Dec 7, 2020 at 10:45
Dec 7, 2020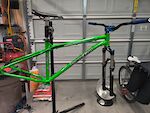 $650 USD
2015 (I think) Transition Trans AM 27.5 medium frame, with headset, Rockshox Revelation RL 130mm fork, Deity cavity stem (50mm), commencal Ride alpha riser bars, some blue Ergon Grips (not the ODI's pictured). The seat and post are just to hold up the frame in the stand. I will look to see if I have another seat post for the bike though and throw it in. Takes a 30.9. NON BOOST SPACING, 12x142 rear axle, frame and fork. https://www.transitionbikes.com/Support_Archive_ByModel.cfm?ID=2015%20TransAM%2027.5-29 It is a medium. I bought this to build for my wife and she rode it a little bit, but wanted a full suspension. I was gonna keep it, but stuff is stacking up in the garage and I need the room. I ride a large and am 5'10" She is 5'8" and it this frame works good from like 5'5" to 5'10" depending on how you like your bikes. I can ride it and was gonna make it a 27.5 DJ bike, but I have a Dartmoor 26 player and like I said, need the room. Price is SHIPPED in the USA. Payment by Paypal or Venmo. Let me know if you have questions. Msg me here or text me. Thanks. Matt

Nov 26, 2020 at 17:16
Nov 26, 2020
Load more...