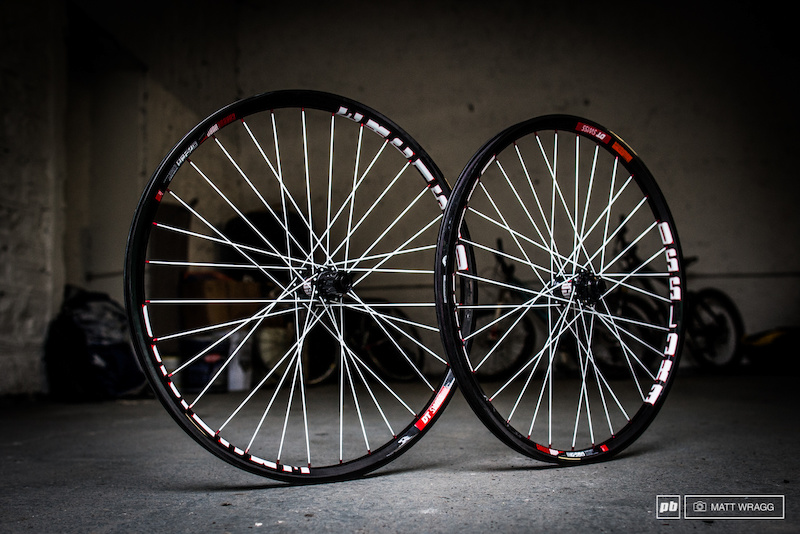 | | |
| --- | --- |
| | The old mountain bike industry adage; "Strong, light, cheap - pick two.' still rings as true as ever with wheels - and nothing personifies the adage as completely as shopping for a set of carbon wheels. |
Carbon
raised the bar for what customers could possibly expect to pay for premium products. I remember going into my local bike shop as a kid and wondering how on earth people could afford the shiny factory wheelsets hanging high on the wall at the back of the shop. They were out of my reach in literally every sense back then. Standing there, I wondered if I would ever be able to buy something like that. Some 15 years later, the introduction of carbon shattered my youthful dreams once again. The unearthly price tags of my youth could not buy a single wheel from most carbon wheelset makers today.
The old mountain bike industry adage: "Strong, light, cheap - pick two." still rings as true as ever with wheels - and nothing personifies the adage as completely as shopping for a set of carbon wheels. The EXC 1550 wheelset is DT's offering for the all-mountain end of that carbon-clad stratosphere. The pair weigh only 1530 grams, they are only available for 26-inch, and a set will cost you $2749 USD.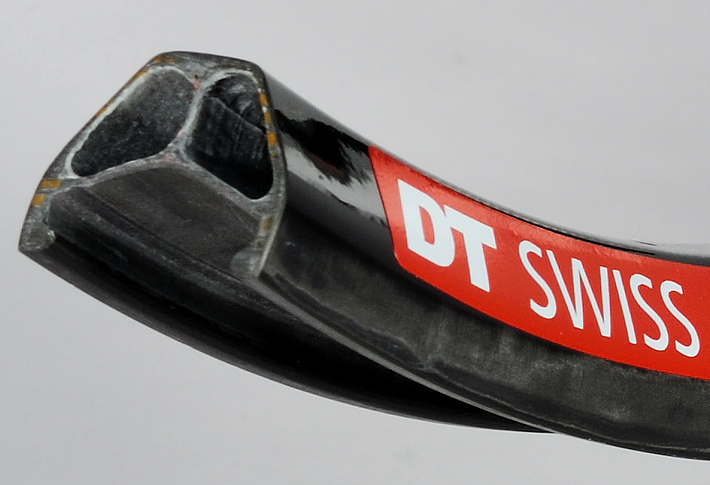 The EXC 1550 carbon rim has an internal reinforcing rib.
• Purpose: All-mountain/trail
• Sizes available: 26 inch only
• Hubs: DT Swiss 240, stainless steel bearings
• Axle options: 20mm or 15mm thru-axle, or QR front; 142/12mm or QR 135/10mm rear
• Rim: Unidirectional carbon, 21mm internal width.
• Spokes: DT Aerolite spokes Pro Loc aluminum nipples, 28, cross-two lacing.
• Freehub: Star Ratchet System, convertible from 10-speed SRAM/Shimano to SRAM XD driver body for XX1
• Tubeless ready: Not recommended
• Weight: 1530g (claimed)
• MSRP: $2749
Construction
DT Swiss EXC 1550 wheels are a few years old now, and they still aren't available in an array of exciting sizes - 26 inch only. They take their name from their approximate weight - tipping the scales at a feathery 1530 grams for the pair. To put the weight saving into context, DT's aluminium EX1750 wheelset, which uses the same rim profile, hubs and spokes, comes in at a total weight of 1760 grams per pair. The carbon rims save 230 grams over their aluminium equivalent - all of it from the rim, where it matters most. This is the kind of weight saving that makes a big difference out on the trail, as any mass at the edge of the wheel is multiplied by acceleration forces as the wheel spins.

At the heart of the EXC 1550s wheels are DT's well-proven 240 hubs; Even the inside of the rims look good.
At their heart, are a set of DT's 240 hubs and there is very little we need to say about them: They are well-proven as some of the best hubs out there - solid and reliable, like a Swiss watch. With this wheelset, front nubs are available with 9mm QR axles or 15mm and 20mm thru-axles and rear hub options are QR/135mm or 12/135mm and 12/142mm thru-axles. You can buy the kits from DT aftermarket to convert them to whichever axle combination you need. Lacing those hubs to the rims are 28 of DTs top-end double-butted Aerolite spokes, fixed by hexagonal Pro Loc aluminum nipples - a light and strong combination that graces their wheelsets, from these EXC1550s, through to their high-end road offerings.
Red, white and carbon - a colour scheme that both stands out, yet shouldn't clash with almost any bike.
DT are fairly secretive about the precise details of the rim construction. They let on that they are laid up with unidirectional fibre, and it is kept simple, with no decorative carbon weave to cover it, as it would only add weight to the rim. Internally they have two hollow chambers inside, which DT say,, adds much more stiffness to the construction. The internal diameter is a healthy 21mm, which may not be as wide as some of the current crop of rims, but is wide enough, and means they are good to fit tires up to 2.5 inches, which should be more than enough for their target audience. However, DT are not entirely sure how tire sealant will interact with the carbon in the rims, and therefore recommend that you do not run these wheels tubeless - doing so will void any warranty.
Setup
While DT may not recommend running these wheels tubeless, on a trail bike we suspect most people who buy these wheels will want to go down that route. We have not had structural problems running other carbon rims tubeless, but DT Swiss prefer to remain conservative and steer their customers away from this than allow them to use something they are not 100% certain of. You have to respect a company who are not willing to permit anything they do not have total confidence in, and if you do choose to do this, you have to remember you are voiding the warranty on a $2750 wheelset. The problem with running tubes in these wheels is the weight gain. For comparison, the heavier aluminium EX1750 wheels may be a couple of hundred grams heavier, but they are designated tubeless ready. Looking at total wheelset weights, including tires and tubes on the EXC1550 and running the EX750 wheels tubeless, they come in at pretty much the same weight.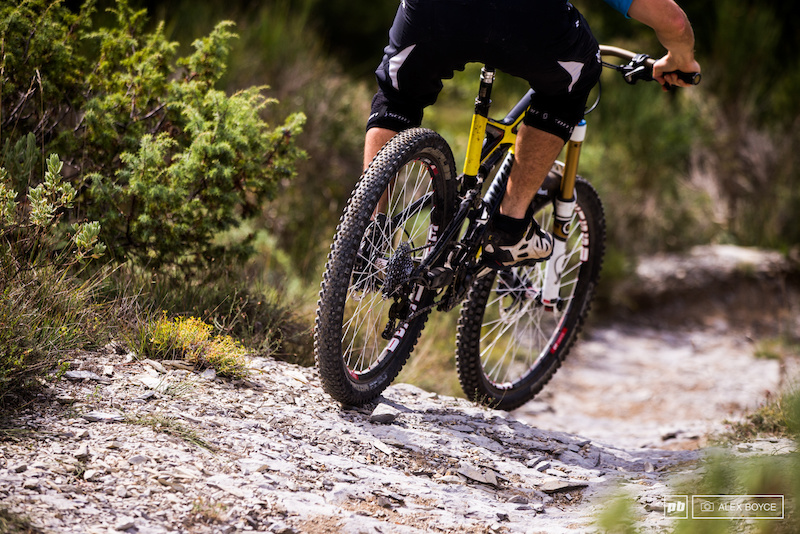 With a set of Schwalbe's Super Gravity tires mounted on the EX1550s, we put plenty of miles in on the wheels on the rocky trails above Sospel, France.
Mounting the wheels with a Stan's NoTubes kit for the first time was not easy. To mount a set of Schwalbe's Supergravity tires, which are a joy to mount on many rims, we could not get them to seat for the first time without a compressor - even with the use of Schwalbe's mounting fluid. Once there was some dried latex inside the rim from a previous tire, though, they were fine, seating with nothing more than a track pump.
On the Trail
Riding a set of ultra-lightweight, ultra-stiff rims on your bicycle is a joyous experience. While some may dispute the benefits, Mavic, for example, maintain that ultra-stiff rims are not a good thing, we would be inclined to disagree. From the first time you head out your door and start pedaling, the bike just feels faster and more nimble. Even rolling up the road to a trailhead is easier, the loss of the rotational mass from the rim will be immediately noticeable to riders of all levels. When you reach technical terrain, that added nimbleness makes it easier to move and place the bicycle exactly where you want it, when you want it. The whole bike feels more direct and precise.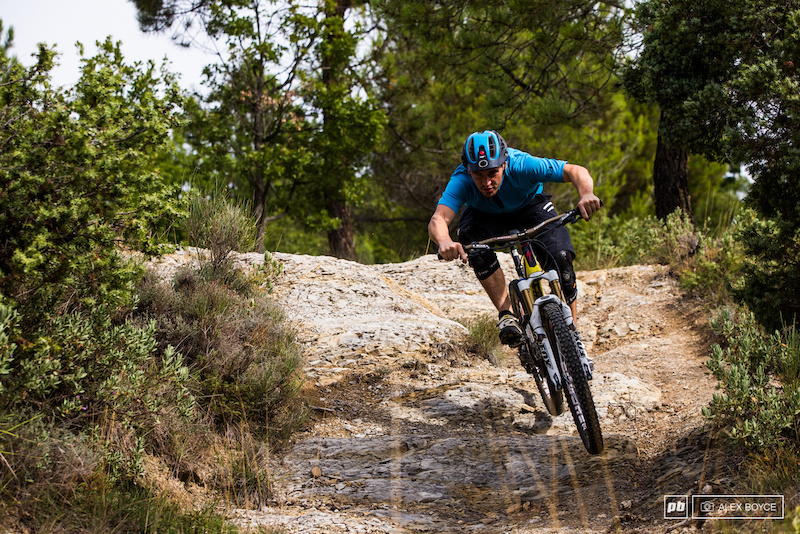 While you shouldn't use EXC 1550s for downhill, that doesn't mean you need to be too gentle with them either.
The EXC 1550s are very much a finesse tool though. Their benefits come in handling and speed - if you are an aggressive rider who tends to smash through lines, and consequently rims, then you will smash through these too. DT make it clear on their website that they consider their carbon rims to be slightly more delicate than their aluminium equivalents, dropping their rating from general freeride use, to light freeride, and not making them available in with the DH-specific 150/12mm rear-axle option. With the tubeless setup, the EXC1550 didn't like being bludgeoned into rocks and roots too much either. We needed to keep an eye on our air pressure, as they had a tendency to lose air if we deflected the casings hard enough.
Pinkbike's Take:
Carbon wheels like the EXC 1550s are never going to be a logical purchase. Even DT Swiss admits that their new aluminium Spline ONE wheelsets are about half the price and are a far more sensible option. The fact these wheels aren't approved for tubeless use also counts against them too. We doubt many people will have the stomach to void the warranty on set of wheels this expensive. Yet, chances are, if you're in the market for carbon wheels, you're not looking for the sensible option - you'll want something special and you're not scared of putting good money down for it. If that sounds like you, then these expensive, impractical wheels that help your bike dance on the trail might just be the ticket.

- Matt Wragg
DT Swiss