This camera pack from Evoc is definitely one of the most-awaited in recent years. A relatively new player in the backpack market, Evoc have rapidly earned themselves a place among our favourite riding packs here at Pinkbike. They are comfortable, stay in place well and tend to be packed full of useful features and touches. The prospect of this approach scaled up to a photo pack looked like a winning combination.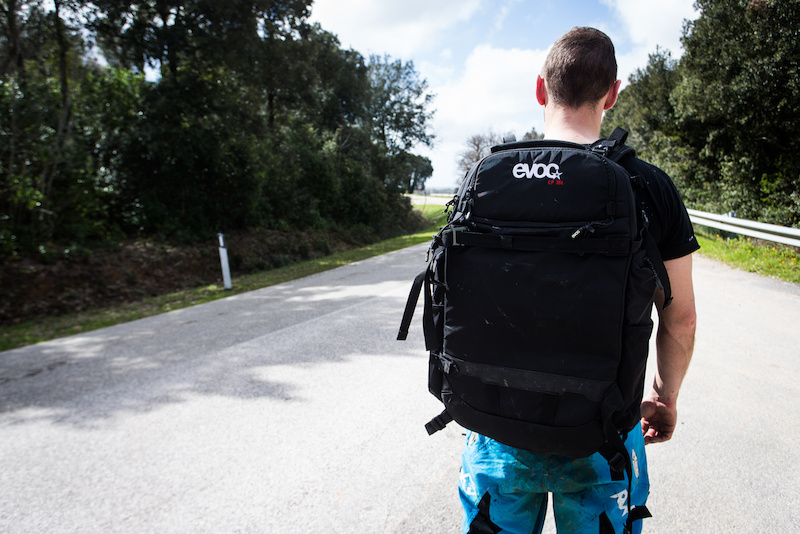 The 35l capacity means this is a big backpack, but for its capacity it is relatively small
Evoc Camera Pack details:
• Intended users: Professional sports photographers
• Capacity to carry a 17" laptop
• Airline-friendly
• Integrated rain cover
• Volume: 35 litres
• Weight: 3250g
• Size: 34cm x 55cm x 19cm
• MSRP: $389 USD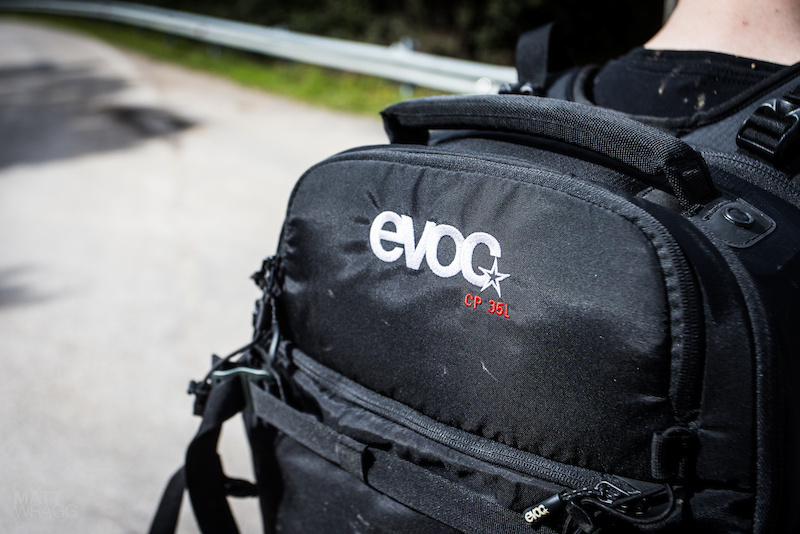 It is packed full of features. Running along the bottom three photos you can see the nice, fat straps (and safety whistle), more big straps at the hips with a storage pocket and the loops on the side for tripods/monopods
The Details
Evoc are clear with their target audience for this pack - it's aimed at professionals. They designed it to carry "a full set of professional equipment." With 35 litres of capacity there is no doubt that unless you are carrying several bodies and a selection of lenses it's going to be too much. Outside it has a selection of straps and mounting points to carry everything from tripods and flash stands, through to a snowboard or ice axes (neither of which are particularly useful for mountain biking, but Evoc also had the winter crowd in mind for this pack). More relevant to mountain biking, a drink bladder can fit into an outside side pocket, the zippers are nice and big so you can open them with gloves on and there is an integrated rain cover at the base of the pack.
It opens close to the back, with the zip running in a C-shape from slightly above the bottom with two zippers. In other words, to open this pack, you lay it face down and open the back of the pack. Inside the layout is pretty standard, with a T-shaped layout to fit a camera with a telephoto lens in the centre and a row of positionable dividers down each side. At the top there is a quick-access section that can be reached from the front of the pack, ideal for flashes or a smaller camera and lens. On the inside of the back there are three, flat zipped pockets for storage. At the top of that section there is a fourth zip that lets you access (and probably remove) the back protector that sits next to your spine when you are wearing the pack.
Performance
How it works as a backpack:
As a backpack, this is for sure one of the most comfortable camera packs we have tried. However, like most people we know who use Evoc packs, we did remove the back protector before we used it. They are a nice idea, but a rigid piece of material that close to your back detracts too much from the comfort of the pack. The straps, back padding, fat hip strap and second chest-height cross-strap spread the weight nicely and hold it in place incredibly well. If you are travelling this means you can carry the inevitably heavy loads in as pain-free a manner as possible. Even running around somewhere as hot and sweaty as Hong Kong there was no rubbing or soreness caused by it. On the bike, it means a pack that stays put and doesn't swing about, even if you are going faster than you know you really ought to be with that much equipment on you. Some of the bigger photo packs have a tendency to ride up and make contact with the back of your helmet, this one doesn't, even on steep technical terrain.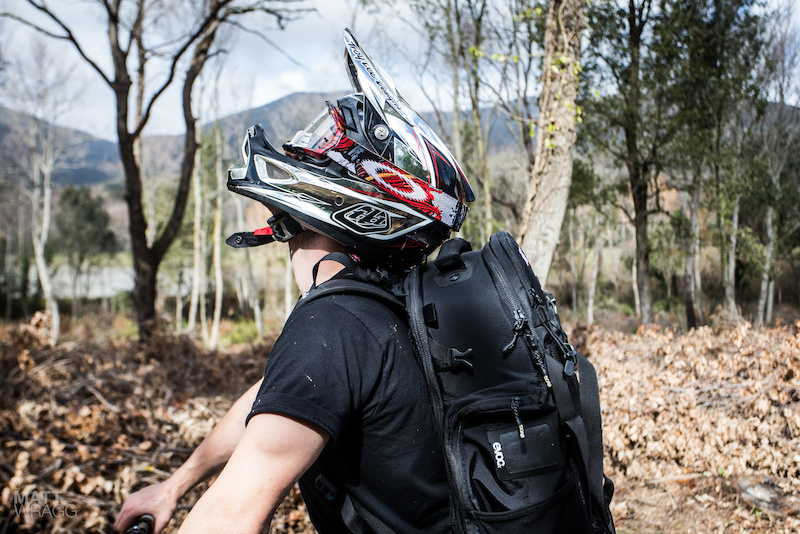 The great retention means the pack doesn't ride up while you're on the bike and, as you can see, even a big, full-face helmet doesn't make contact with the pack
As a pack to travel with we were also very, very impressed. It is slightly slimmer than some other big-volume packs, which means there are no hand luggage dramas (so long as they don't ask you how much it weighs, of course). At the front there is a pouch that will happily take a 17" laptop. With a laptop on-board we tended to use the quick-access section of the internal area to carry the power leads so we could set the computer up without needing to faff around opening the main compartment.
How it works as a camera pack:
This is where the Evoc pack rather fell down for us. Ultimately the thing that lead us to stop using the Evoc pack is the fact that it cannot take a Canon 1D-X. Ok, this is very much in the realm of first world-problems, but it's a pack that is explicitly aimed at professionals. The camera is just too tall for the inner compartment, protruding an inch or so above the maximum level. Your camera gear faces inwards towards you with this pack, so that protrusion digs straight into your spine. Any kind of impact and the 10kg+ in your pack will be hammering that into your vertebrae. Older 1D mk IIIs are fine, which means anything up to the mk IV should fit. We didn't have the chance to test the pack with Nikon bodies.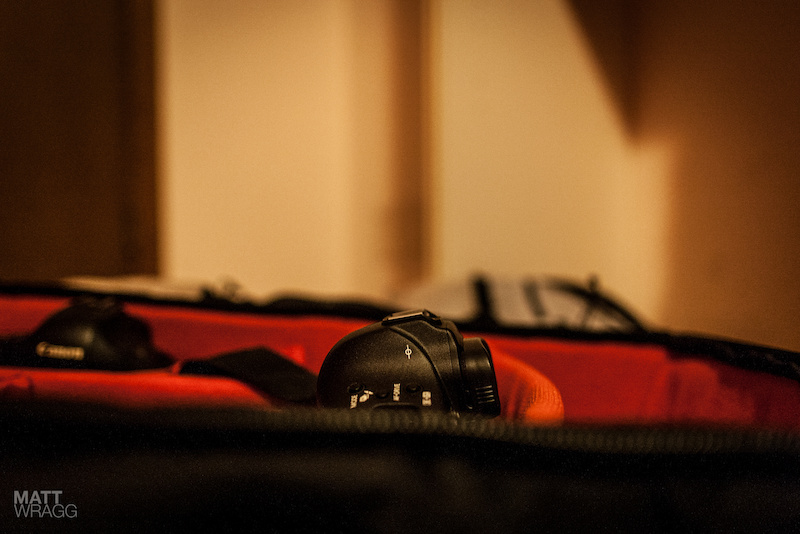 1D-X vs Evoc Camera pack... This really was the dealbreaker for us
The layout inside was well-sized for a full set of gear. There was plenty of space to take two bodies, four or five lenses, battery charger and have space left for either a laptop charger or flashes. But, what frustrated us with this pack is the layout of the pockets, especially with the way the pack opens. Evoc recommend you keep your cards in one of the mesh pockets in the main compartment. However, the pocket is long and quite flat with no way to order your cards, so if you have several in there it's a recipe for scrabbling round trying to reach the right one. If you choose to keep them in the pocket on the front of the pack you have another problem - when it is open you can't get to that pocket, you need to close the pack and flip it over to get at them. It too has no way of keeping them in order. We ended up opting to keep the cards in the front pocket, as we tend to change cards a lot, but it lead to much irritation, especially at the start of a shoot while we were setting the cameras up as we zipped, flipped and repeated to get the right card in the right camera.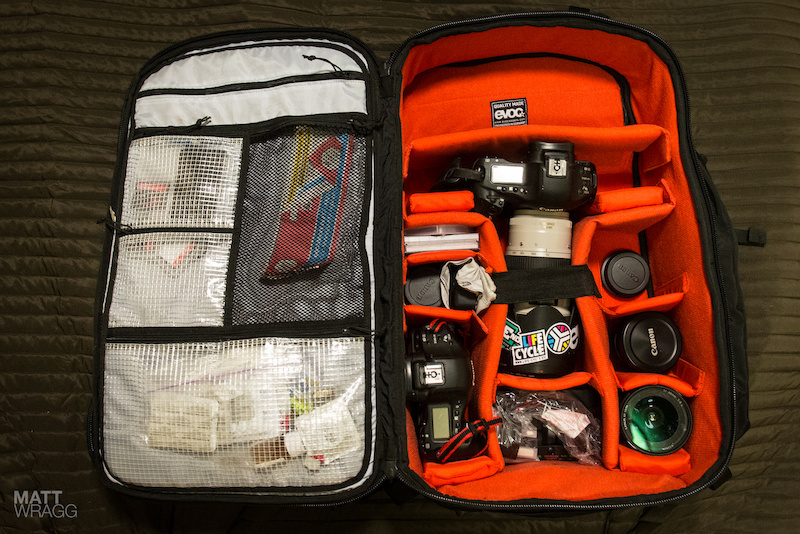 Our internal layout for the pack (the empty slot would be filled with the 24mm used to take these photos). On the bottom, you can see that even 1D mk IIIs are close to the height limit for this pack, the internal mesh pockets and the useful storage space in the external side pockets
Inside the main compartment we were not impressed by the dividers. They attached and held their position fine, but they just seemed to be a little too thin. In the sections with a lens or a body, they were fine, but if you filled a section with smaller parts like filters or lens caps, then when you were in motion they had an annoying habit of moving around inside the pack.
Pinkbike's take:
| | |
| --- | --- |
| | How you pack your cameras is a very personal thing, so we could accept if you dismiss much of our criticism for this pack as OCD. However, we'd say that with a good pack you can simply get on with your work without having to think about it. We just couldn't do that with this one, and the 1D-X oversight is a problem. What makes these functional problems with the pack much worse is how good it is as backpack to move and travel with. On those fronts it is genuinely fantastic, and we are all the more disappointed that we have had to go back to a pack that isn't as nice to live with, but is easier to work with. -Matt Wragg |
*
Update from Evoc on the pack (April 12th, 2013)
- "One item that came up with the pack is that the Canon 1DX does not fit. The current production models have accounted for this size difference and do fit the Canon 1DX. The packs that are arriving in stores soon will fit the Canon 1DX."
www.evocsports.com