This weekend's race in Hafjell was one of the most exciting races of the last few years. With the rain coming in Saturday night, race runs were a time to roll the dice. Shit or bust, and Stevie Smith came up with sixes. Gee, maybe the mentally strongest man on the circuit got snake eyes, a pair of ones. Losing his line on the slick, wet rocks, he hit a tree hard enough to leave most of us crying on the trackside, but carried on to nurse it home into twelfth. After Mont St Anne he had a healthy, if not comfortable, 120 point lead. This morning the Canadian Chainsaw Massacre has slashed it to just 17 points. While this can't be what Atherton Racing were hoping for, it's gold for race fans as the title fight will go down to the wire at Leogang this weekend.
Looking at the maths, it's a two horse race. Gee leads with 966 points, Smith has 949 and Minnaar holds third, out of reach of the title with 673 points, 276 behind Smith with only 250 on offer in Leogang. Those 17 points between Atherton and Smith leave too many possibilities for how it might play out. What is certain is that qualifying becomes more important than ever. 50 points are there for the taking, which could make all the difference in the final calculations. With a 40 point gap on race day between first and second, if they are fighting for the win then whoever goes fastest will take the title. But, if someone else can take the win, or worse, a couple of guys come through and push them down the order, then the points differences become smaller and those qualifying points might be the difference between the title and defeat.
<Deleted photo>
So the question is, who is strongest? Who can hold their nerve when everything is on the line? Right now you would have to say the form is with Smith. After winning Mont St Anne he went on to dominate Crankworx, and, setting aside his race run in Pietermaritzburg, Smith is undoubtedly in the best form of his life. He is a rider hitting his peak, and there is undoubtedly momentum on his side right now. He is incredibly determined and you wouldn't bet against him beating anyone and everyone when he puts his mind to it.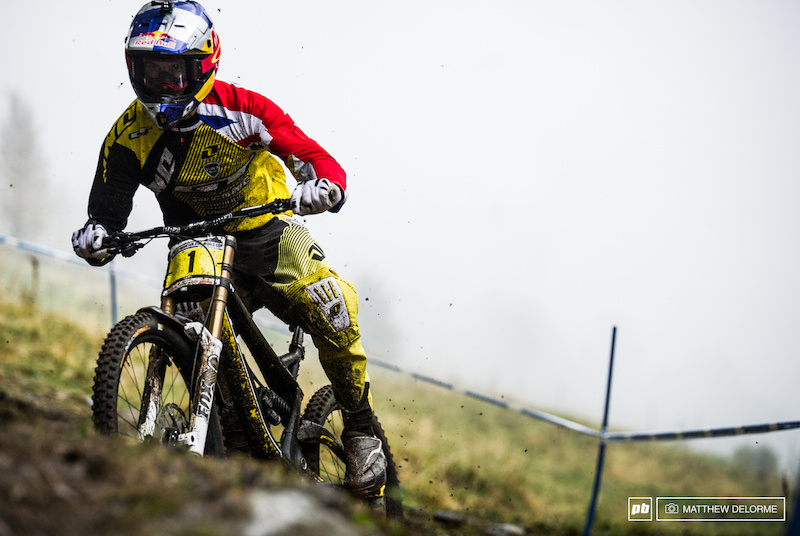 Atherton has been here before though. In his last title year, back in 2010, he spent all season sparring with Greg Minnaar. While Smith may be on fire, Minnaar is undoubtedly one of the all-time greats and to be able to stare down someone like that when it comes to crunch time takes a mind of steel. Having experience of being able to do that is worth its weight in gold as well, to know exactly what it takes to win big when it matters, and be able to do it, make him such a formidable rider. And you shouldn't write off his pace either. Opening the season he looked to be on the form of his life too and while it hasn't quite gone to plan recently, word from trackside in Hafjell was that he looked faster than everyone this weekend. It's foolish to speculate what he might have done if it weren't for that tree, but would you bet against him being right there with Smith at the sharp end? To really appreciate his pace, you have to consider that there are dozens of talented, but struggling riders who would sell family members for a result that close to the top ten, yet Atherton can manage it with two crashes...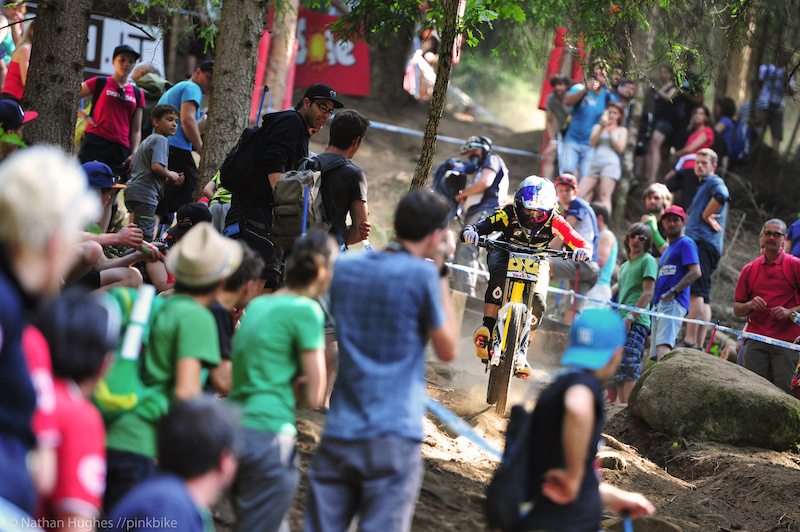 While the womens race isn't going to be quite as high stress, series leader Rachel Atherton can't relax in Leogang. At the moment she sits atop the scoreboard with 1085 points and second-placed Emmeline Ragot trails here by 160 at 925. Manon Carpenter is only 45 further back, so mathematically her title shot isn't over, but it would take a disaster form both Atherton and Ragot for her to win. Regardless of what happens in qualifying, if Atherton finishes sixth or better in the race the title is hers. This weekend, that means should could have slowed down by a full 17 seconds and still took the sixth place she needed. In racing anything can happen though, and it's a testament to how consistent Ragot has been this season that she's still within touching distance, despite the fact that Atherton has been supreme all year.
So the stage is set. People tend to throw around the word "finale" at the end of racing seasons like it was confetti. It's a nice word to get people excited about a race, even if the prospects on track are weaker than American beer. For once, this race will be worthy of the word. This is a real season finale, a climax with two title fights that promise to have us cancelling family meals, avoiding work and turning off the phones so we don't miss a minute of the action come Sunday afternoon.