Hey everyone, huge thanks for the great questions over the last two hours. Both myself and Enrico have had a great time answering. Please tune in for our first round very soon and if you do ever have a pressing question, we're only an email away. Anytime. Chris
For this edition
of Ask Us Anything we've teamed up with Chris Ball, the man behind making the push for the
Enduro World Series
. Do you have specific questions about why this is the essence of MTB racing? Maybe about training and prep for your first event? Fire away in the comments section below.
The 2014 Enduro World Series Calendar is:
19 - 20 April - Andes, Chile
30 May - 1 June - Tweedlove Festival, Scotland, UK
21 - 22 June - Valloire, France
13 - 14 July - La Thuille, Italy
26 - 27 July - Colorado Freeride Festival, USA
9 - 10 August - Crankworx Whistler, Canada
4 - 5 October - Finale Ligure, Italy
About the Enduro World Series
The Enduro World Series was created in October 2012 with the aim of uniting the world's mountain bike enduro racing community. The Enduro World Series links the largest mountain bike enduro events in the world with the best trails possible and exists to deliver the best racing, most relaxed atmosphere and rider-focused organization possible. The team behind the Enduro World Series has one goal - to globally develop and progress the discipline of enduro for the riders, the sport and the industry. With the shared experience of Italian Super Enduro, French Enduro Series, Crankworx and World Cup racing, the Enduro World Series will offer international competitions unlike any before it.
The Enduro Mountain Bike Association's (EMBA) Board of Directors (Chris Ball, Darren Kinnaird, Fred Glo and Enrico Guala) is supported by an industry Advisory Board, to reflect and respond to the riding community, that includes Santa Cruz Bicycles' Rob Roskopp, SRAM's Jeremiah Boobar, Fox Shox' Mark Fitzsimmons and riders Tracy Moseley, Jerome Clementz and Curtis Keene.
Enduro World Series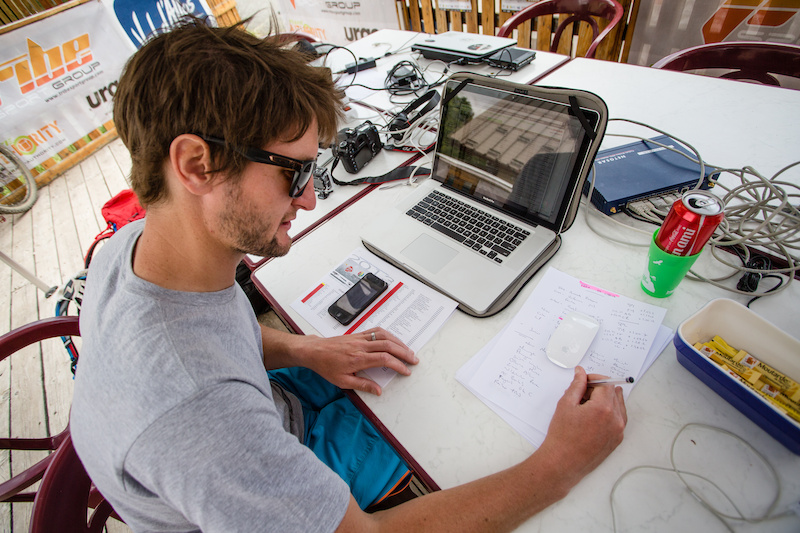 How 'Ask Us Anything' Works:
Starting at 8:30 AM PST on April 2nd you can type your questions into the comment box following this article and EWS's Chris Ball will take his best shot at it. Sometimes, your answer will pop up in a few seconds; others may take a while, as the guys from the EWS will be busy responding to the flood of questions. Everyone who posts a question, large or small, will be taken seriously. To make the process as efficient as possible, try to follow these simple guidelines:
•
Keep your questions relative.
While this is an 'Ask Us Anything' session, the theme is 'Enduro and the new World Series'. Questions related to that topic are encouraged, but still feel free to ask whatever pressing queries you may have.
• Stay on topic. Try to
keep your questions on one topic
if possible. You can always ask about another item later.
• Try to keep your questions to about
100 words
.
•
Ask Us Anything
is a service to PB readers who are seeking helpful information, not a forum to broadcast opinions or grievances. If you do have a negative issue that you want to ask about, no worries, just keep your complaints relevant and in the context of a question so that it can be addressed in a productive manner.
•
Use propping
to acknowledge good - or not so good - questions. Bump them up or down to where they belong.