max252
Member since Nov 24, 2016

Male / 20
Mont Saint Hilaire , Quebec
Block user
Recent

Apr 9, 2020 at 9:40
Apr 9, 2020

Apr 7, 2020 at 5:53
Apr 7, 2020

Apr 7, 2020 at 5:46
Apr 7, 2020

Feb 23, 2020 at 12:12
Feb 23, 2020

Feb 23, 2020 at 12:11
Feb 23, 2020

Feb 8, 2020 at 8:59
Feb 8, 2020

Selling
Feb 8, 2020 at 8:56
Feb 8, 2020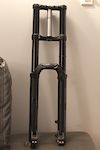 $1200 CAD
fox 40 performance elite. came off a 2020 giant glory. the fork is new, ridden one time. no paint default or any problem what so ever. Asking 1275$. worth about 1800$ but not really available on the market (seems that you can only buy the factory version for like 2400$) "The Performance Elite 40 retains the same 7000 series aluminum upper tubes as Factory Series, but has black anodized upper tubes instead of Genuine Kashima Coat. It also has a different FIT damper (without high-speed compression adjust) than the Factory model. A Performance Elite graphics package ties in the black-on-black look." The fork has the all black stealth decals. axle is 20x110 boost. travel is 203mm. je parle français aussi.

Feb 2, 2020 at 13:24
Feb 2, 2020

Selling
Feb 2, 2020 at 13:21
Feb 2, 2020

Oct 24, 2019 at 6:45
Oct 24, 2019
Load more...