maxwhalen
Member since Apr 3, 2017

Male / 22
Calgary , Alberta
Block user
Recent

Mar 5, 2021 at 12:28
Mar 5, 2021

Selling
Mar 5, 2021 at 12:27
Mar 5, 2021

Mar 5, 2021 at 10:45
Mar 5, 2021

Selling
Mar 5, 2021 at 10:44
Mar 5, 2021

Selling
Mar 5, 2021 at 10:38
Mar 5, 2021

Apr 8, 2020 at 14:23
Apr 8, 2020

Selling
Apr 8, 2020 at 14:21
Apr 8, 2020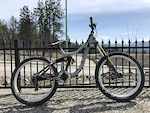 $1150 CAD
GREAT CONDITION Supreme Operator - $1150 OBO - Will accept trades (looking for an Enduro) Sadly the time has come for me to sell my Kona Supreme Operator. I am not getting to use the bike as often as I would like and therefor I am putting it on sale. The bike is in great condition and is an absolute blast to ride. I had the forks rebuilt and rear break replaced last season (with only 4 days on the bike afterwards) - I updated the full rear system using Shimano SLX (Fresh Air did the install) - Silver Star bike shop rebuilt the forks I am looking for a 27.5 enduro bike (size m) - if you are willing to do a trade I would love to hear about it. Also depending on the trade offered, I may be willing to give the Operator + pay extra.

Apr 12, 2019 at 16:01
Apr 12, 2019

Selling
Apr 12, 2019 at 15:55
Apr 12, 2019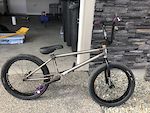 $600 CAD
DRIVING TO VANCOUVER TOMORROW (APRIL 17TH) - if you live between kelowna, whistler, and vancouver I can deliver the bike Highly customized S&M ATF 600 (obo) S&M 20.75" AFT frame Kink lynx bars Demolition elite forks Odyssey 7-ka rims Shadow Conspiracy raptor hubs (front and back) Colony official stem Shadow Conspiracy scream sprocket (25t) Shadow Conspiracy raptor front hub guard v2 Shadow Conspiracy rear hub guard TSC seat post Kink sexton 2 seat Eastern cranks Half link chain Shadow Conspiracy BB Odyssey gold headset Odyssey aitken plyte front tire Osyssey aaron ross rear tire
Load more...