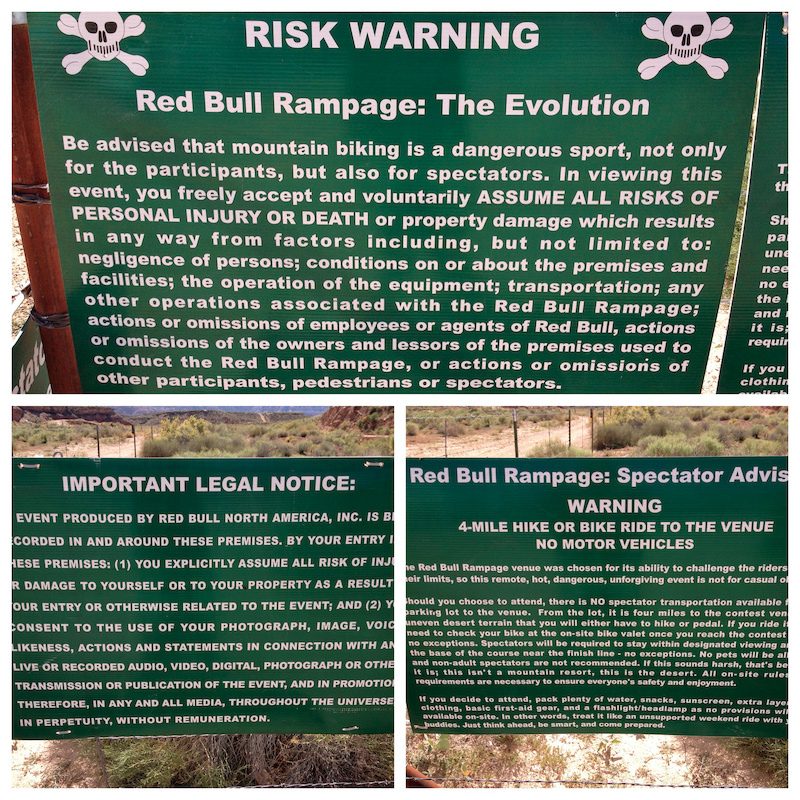 The 2014 MTB contest season is up and running and the FMB has announced a new format with 5 events in the Diamond category along with others in gold, silver and bronze. So riders will head back into the arena to secure a win and the prize money that comes with risking your body. If you're the overall FMB champ you'll get a cool CamelBak trophy and some cash as long as your body can take the beating from contest crashes, and for sure you'll crash and maybe get injured? It comes with the territory, injuries, but is the risk worth the reward? After all these gladiators are doing it for fame and glory for their sponsors, right? They get looked after by contest organizers or sponsors, so prize money is just icing on the contest cake isn't it? Well the truth hurts in many ways, sponsors help out and contests provide hardly any money for winning let alone competing at these events. Kyle Strait won Rampage for his second time with a suicide no-hander and won 25K. Then again Logan Binggeli, Mitch Chubey and Mark Matthews ended up in hospital with huge medical bills to try and sort out. Martin Soderstrom came 2nd at Crankworx and won 10k along with a broken tib/fib. People say riders know the risks when they ride contests, sure they do, but at what costs? You don't need to be a pro to be injured riding, it can happen to everyone, anywhere at anytime. So let's ask who's responsible for the cost of injuries that go with riding, is it the rider, the sponsor or the contest organizer? When Zink flipped the Oakley sender for 5k for 3'rd along with another 5k for best trick was it worth it? Sure you say, it was rad! Zink has made 2 impossible tricks at Rampage, but what if he'd crashed with his pregnant wife watching? At this level a miss could be worse than just broken bones, a wheelchair is a real threat if you don't make the trick work. He competed while having his hematoma drained daily and with only one practice drop off the Oakley sender cause that's how Zink rides, all in or nothing. He is also one who doesn't hold back about contest payouts, "
Pay is what it is and you can't complain, but we are paid far below our potential and other sports.
" So when an event like Rampage, possibly costing over $1million to stage via NBC Sports, with $100k in wooden features and photos selling for ads at $1500 each, shouldn't the riders be paid more for the risks? With that being said let's talk to some of the riders about the risk and what the contests cover if you're hurt while competing.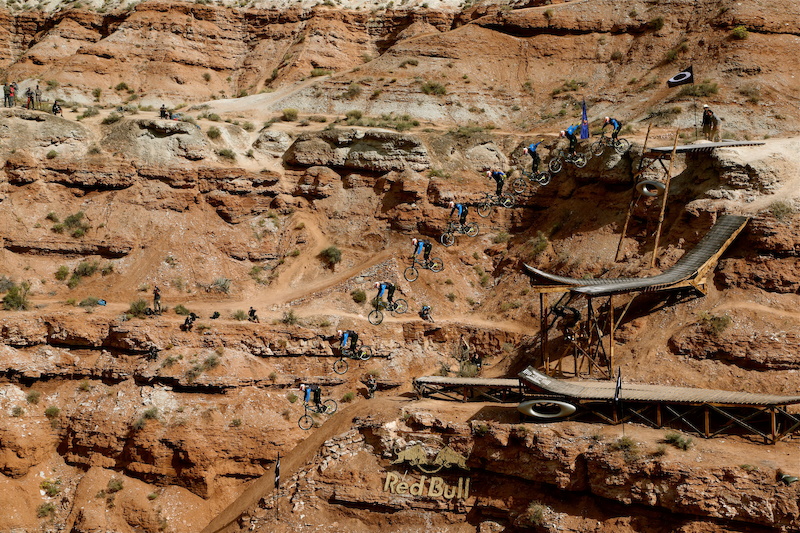 Kyle Strait won Rampage and $25k in 2013, but what about the riders that didn't land rubber side down?
| | |
| --- | --- |
| | Pay is what it is and you can't complain, but we are paid far below our potential and other sports. - Cam Zink |
First off it was clear from all the riders that contests don't provide any medical coverage! WTF you say, a rider hucks himself off jumps and features and if hurt has to pay for his broken bones as well? Yep, sorry, thanks for showing up, next.
Sure they ask you to sign a waiver so they don't get a lawyer's letter and require the athlete to have his own insurance in case he's injured riding their contest. Truth be told the organizer doesn't check to be sure the rider is covered in a contest that involves prize money. That makes you a pro when money is involved and not a backyard jam with your bro's. So who helps you out if you're injured, the rider's sponsors, sometimes if you're lucky? Most riders rely on medical insurance that covers you in contests where prize money is involved. When I contacted the pro riders about their medical injury costs it was stunning to say the least. Most agreed they'd like the contest organizers to provide medical coverage and the organizers believe it's up to the athlete to be covered. In the case of Mark Matthews who was injured at Rampage last year and now faces $40k in medical bills, Red Bull asked him if he had coverage and because he bought travel medical coverage he thought he was. Oops, just not when prize money is involved as is the case of Red Bull Rampage. Mark just had a fund raiser to try and cover some of his outstanding medical bills and will soon have an on-line auction as well. You can donate and help him out here:
www.markmatthews.ca
Let's hear from some of the high profile MTB athletes who compete and have been injured trying to win some cash. Let's not forget that payouts aren't deep in cash after trying to get on the podium at these events around the globe.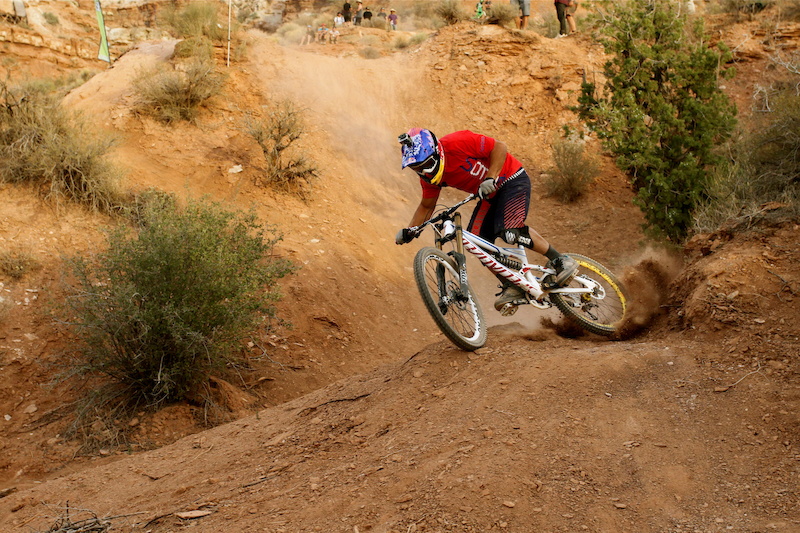 Darren keeping the rubber side down.
Darren Berrecloth
who runs his own event; Bearclaw Invitational is a Red Bull Athlete and just finished back surgery in LA. Red Bull provided the cash for his medical bills and put him in touch with a specialist. Costs..."
Not Cheap
" After missing 3 Rampage events and 3 Crankworx contests the Claw believes it's the athletes responsibility to have coverage. Red Bull stands behind their athletes.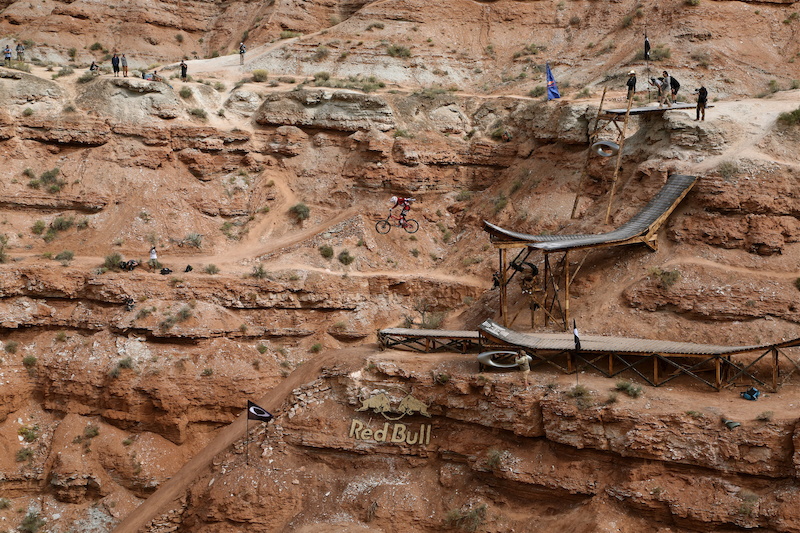 Logan airing out the middle Oakley Icon sender.
Logan Binggeli
rides for KHS Bikes and was injured at Rampage after flipping the Oakley drop and breaking his femur. He had to be air medevaced out to St George,
which cost $10k for a 7 minute ride
. His 3 days in hospital/surgery was $35k as well as another $15k for X-rays, MRI and meds to
a total of $50k
. His medical paid part, Logan paid $7k himself and KHS kicked in cash as well.
| | |
| --- | --- |
| | The cost of winning is very low compared to the costs of losing and I think Mountain bikers are underpaid, but I don't regret competing, and will be back at Rampage 2014. - Logan Binggeli |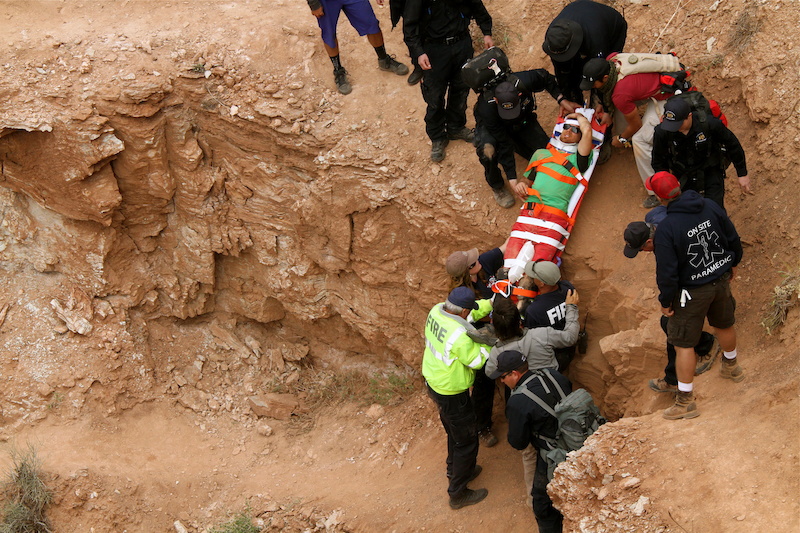 Mitch being tended to post crash and pre $12K Helicopter trip.
Mitch Chubey
rides for Morpheus Cycles and was another Rampage 2013 injury. He was air medevaced out as well to the tune of $12k for his 47 minute flight to St George. $28k for 3 CT scans, 7 x-rays and an MRI while in the hospital. Mitch has been injured before, $60k Euro's at Crankworx Les Deux Alps and $19k at AT's Showdown.
Mitch believes that he's had over $500k in medical bills covered through his Pro Athlete policy over the years
. He would like to see the athletes covered when they compete at events, but understands it's hard when you're in Europe, USA and Canada.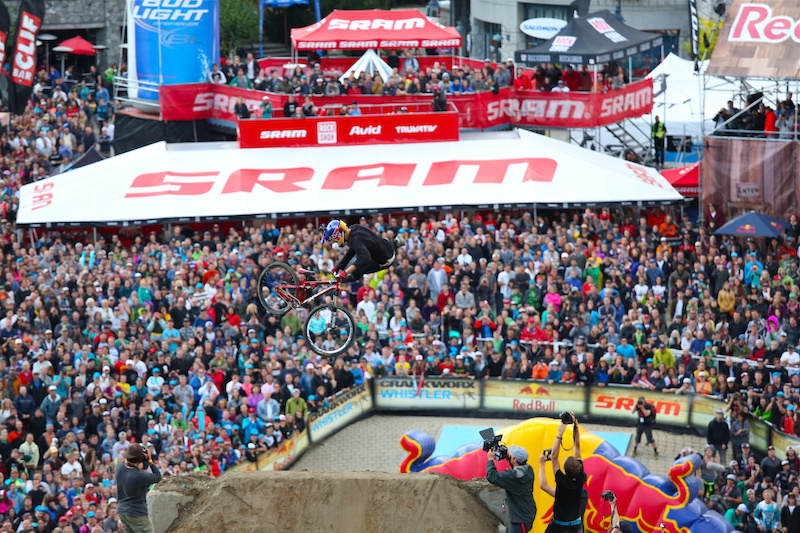 Martin put it all on the line for his podium finish.
Martin Soderstrom
place 2nd in the Red Bull Joyride at Crankworx 2013, but didn't even get to stand on the podium. He broke his Tibia and Fibula on the last feature in view of the finish line.
His hospital bills in Canada are over $100k
. He pays for pro-coverage and has Red Bull as a sponsor who look after him. He says it would be great to get insurance with your FMB license and hopefully they can figure that out in the future?
| | |
| --- | --- |
| | You can't dodge the bullet in a dangerous sport, but insurance is worth the money you pay. - Martin Soderstrom |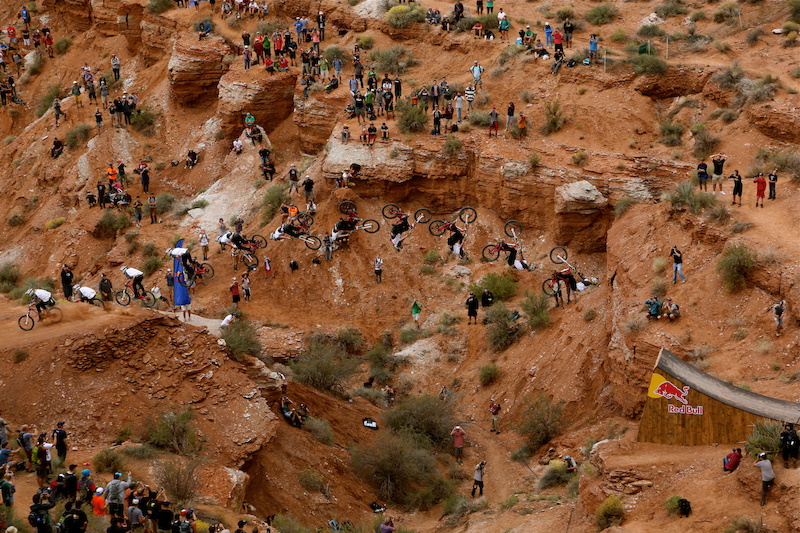 Back flips don't get much bigger than this one from Kelly McGarry.
Kelly McGarry
who back flipped the massive Canyon gap at Rampage 2013 knows about injuries. He has coverage through New Zealand BIKENZ and pays 2k NZD for his 6 months in Northern Hemisphere. McGazza has had a broken collarbone at Red Bull Joyride and a broken leg at Rampage. He destroyed his elbow in Austria at the cost of $7k and has claimed medical costs for the last 8yrs. He has medical coverage because,
| | |
| --- | --- |
| | I would never want my family to deal with my medical bills if I get truly injured while riding/competing. - Kelly McGarry |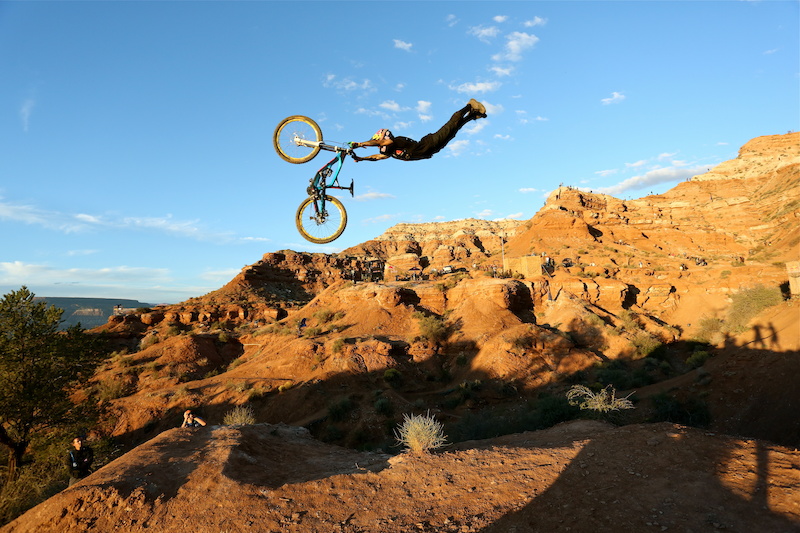 Always the showman, Andreu lays out a huge Superman as the sun sets on training at Red Bull Rampage.
Andreu Lacondeguy
is well know for going huge at events on his YT sponsored bike. He has had his share of crashes, but seems to get up and walk away from most of them. He says contests don't really check if you're covered or not and says you're gonna get hurt when you do 50t flips, so who cares! Apart from a $4k dislocated shoulder in USA, he's remained in good shape. He is a Red Bull athlete and says they are the best sponsor you can have along with his medical coverage for riding.
| | |
| --- | --- |
| | God bless America and their shitty medical situation. No big bills for me, I like to land on my wheels! - Andreu Lacondeguy |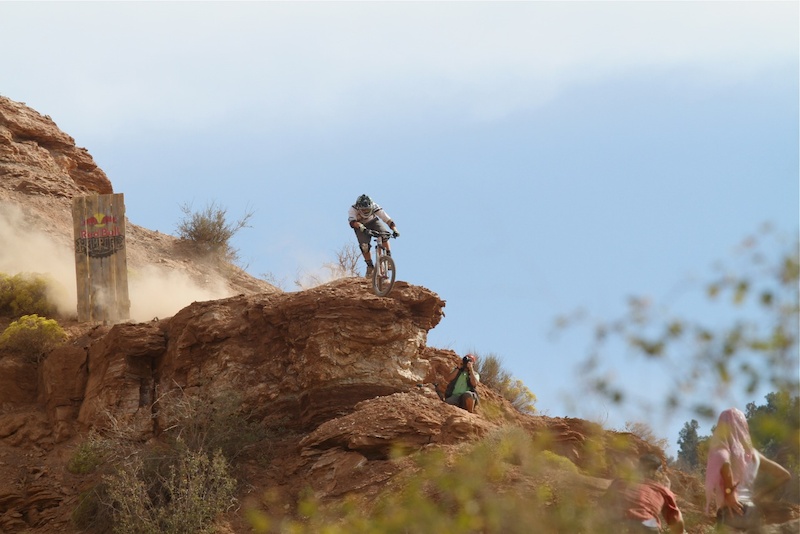 Jamie Goldman competing at Red Bull Rampage.
Jamie Goldman
has had contests at his home in Bend, Oregon over the years. UDUG was the best grassroots brodown around, but because of insurance problems he had to tear out his jumps and close it down. While competing in Austria he suffered a concussion and was held in hospital for a week and paid out $5-7k from his own pocket. He says riders should have medical coverage.
| | |
| --- | --- |
| | I think you're a Boner if you don't have medical coverage in this sport, don't risk losing you life savings over one small mistake. - Jamie Goldman |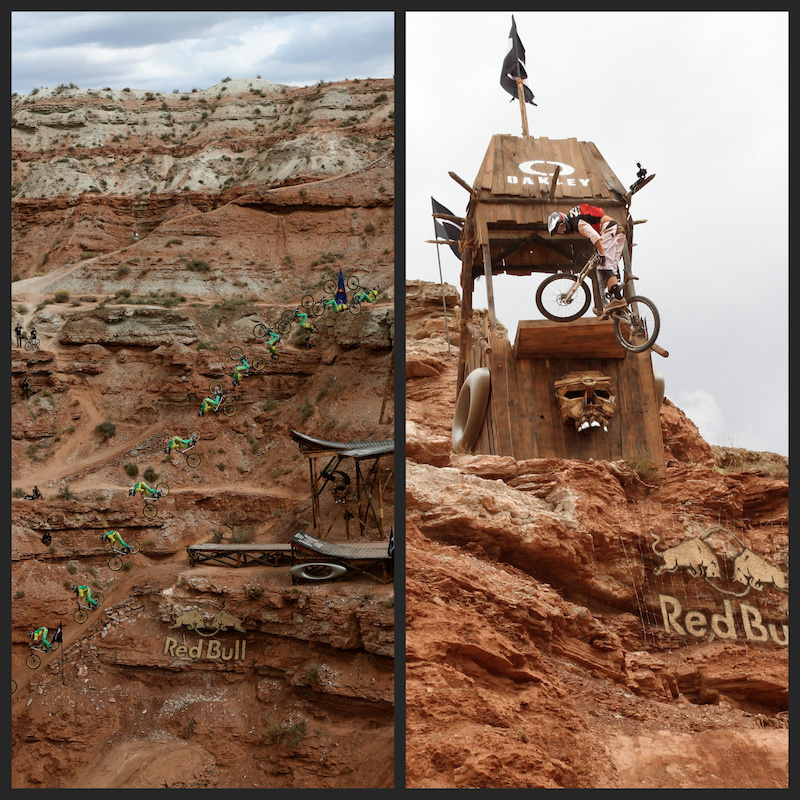 Two of the biggest tricks ever completed in the sport of mountain biking, both by Cam Zink.
Cam Zink
now rides for YT bikes, but has nailed two of the biggest tricks at Rampage with a 360 off the Oakley Sender in 2010 and a massive backflip from the Big Dawg in 2013. Put any bike under his ass and you've got a winner! While competing at Rampage in 2013 he was having his huge hematoma drained daily in hospital and didn't get the practice time in for his run. In true Zink fashion he dropped it once, then a couple of run ups before his start, then it was game on. Between the $40k for knee surgeries, he's nearly broken his back twice and had to
anti up $10k before a Canadian hospital would let him leave
after rupturing his spleen. He believes contests should provide some sort of "
gap
" insurance to cover riders who may get hurt while competing because the contests makes money off the riders.
| | |
| --- | --- |
| | You shouldn't be forced to have insurance, but as a professional athlete in a dangerous sport you'd be a moron to not have insurance coverage. - Cam Zink |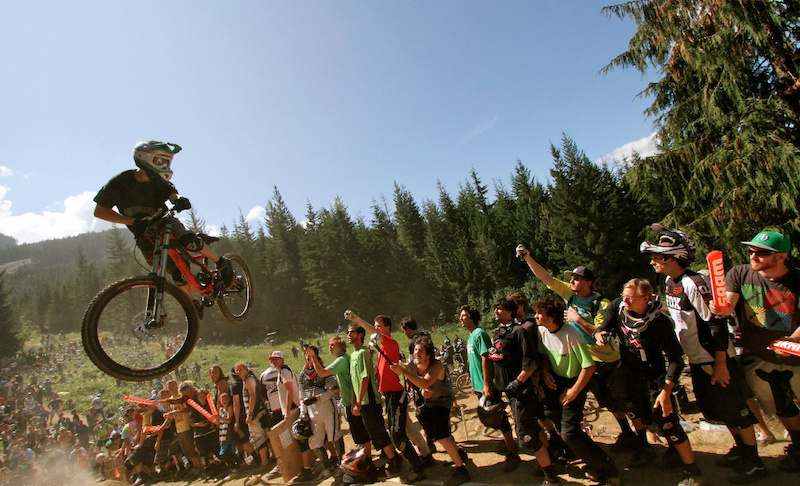 Mark Matthews enjoying the UnOfficial Whip Off World Champs at Crankworx.
Mark Matthews
broke his femur while practicing at Rampage in 2013. He was taken by ambulance to hospital in St George and had surgery to the tune of $40k. He had purchased medical travel insurance before going to Utah, but was denied coverage because he was in a contest where prize money was involved. Mark never even got a chance to be in the running for prize money because he didn't compete, he was only practicing. He has appealed the ruling and submitted bills to BC medical, but has been left owing most of the $40k. Mark paid $270 for a policy that didn't cover him at all.
| | |
| --- | --- |
| | It's stupid not to have medical coverage, but you need to research them to insure they cover you while filming or competing. - Mark Matthews |
The bottom line is the prize money they hand out to winners at comps doesn't make you rich and those who are injured are basically on their own unless you're lucky enough to be a Red Bull sponsored rider. The contests don't provide any medical coverage and seldom check if the athlete has coverage. If you're a gambler you can roll the dice and hope for the best. Most pro's understand the risks and make sure they're covered. But what about the rest of us who make those quick trips to ride in other areas of Canada or to the land of medical mayhem, the USA. A simple trip with the Bro's to ride the new Burlington indoor bike park could cost you 10's of thousands if injured? The costs for coverage is cheap through BCAA, a multi trip- 30day max is 100-200$ PER YEAR, but depends on your age as well. The pro rider coverage is another $40/yr and if you have a known injury or medical condition add on $20. So for around $250 bucks you can ride, compete and damage your body to a value of $10 million in coverage. So why risk it all for the little rewards these contests may hand out to the winners while the losers could go home broke for life? Just get complete medical coverage and ride smart.
-Words and photo by Malcolm Mclaws