mctrials23
Member since Sep 11, 2019

33
Tunbridge Wells , United Kingdom
Block user
Recent

Apr 11, 2021 at 2:54
Apr 11, 2021

Selling
Apr 11, 2021 at 2:53
Apr 11, 2021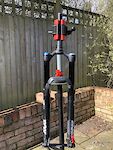 $300 GBP
Only selling because I moved to a 27.5+/29 bike and I couldn't get a mudguard on them so I have upgraded to a set of 36s. These have been regularly maintained, lowers dropped and oil replaced a month or so ago. Seals etc were all replaced about a year ago and due to COVID, the bike didn't get that much use over the past year. Stanchions are perfect apart from a few tiny nicks (in pictures) which can only be felt if you run your nail over them. Slight damage to the air shaft bolt at the top from a slip with the socket but this doesn't cause any issues and is very minor. Just adding for honesty's sake. There are a few marks to the forks elsewhere as you expect from forks of this age. Any questions just ask. I think there are 2 or 3 tokens in them and I have 2 more I can include if the buyer wants. Steerer is 199mm Code is C3MS They work perfectly.

Selling
Apr 11, 2021 at 2:35
Apr 11, 2021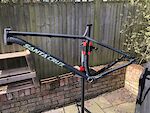 $540 GBP
Bought this is September 2020 so its only been used for 6 months and for 3 months of that we were in lockdown and it barely got used. There is no damage to the frame at all and its never been crashed. The paint on the other hand seems to be about as durable as cheese (well known issue) so it marks very easily. 90% of the paint scratches/marks is from being on a bike rack. Its a hardtail so I wasn't overly concerned about the paintwork. Only other damage is a couple of chips from stone chips flying up off the trail and I can only see 3 or so of these. Comes with a hope pick and mix headset worth £55 and the frame was £669. I can put either the 29" or 27.5" dropouts on the frame, whichever the buyer would like. I can also include both sets for another £50. Any questions just ask. Happy to post at buyers cost.
Load more...