mickbr
Member since Sep 8, 2010

Male / 64
Todmorden , United Kingdom
Block user
Recent

Added 5 photos
Nov 5, 2018 at 0:49
Nov 5, 2018

Selling
Nov 5, 2018 at 0:45
Nov 5, 2018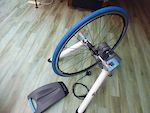 $165 GBP
Very little use. Turbo, wheel & tyre virtually new condition. Excellent smart trainer which is perfect for the coming winter days. Includes Tacx wheel skewer & front wheel support. Will work with Tacx software but also connects easily to Zwift, Bkool & other online training apps (ANT+/Bluetooth). Please search on line for details as this is the current Tacx Vortex Smart model & available to purchase from various outlets at around £320. The buyer will also have included an 11/10 speed, Shimano RS 11 rear wheel fitted with Tacx turbo tyre (cost around £95). Difficult to post turbo & wheel & there's no box, so looking for pick up of the whole bundle initially. I think I have offered a good price for the full package which just requires your choice of SRAM/Shimano cassette to have up & running.

Selling
Jul 9, 2017 at 13:32
Jul 9, 2017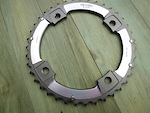 $50 GBP
Brand new never fitted XX SRAM/Truvativ chain rings. 26T still in wrapping 39T Outer ring & 26T inner for SRAM XX crankset. (The 39/26 combo are designed to work together) 39T Marked S1 which is the short, 4mm over shift guard pin type. 120 BCD x 80 BCD Price includes UK mainland postage (PayPal address on request)

Selling
Nov 9, 2015 at 11:16
Nov 9, 2015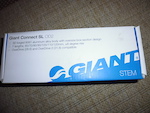 $16 GBP
Fits Giant OD2 system or the original OverDrive 1 by means of the included shim. 100 mm stem. Box has been opened and stem removed, fitted & measured up to a frame/bars for test on turbo trainer. Decided on a 90 mm version so returned this one to its box, essentially unused. Consequently, this ad is for totally as new, unmarked stem which cost me £24.99. They sell for a little less than that on line but try finding a 100 mm version in stock anywhere in the UK! Everyone seems to awaiting new stock from Giant In the end I found this one at full price on an LBS shelf. Comes with reducer shim for the original OD1 system, top cap and all fixing bolts. I will ship Royal Mail 2nd class at a cost of £2.80 or happy for local pick up for cash. Message me for payment details or with any questions.

Added 4 photos
Sep 16, 2013 at 8:28
Sep 16, 2013

Selling
Sep 16, 2013 at 8:24
Sep 16, 2013

Added 9 photos
Sep 6, 2013 at 4:39
Sep 6, 2013

Selling
Sep 6, 2013 at 4:28
Sep 6, 2013
Load more...