Last November
, we took a
first look
at DVO's Emerald fork (
the very first prototype is pictured above
). Since that time the hype and anticipation has continued to grow, fueled by trade show sightings of working prototypes and images of Cedric Gracia racing and riding on the inverted fork at events around the globe. But now the wait is finally over, and the first batch of forks are on their way to distributors world wide. However, don't expect to see a shiny new Emerald sitting idly in your local shop any time soon – with a production schedule of only 300 forks per month, and a large portion of those pre-sold, it's unlikely this first run will spend much time on the showroom floor. We spoke with DVO's Bryson Martin Jr., who was in Taiwan as the first forks were rolling off the assembly line, to find out more about the journey from concept to reality.
---

We first saw prototypes of the Emerald fork just about a year ago. Can you give us a brief overview of what it takes to get a prototype into full production?
Let's start by saying suspension isn't easy, arguably the most difficult part to design on a bicycle. You have to love it, you have to have a lot of passion for it or it can be easy to give up on. A year and a half ago we were walking around EuroBike with SolidWorks concepts on an iPad, showing people this crazy idea that could change the inverted suspension world. We knew that the spotlight was on us so we had to make a product that would stand apart from everyone else as well as establish a business model that was equally different. From there it was countless trips to the factory in Taiwan for development and testing, getting to the World Cups w/ CG for tuning and feedback, late nights at the shop running the fork over and over on the dyno, to sending out the first shipment of forks. Watching the company grow from making t-shirts and water bottles to releasing the Emerald was extremely hard, but honestly the most fun I've ever had.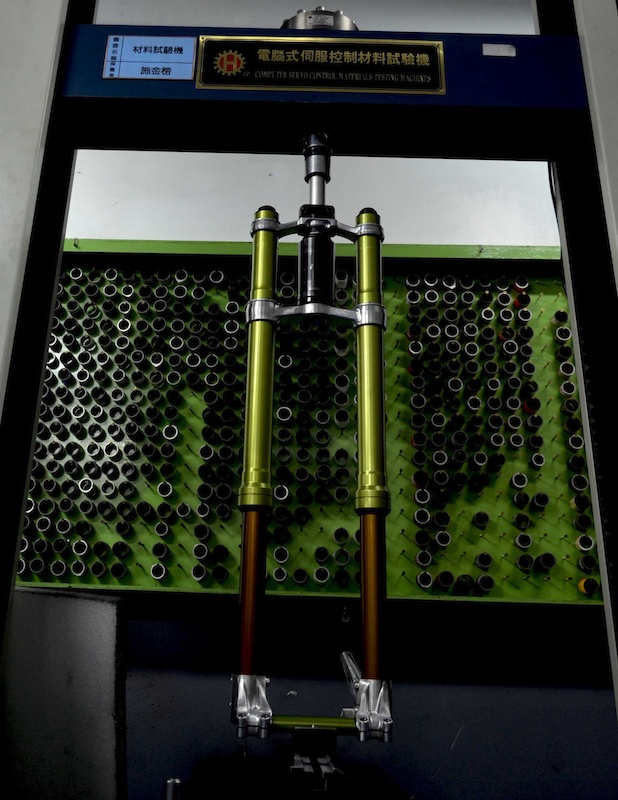 A prototype Emerald undergoes testing in Taiwan.

Getting a high-end suspension company up and running is no small task. What was the biggest challenge DVO faced over the last year and a half?
Since the get-go the Emerald's development went extremely smoothly. From the first time I rode the fork to the final production version, there haven't been too many changes. When we felt comfortable enough with the fork's durability, performance, and strength we gave the suppliers the green light to go into production. Some of the biggest hurdles to overcome with the fork were actually its best attributes, the technology that has never been done before. For example, the CTA (carbon torsion arch) was a project our suppliers had never faced before. The CTA isn't a typical carbon component that they pump out every day, it's what we call a Blue Ocean project. To get it up and running it took countless meetings with many suppliers, a lot of revisions because the pieces weren't perfect, and we finally came up with a product that exceeds our testing requirements.

Is the plan still to produce only 300 Emeralds per month? If the demand is there will output be increased?
For right now we're trying to keep production at 300 a month but it is possible to increase production if needed. This company is still very new, step-by-step is the motto here and we don't want to get too ahead of ourselves. We also never want to have any overstock and follow the same path of everyone else with year-end blowouts. Price dropping at the end of the year to move excess inventory erodes your overall brand's equity and devalues your image, so flooding the market with product isn't something we want to do right now. Our focus is on customer service, easy access to spare parts, easy access to tuning and set-up, and suspension that works ride after ride the way it was supposed to. We're not in this for the biggest profit margin; we're a passion driven company out to make the best suspension possible.

Now that the Emerald is available, when is the Jade scheduled to start shipping?
We're looking for the Jade production to be in February and shipping no later than March 2014. Testing and development on the shock has been seamless, so getting it on the shelves isn't too far out. The shock from the very first prototypes has needed very little adjusting; CG and I both fell in love with it on our first ride back in April this year.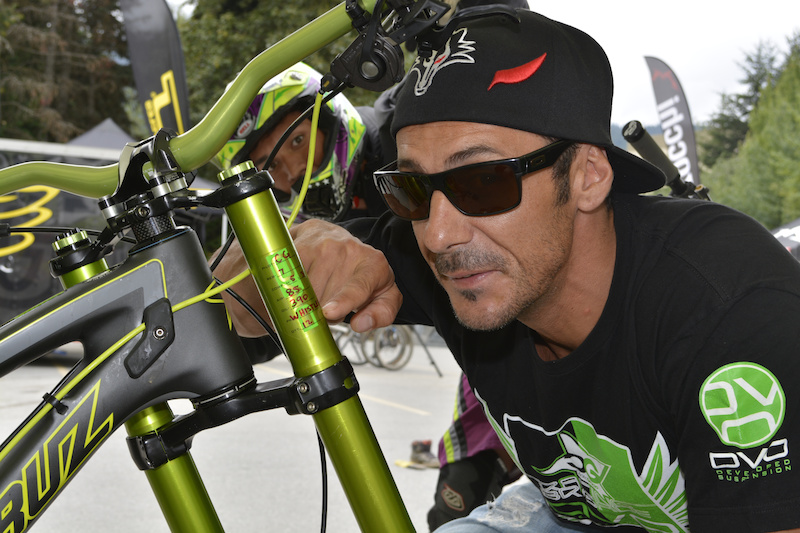 Cedric Gracia's input was invaluable during the
Emerald's development.

Cedric Gracia has been DVO's most visible test pilot – will we see the roster of sponsored athletes expanded for next season?
CG has been an exponential part of the development process. During testing at World Cups Tom could go in or out one click on a setting, or change one shim slightly, and he would know instantly. Finding a rider that is that in tune with his bike, and can ride the way he does is a beautiful thing. For now he's doing very well in the Enduro World Series and has lots of potential in the new "mtb craze". He will be lead test rider and help with development with our new enduro fork, the Diamond. We are currently in talks with a couple big teams and we have quite a few riders who will represent us at the majority of the WC DH events. We first want to be in a position to be able to support all our riders with technical support and it's important not to bite off more than we can chew. We will be a major sponsor of the IXS Cups in Europe and be active in many DH events in North America.

The DVO product line is starting to fill out, especially with the prospect of an all-mountain fork sometime in the future. Can we expect an air shock as well?
We have some really cool concepts for air shocks still under the curtain both for DH and enduro bikes. Those projects are next on the list after the Jade and Diamond go into production, so look for some first prototypes around summer time with the production of the new Diamond enduro fork around April. We will incorporate a lot of the features found on the Emerald DH fork without the gizmo's and hard to tune damping features. We feel the DVO customer is a bit more suspension savvy and we will do a great job at helping everyone become more educated on how to tune our products, which is actually the fun part of our job!
---
Behind the Scenes: Manufacturing the DVO Emerald
DVO Emerald Details



• Travel: 203mm
• Air spring
• Carbon Torsion Arch (CTA)
• OTT Adjuster - allows the negative spring to be externally tuned, improving plushness
• Damping: twin tube open bath, adjustable high and low speed compression, dynamic rebound adjust





• High and low speed compression can be removed with zero oil loss
• Upper legs: 7000 series alloy, 42mm externally tapered
• Stanchions: 36mm hard anodized PTFE coated
• Weight without CTA: 2950 grams, CTA: 300 grams
• Price: $2200 USD