With the Sea Otter Classic only a few days away, Fox has issued details about updates to their 34 TALAS, as well as a completely new rear air shock, the Float X. Both products feature increased low speed compression damping in each of the CTD modes, a needed refinement that should give the suspension a firmer platform, making it less likely to blow through its travel prematurely during aggressive riding. The TALAS sees changes to its air spring curve, as well as a hydraulic travel adjuster to make it easier to reduce the travel from 160mm to 130mm.
The new Float X rear shock has an attached reservoir, giving it a greater oil volume. This increased oil volume should make for a shock that is less prone to being affected by the heat generated during a long descent, which in turn makes for less fluctuation in the ride feel of the shock. We spent a brief amount of time on a prototype Float X on Lars Sternberg's Transition Covert, which has a customized Grip Shift that was rigged up to control the compression settings. The production version doesn't have the multiple clicks of compression, but stays with the Climb, Trail, and Descend compression settings with three additional settings for the Trail mode.
Both products appear intended to meet the demands of today's all-mountain rider or enduro racer. Riders are pushing their all-mountain rigs harder than ever, riding them at speeds and in terrain formerly inhabited solely by downhill bikes, and need suspension components designed to handle this level of riding. We'll be taking a closer look at Fox's 2014 offerings at Sea Otter, but the initial details are included below.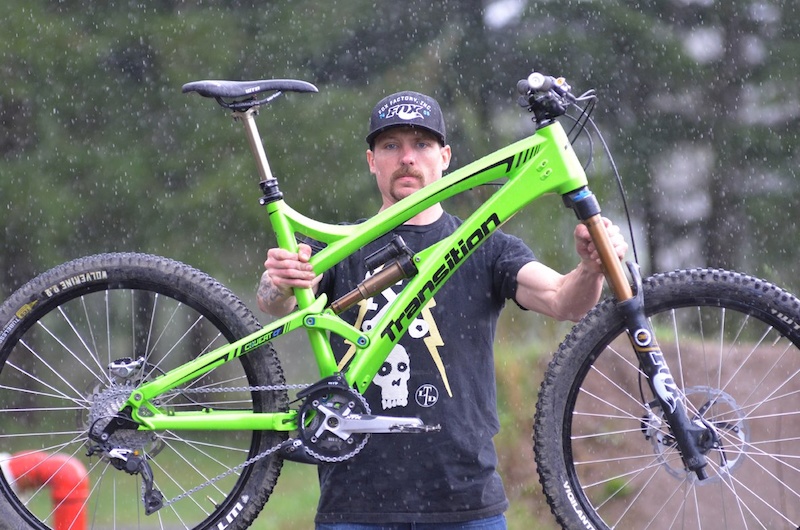 Lars Sternberg with a prototype version of Fox's new Float X on his Transition Covert. (Photo: Transition Bikes)
Press Release:
FOX, the industry-leading ride dynamics company, has announced the release of two 2014 all-mountain products with the 34 TALAS CTD 160 fork and FLOAT X CTD shock. The 34 TALAS features a completely redesigned TALAS travel adjust system and the FLOAT X is a new reservoir air shock platform.
2014 FOX FACTORY 34 TALAS CTD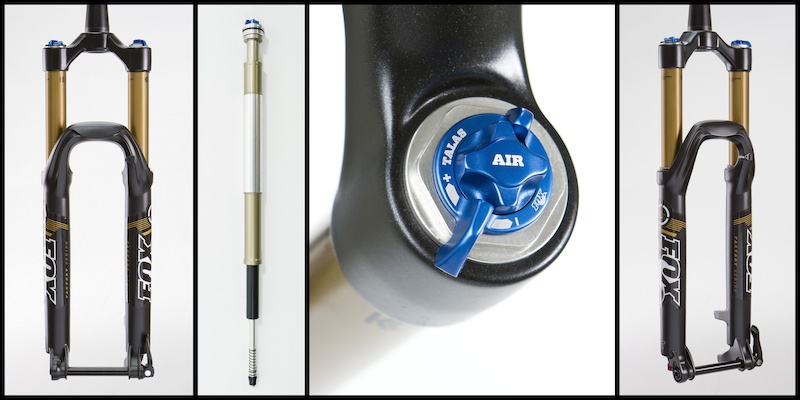 FOX FACTORY 34 TALAS CTD w/ Trail Adjust 160
The 34 TALAS fork has key design changes that translate to smoother travel and improved handling. The updated CTD tune provides more damping support in each mode for better efficiency and control. The TALAS system uses an air spring design similar to FLOAT, giving it superior bump compliance for more comfort and traction on the trail. Mated to the air spring is a hydraulic travel adjuster that provides quick, crisp travel changes between 160mm and 130mm. All 2014 TALAS forks use the new travel adjust system.
• New TALAS travel adjuster
• 160mm/130mm travel range
• 3 on-the-fly settings with Climb/Trail/Descend
• Trail Adjust tuning range (1, 2, 3)
• Rebound
• 15QR thru axle
• 26" and 27.5" wheel options
• 4.33 lbs. / 1,964 g (26")
2014 FOX FLOAT X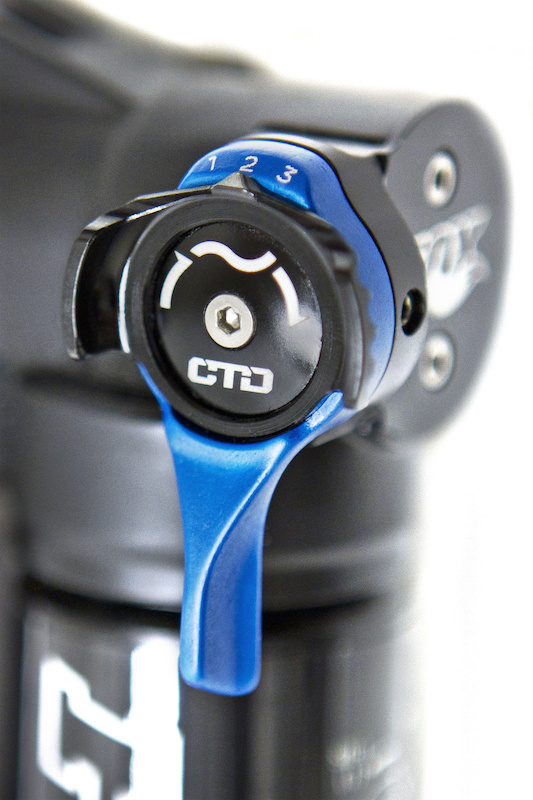 FOX FACTORY FLOAT X CTD w/ Trail Adjust Rebound
The performance advantages of the FLOAT X's reservoir design make it ideal for aggressive all-mountain riding. The increased oil volume and dual piston damping system produce an incredibly responsive ride while maintaining a consistent feel through rugged terrain. The base valve on the reservoir gives the Climb, Trail and Descend modes a wide adjustment range to perfectly match trail conditions.
• New reservoir air shock platform
• 3 on-the-fly settings with Climb/Trail/Descend
• Air spring pressure
• Rebound
• Low friction hardware
• Remote option
• 0.8 lbs. / 365 g (8.5 x 2.5, no hardware)
www.ridefox.com