Last February, Cam Zink, the 2010 FMB World Tour champion known for his massive backflips and hard charging riding style, announced that he had signed on with Hyper Bicycles. Now, bikes bearing his name are available at Walmart, the world's largest retailer. The hardtail bikes, which sell for $199.97 USD, have 26" wheels, mechanical disc brakes, front suspension and a 1x7 drivetrain with a basic chainguide system.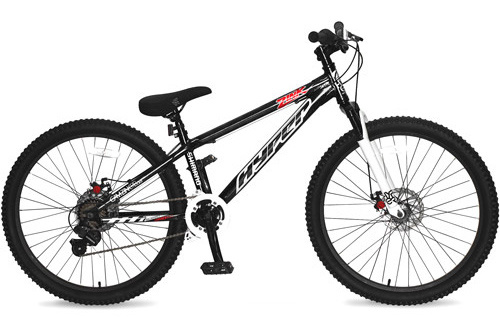 In an
interview with Pinkbike
last year, Eric Carter, Hyper's brand manager, said, "We do a lot of business with Walmart, and we're proud of that. One of Hyper's main goals is to get more people onto bikes. Not everyone can afford a $1000, $2000 or $4000 bike. I grew up in a household that was struggling to make a buck, to put food on the table. My first bike was a big box bike, and without having that big box bike I may never have found my passion for cycling."
Zink isn't the only professional athlete with his name on a bike at Walmart - snowboarding's favorite redhead, Shaun White, has his own line of 20" BMX bikes, as does Australian BMX rider Steve McCann, but so far Zink is the only mountain biker whose name can be found in the big box retailer's bike department.
Although they seem to have gotten off to a slow start, with no new products announced since signing Zink over a year ago, Hyper is still planning on debuting a line of high end bikes at Sea Otter, with slopestyle, downhill, and 27.5" wheeled offerings reported to be in the works.