TRP Quadiem SL Brakes
TRP, a division of Tektro focused on producing higher end offerings for both road and mountain bikes, recently released their Quadiem SL brakes, which are designed to be capable of handling everything from DH to enduro race tracks. The brakes have an in-line master cylinder and use mineral oil to actuate the four composite pistons housed in each caliper. There are two different versions available, with the SL getting a two piece rotor design and carbon fiber lever blades. The levers have a tool free reach adjust and a hinged clamp to allow for easy installation. Available with 160, 180 or 203mm rotors. MSRP: $239.99 (
each
). Weight: 314g w/out rotor.
www.trpbrakes.com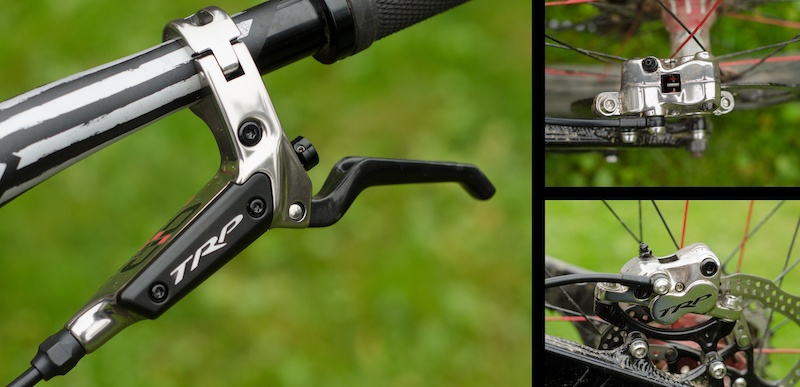 TRP's Quadiem SL brakes feature carbon lever blades, a tool free reach adjust, and a four piston caliper.
Pinkbike's Take:
Installation of the Quadiems was very straightforward, aided by the fact that the brakes are extremely easy to bleed. The bleed kit (available separately) has a syringe that screws into the port on the top of the lever body, and another that fits onto the caliper. Push the fluid from caliper up to the lever, and once the fluid is bubble-free you're finished, as simple as that. There was enough pad clearance that we didn't have any trouble quickly getting a rub-free setup.

The first ride on an unfamiliar set of brakes can be nerve-racking, but a day spent doing laps on short, moderately pitched trails had us convinced that the Quadiems were bedded in and would be able to handle something steeper and more sustained. Luckily, the Pacific Northwest has plenty of terrain to put brakes to the test, and a good portion of our testing took place on a local downhill trail full of tight chutes and steep rock rolls where extended periods of hard braking are required to remain in control. The Quadiems handled it without any pumping up or fading, and with plenty of power to slow things down in a hurry. Modulation isn't the brakes' strong suit though - they have a distinct on or off feel, with a strong initial bite. The modulation improves once the brakes are applied, making it possible to creep down long steep pitches without skidding, but it takes time to get used to the immediate power that the Quadiems possess.

The ergonomics of the Quadiem's carbon lever blades could use a little more refinement as well. The width of the lever blades decreases slightly towards the outside, and the curve at the end of the isn't as deep as other brakes, making it feel as if our grip on the lever wasn't as secure as we'd like, especially in wet conditions. The reach adjust worked well, but it would be nice to have detents with each turn of the knob rather than having it spin freely. Pad life is in line with other brakes on the market, although unlike some of Tektro's other brakes, the pads shape is unique to the Quadiems, which means you might want to stock up on a spare set or two before embarking on an extended road trip. Overall, the Quadiems are a step in the right direction, offering plenty of power and features like carbon lever blades and two piece rotors, but a little more refinement is necessary before they are at the same level as Shimano or Avid's benchmark four piston offerings. - Mike Kazimer
---
Spank Oozy Stem and LTD Handlebar
Spank's Oozy component line is intended to be strong enough for trail and all-mountain riding (
they meet the same testing requirements Spank uses for their gravity products
), but at the same time be light enough to run on an XC bike. 3-D forged from 6-series aluminum, the Oozy stem has a 35mm stack height and features what Spank calls their True 0 Degree Rise, which is accomplished by having the clamping area slightly lower than the main body of the stem. A unique hourglass shape is used for the body of the stem, a design Spank says helps keep the weight down while maintaining a high resistance to twisting and torque. The 65mm stem we tested weighed in at 160 grams, and is also available in 50 and 75mm lengths. MSRP: $69.90 USD.
The Oozy LTD handlebar is constructed from 7-series aluminum and comes in at 216 grams for the 740mm version, a weight more typically associated with carbon fiber handlebars. The bar goes through seven butting and eight heat treatments during the construction process, and is also work hardened at the clamping area to increase strength. The bars have 4 degrees of upsweep and 6 degrees of backsweep, and are available with 5 or 15mm of rise. MSRP: $89.90.
www.spank-ind.com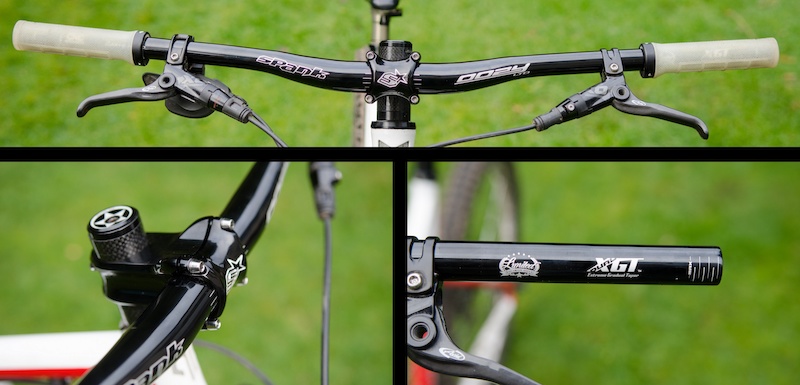 The Oozy product line is aimed at hard charging trail and all-mountain riders.
Pinkbike's Take:
| | |
| --- | --- |
| | Since their installation, the Oozy stem and LTD handlebar have remained strong and silent, surviving the test period without issuing any creaks of complaint. A slipped pedal that led to a solid knee to stem impact allowed us to fully appreciate the rounded rear profile of the Oozy stem, and while it didn't make the smashing of skin against aluminum any less painful, it did mean that we weren't sliced by any sharp edges. We didn't notice any undue flex from either the bar and stem, and found the bend of the handlebars to be comfortable even on multi-hour rides. 740mm is still a little narrow for our preferences, but for riders seeking a lightweight bar in this width, the Oozy LTD is definitely worth a look, especially since its weight is comparable to that of a carbon fiber bar, but at almost half the cost. - Mike Kazimer |
---
Ryders Eyewear Hijack Sunglasses
For over 25 years, Ryders Eyewear, based in Vancouver, British Columbia, has been making sunglasses for cyclists with the goal of offering high performance products at an affordable price. The brand's offerings have grown over the years, and they now offer a wide range of eyewear, everything from snow goggles to sunglasses. The Hijack is part of Ryder's sport collection, and has features such as hydrophilic nose and temple pads to keep them secure even during high motion activities. Our review pair of glasses had a yellow photochromic lens that is designed for usage in very low to bright light. The lens automatically adjust its tint when exposed to UV rays, which alters the amount of transmitted light between 76 and 21 percent. Ryders offers darker tints for riders who spend more time in very bright, direct sunlight, but as much of our riding takes place in the forests or during cloudy weather, the yellow tint was an appropriate choice. Fit: Medium. MSRP: $79.99 USD.
www.ryderseyewear.com

A photochromic lens makes the Hijack sunglasses useable in a wide range of light conditions.
Pinkbike's Take:
| | |
| --- | --- |
| | We found the Hijack sunglasses to be light and comfortable, and they remained in place even on the bumpiest of trails. The adjustable nose piece is a nice touch, making it easy to ensure that the sunglasses remain secure and centered. The photochromic lens worked as advertised, changing tint depending on the light conditions. The transition between tints is smooth enough that we never noticed it happening - the lens would darken in bright sunlight and lighten up in the shade, but it was a subtle enough shift that the look of our surroundings remained consistent. We often ride without sunglasses due to the fact that there is usually a persistent cloud cover that makes it especially dark in the woods, but the yellow tint made us much more likely to grab these without worrying about them making it difficult to see in thickly forested areas. The glasses did fog up on us once, but that was during a period of extended, slow speed climbing in a sleet / rain storm, challenging conditions for any sunglasses. Once we took them off for a second and aired them out they remained fog free for the remainder of the ride. In addition, the Hijack's lenses have remained unmarred by major scratches despite multiple muddy rides and a few direct encounters with pointy branches. We couldn't ask much more from a pair of sunglasses - the Hijacks have done their job without issue, keeping our eyeballs protected from UV rays, flying mud, and anything else that might be encountered on a mountain bike ride. - Mike Kazimer |
---