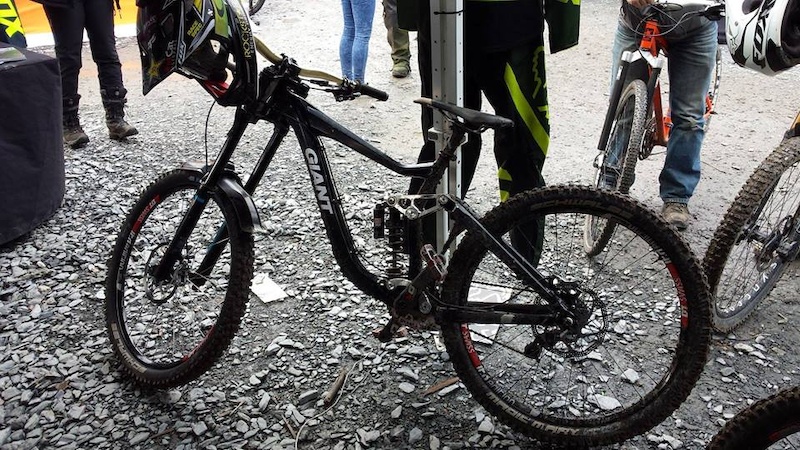 Add Danny Hart to the ever-growing list of riders who have been spotted on 27.5" downhill bikes this season. Hart is aboard a prototype aluminum framed 27.5" Giant Glory at the first race of the British Downhill Series, an event that attracts some of the top DH racers in the world looking to gauge their fitness and try out new equipment before the big show gets underway at the first stop of the 2014 World Cup in Pietermaritzburg, South Africa, next month.
Fellow Giant Factory Off-Road rider Marcelo Gutierrez raced his prototype Glory at the Valparaiso Urban DH race earlier this year, so it's not too surprising to see Danny aboard a similar looking ride. In a sport where the difference between standing on the podium and watching from the crowd can be determined by a hundredth of a second, racers are constantly searching for anything that can help them find those precious milliseconds. The new frame isn't a radical departure from the previous version of the Glory – the suspension configuration, using Giant's Maestro dual short-link design, remains the same, and from a distance it's hard to even notice the larger wheels. However, a close look reveals a 27.5" RockShox Boxxer on the front, while 27.5" DT Swiss wheels are shod with Schwalbe's Magic Mary tires in the rear.
We'll have more information when it's available, as well as full racing coverage from BDS Round 1.