Picture a carbon-framed hardtail with 29" wheels, and more than likely the image that comes to mind is an XC race machine, something designed more for going up hills rather than bombing down them. Canfield Brothers are hoping to change that notion with the EPO, a carbon 29er hardtail designed for all-mountain riding, despite having a name that suggests otherwise.

Key geometry numbers include short 414mm chainstays, a relatively slack 66.8° head angle, and a reach of 450mm for a size large. There are a handful of steel and aluminum hardtails currently on the market with similar numbers, but it's the EPO's 1450 gram carbon frame that sets it apart, allowing for complete builds to easily come in under 26 pounds without taking any drastic weight saving measures.

---
Canfield EPO Hardtail
• Wheel size: 29"
• 66.8° with a 140mm fork
• 414mm chainstay length
• Front derailleur compatible
• ISCG 05 tabs
• Sizes: medium, large
• Matte black frame with white, blue, or red graphics
• MSRP: $1500 USD (frame only)
•
www.canfieldbrothers.com
/
@CanfieldBrothers
---
The curvy black frame has just about everything you'd look for in a hardtail - a threaded 73mm bottom bracket shell, 12x142 rear spacing, ISCG 05 tabs, but surprisingly there's no stealth dropper post routing, which means that the housing will need to run on the outside of the frame rather than being tucked away neatly inside.
The EPO is a niche item aimed at a select audience, which is why it will initially only be available in two sizes, medium and large, but that could change in the future depending on demand. Available directly from Canfield Brothers, the frame alone retails for $1500 USD.
Geometry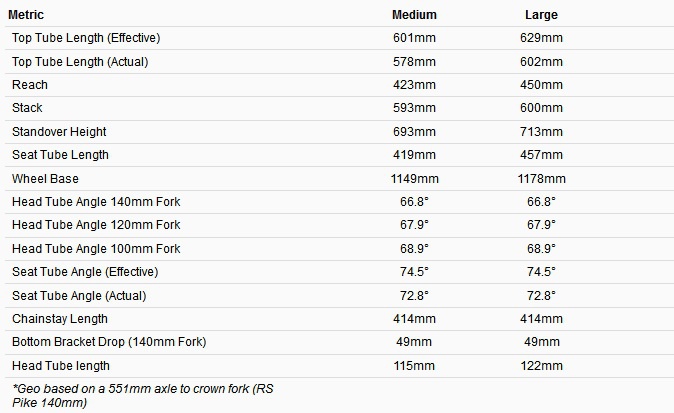 First Ride Impressions
My time aboard the EPO started off with a fast, rough descent, which served as an immediate reminder that it'd been a while since I last swung a leg over a hardtail. Months of riding cushy full suspension rigs had made me complacent when faced with jumbles of roots or rock drops, resulting in a few jolts to my spine I could have done without, but once I reawakened the proper hardtail riding technique from hibernation things drastically improved.
The EPO has a well-rounded blend of stability and quickness, which makes it possible to open it up when the trail straightens out, and then dive in and out of tight turns with minimal fuss. There's a snappiness to the EPO's handling that sets it apart from a steel framed hardtail, and that trait combined with the short chainstays makes for a bike that begs to be jumped and manualed at every opportunity. Even with a 140mm fork (the longest travel option that Canfield recommends) the steering felt extremely precise, and I'd have trouble coming up with a reason to go with less travel up front. Given how stiff the frame is, that 140mm of front suspension goes a long way towards reducing the amount of hand fatigue that can result from pounding through rutted and rocky trails.
The EPO isn't afraid to take on steeper, more technical terrain either, and it wasn't long before long I found myself charging into sections of trail at speeds that I usually reserve for bikes with front
and
rear suspension. Of course, a full suspension bike is going to have the edge when it comes to maintaining speed in chewed and chopped up sections of trail, but the EPO can still hold its own, as long as your body can handle the extra feedback. The carbon fiber does provide a slight amount of vibration damping, and the bigger wheels help add a little extra cushion, but this is still a hardtail through and through, and smoothness is always going to be rewarded more than a smash-and-bash riding style.
Final Thoughts
You'd be hard pressed to find another bike like the EPO currently on the market, but Canfield Brothers have always marched to the beat of a slightly different drum. The price tag will certainly be a sticking point for some riders, and the lack of stealth dropper post routing is a little odd, but for the hardtail fanatic looking for something out of the ordinary, the EPO might be just what the doctor ordered.

- Mike Kazimer