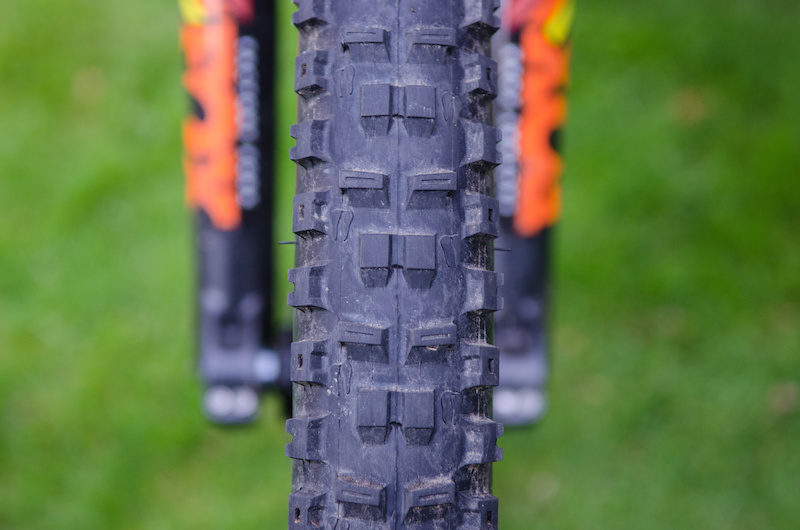 Onza Ibex Tire
The name Onza may be familiar to riders whose mountain biking memories extend back to the mid '90s, but while the name is the same, the modern incarnation is an entirely different company, now based in Switzerland. There are no more bar ends or pedals to be found in the lineup – the focus has turned solely to tubes, sealant, and tires such as the Ibex we've been testing for the last few months. The Ibex is billed as being able to take on technical terrain in both the dry and the wet, with a tread pattern that resembles what would happen if you took Maxxis' Highroller II and expanded the dimensions of the center knobs. We tested the 27.5 x 2.4" version of the tire with Onza's FRC 120tpi casing and RC²55a tread compound. The RC²55a designation means that there is a harder, 65a durometer rubber in the center, and a softer 55a compound is used on the outer knobs for improved cornering traction. Weight (actual): 840 grams. MSRP: $89.99.
www.onzatires.com

The Ibex's wide profile and aggressive tread pattern make it well suited for trails that require maximum traction.
Pinkbike's Take
Setting up the Ibex tires tubeless was relatively hassle-free, although it did take a little extra coaxing to get the bead to seat. The tire's high volume and the suppleness of the casing made it want to collapse towards the center of the rim, but they eventually gave in, and once seated the tires remained securely in place, never burping or rolling off on either of the two different wheelsets I tested them on.

The long, steep logging roads that lead up to many of our local trails revealed that the Ibex isn't the fastest rolling tire when climbing, thanks to its generous width and aggressive tread pattern, but that slightly slower rolling speed is well worth it when the trail points downhill. The Ibex proved to be an extremely capable descender, locking into turns with authority, and providing plenty of braking traction in steep, loose chutes. Later in the season, when the fall rains set in, wet roots were the only condition where the Ibex didn't shine quite as brightly, losing a bit of their predictability, but they still handled well in the mud - the space in between the center treads kept them from packing up too quickly. There haven't been any durability issues, and the tire has worn well, without losing any side knobs or developing and sidewall slices. On the whole, the Ibex is a recommended option for riders looking for a wide, grippy tire that provides excellent traction in a variety of conditions. - Mike Kazimer
Click here to see the high-res photo gallery.