Recently,
one of mountain biking's original freeriders posted an Instagram photo of himself out for a ride. Now, normally this wouldn't be a big deal – just another day in the office for a pro rider slightly past his prime trying to keep his sponsors happy with little pictures and long lists of hash tags. Except that he was on an electrically assisted mountain bike. Mind you, this is a rider who was once famous for riding the slipperiest, gnarliest trails around, back when most riders were still sporting spandex and rocking bar ends. Seeing him on an e-bike was like seeing Guy Martin puttering around on a Honda Goldwing trike, or Cedric Gracia sipping tea and knitting a sweater – it just didn't seem right.
Now, I understand that maybe, just maybe, there's a place in the world for e-bikes. If a little old lady has her driver's license taken away and wants to save energy while pedaling to the store for some Metamucil, fine, she can use an e-bike. But off-road, electrically assisted mountain bikes? They shouldn't exist, yet somehow they're gaining traction in the marketplace, especially in Europe. At last year's Eurobike trade show there were electric motors bolted to every type of bike imaginable, with eager salesman waiting to pop out of their booths and spout off the list of benefits that a heavy motor brings to mountain biking. Most of these sales pitches were along the lines of, "It allows you to go farther then you would be able to without a motor."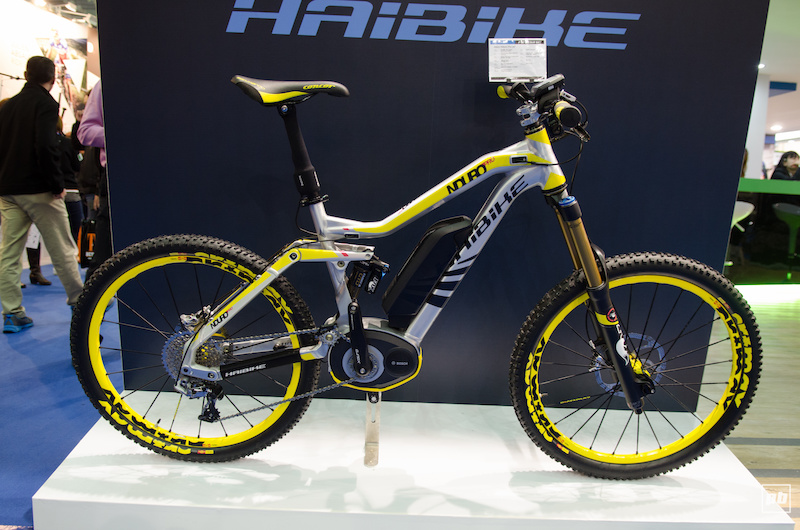 Now you can say you've seen an electric enduro bike.
News flash: I really don't want more people out on the trails, especially not ones that are too lazy to rely solely on human power to transport them deep into the backcountry. Call me selfish, but I like being able to pedal far enough into the woods that the crowds are left miles behind, and although it hasn't happened yet, I'm dreading the day when the buzz of an electric motor interrupts my otherwise peaceful bike ride. And what happens if that magical motor craps out on its slightly-out-of-shape rider thirty miles into a ride? That's going to be a mighty haul out, especially since most e-bikes weigh more than a downhill bike.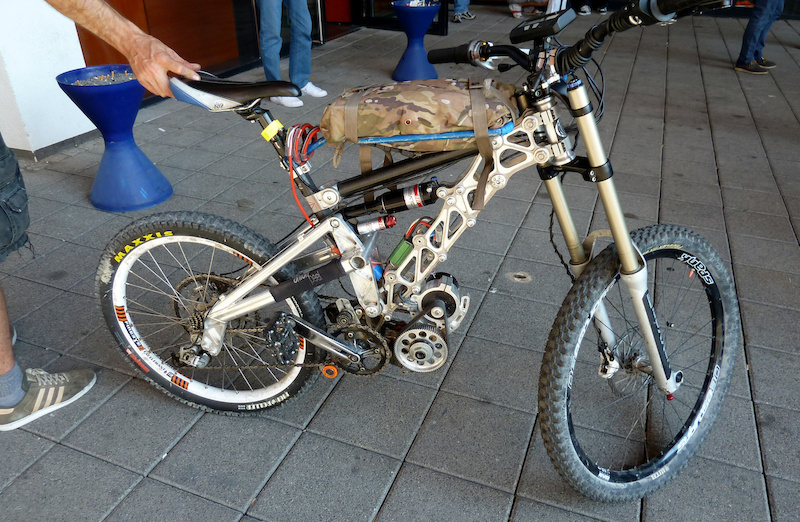 This is not okay.
E-bikes are every mechanic's nightmare, as anyone who's ever thrown their back out trying to heft one into a shop workstand knows, especially the ones that unwitting consumers purchase off of late night television. Try telling that little old lady you can't fix her 60 pound behemoth because you lack the necessary soldering or electrical know-how to rewire the poorly constructed contraption. I'd bet that the majority of the people who think they need an electric assist to ride a bike haven't actually ridden since their college days, when everyone rode steel Schwinn Varsitys that weighed twice as much as today's much lighter and much better shifting options. The extra weight is only one part of why e-bikes don't make sense, especially ones intended for off-road use. With modern mountain bikes available that weigh in under 30 pounds and have six inches of travel, why would anyone want to purchase a bike that weighs (and costs) twice as much?
As mountain bikers, we need to stick together and take a stand to protect the integrity of the sport against these electric intruders. Mountain bikes are human powered, end of story. Sure, climbing uphill can be hard - you might even sweat and breathe heavily while doing it, but trust me, it's worth it. E-bikes don't have a place on the trails, and the efforts being directed at developing them would be much better spent elsewhere. If those electrical engineers need a bike related project they can start by trying to figure out how to make an electronic, wireless dropper post that costs less than a month's rent, or some kind of shop tool with lasers that makes it easy to get a stem perfectly aligned the first time. Plus, does anyone truly believe that an industry that can't even agree on what handlebar diameter works best is really ready to add complicated electronics to the mix?
And what about the un-named pro who posted that image of himself mountain biking on an e-bike? He's wearing lederhosen and striped socks in his most recent Instagram photo, so it's possible that he's gone insane, which would go a long ways towards explaining his e-bike experimentation.