I've always liked hearing stories about how fellow riders were introduced to mountain biking, the tales that detail the beginnings of what often turns into a lifetime spent putting two wheels to dirt. It doesn't take much to get sucked into the mountain biking world, and sometimes those origin stories can be as simple as seeing a video or a still image and being inspired to grab a bike and give it a go.
Personally, I was lucky enough to get started fairly early, thanks to a middle school friend. His stories of racing through the East Coast woods, tales of battling it out with other riders through mud, roots, and rock gardens had me intrigued, and it wasn't long before I was fully hooked, an addiction that's persisted for nearly twenty years now. Of course, it's beneficial to have a mentor for those early days, someone that can help you sort out the little details that make life easier for newcomers to the sport, offering tips on technique, maintenance, or the importance of not wearing underwear under your chamois. Mentors can come in many forms, whether it's friends, relatives, or local clubs who help spread the mountain biking bug, and in a pinch even the internet and magazines can serve as electronic mentors for riders who live where the local riding scene is non-existent.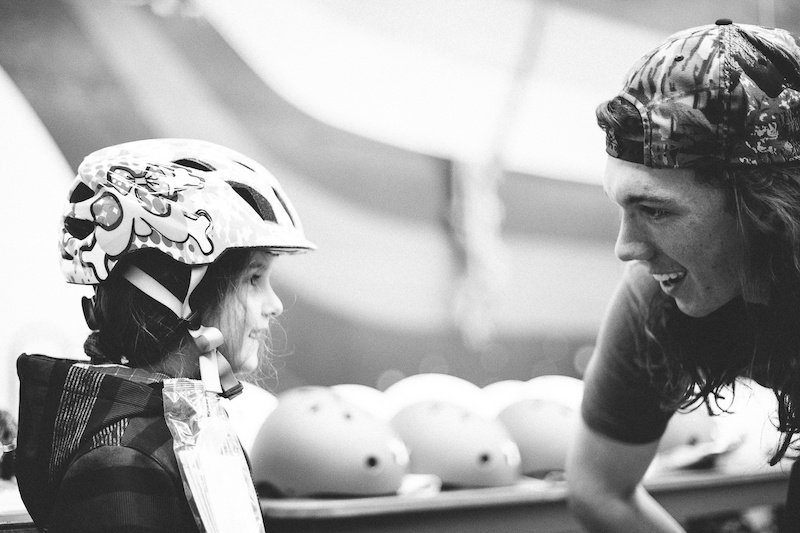 Pinkbike's Share the Ride charity drive helps get bikes to kids who might not otherwise be able to afford one, spreading the joy of cycling to another generation.
Photo: Margus Riga
The age that new riders are being introduced to the sport continues to drop, and with the advent of scoot bikes, it's not out of the ordinary to see a three-year-old pedaling around on a bike, no training wheels required. These kids are the future of the sport, and youngster's like
Jackson Goldstone
and
Finn Finestone
are prime examples of what happens when you grow up in mountain bike's Disneyland (Whistler) and have parents that recognize the benefits of cycling. The next generation of riders will soon be pushing the limits of what's possible on a mountain bike to previously unimaginable heights, hopefully inspiring another crop of young riders to get off the couch and into the woods on a bike.
There are two polls this week - who introduced you to mountain biking, and how old were you? Think back to those early days and answer away.
---
Who introduced you to mountain biking?
How old were you when you started mountain biking?