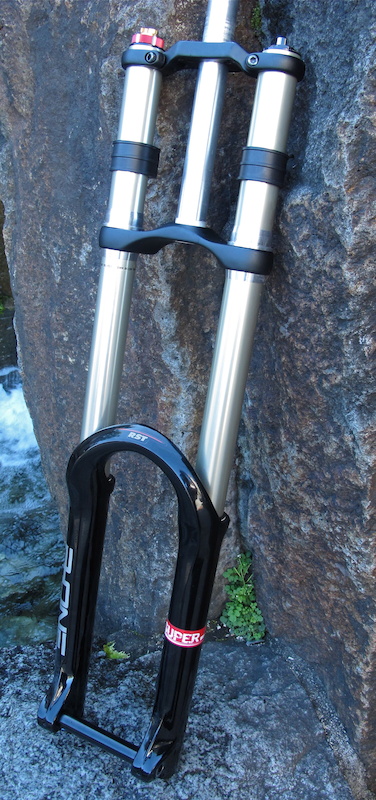 RST R-One Fork
RST likely isn't a name that pops into your head when you're thinking about long-travel suspension, but the company, better known for their more-budget minded offerings, is looking to change that. We met up with RST's Mike Dunn, a man who has plenty of experience in the suspension biz, as well as being the mind behind their new R-One downhill fork, to see what they have been working on. The 200mm travel R-One is built around their existing single crown Storm platform, with longer 36mm stanchions that feature an internal taper to save grams, and an upper crown that is compatible with direct mount stems. RST has used a more conventional 20mm thru-axle that requires an 8mm hex key, although they have been able to avoid having to use pinch bolts due to the axle's reverse threading that is claimed to keep it from shifting. R-One owners will also be able to lower the travel to 180mm by fitting different travel spacers into the spring leg.
Internally, it employs a semi-open bath cartridge, inside of which you'll find a high-speed spring poppet valve that opens into a shim stack, as well as a more traditional low-speed needle valve to control fork dive under braking, with both being able to be adjusted externally at the top of the right leg. Low-speed rebound can also be tuned externally, and the high-speed circuit is controlled with a shim stack.
RST R-One Details
• Intended use: DH/FR
• Travel: 200mm (
internally adjustable to 180mm
)
• 36mm diameter stanchions
• External adjustments: separate low and high-speed compression, low-speed rebound
• Direct mount stem compatible
• 20mm thru-axle
• Post brake mount
• Prototype weight: 6.8lb
• MSRP $1100 USD

The R-One's top crown is compatible with direct mount stems (left). There are external adjustments for both low and high-speed compression damping, as well as a rebound adjuster at the bottom of the fork leg.

The 20mm thru-axle (left) turns into a reverse-threaded cap on the opposite side with an 8mm hex key. The R-One uses 36mm diameter stanchions (right).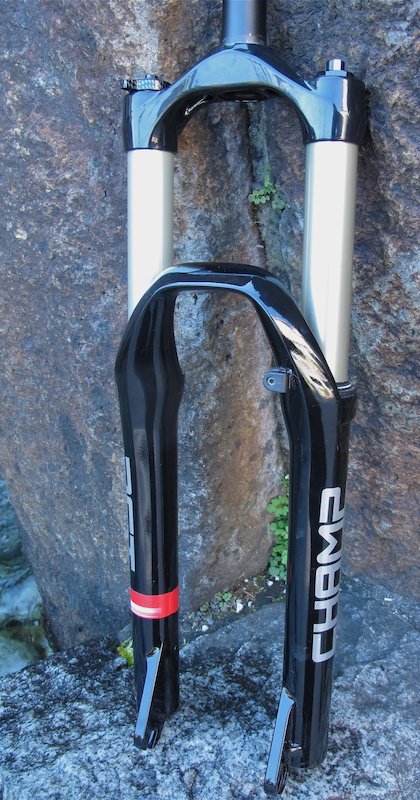 RST Champ
Weighing in at 3.5lb with 15mm thru-axle lowers, the Champ is RST's lightweight trail fork. It features three travel settings - 80, 100, and 120mm - all of which can be attained on the same fork by swapping out travel spacers, and RST is also working on a slightly different chassis that would allow them to offer a 140mm travel Champ. A 650B model is in the works to compliment the current 26" and 29" Champ forks as well.
On top of the right leg you'll find a low-speed compression dial that can be turned completely forward to engage a 'soft lockout' that is very firm, but still allows for some movement and blowoff. An aluminum dial is used to adjust low-speed rebound at the bottom of the same leg.
RST Champ Details
• Intended use: XC/trail/all-mountain
• Travel: 80, 100, 120mm (
internally adjustable
)
• Air sprung
• External adjustments: air pressure, low-speed lockout, rebound
• 32mm diameter stanchions
• QR or 15mm thru-axle option
• 26", 29" wheel models (
650B in the works
)
• Post brake mount
• Weight: 3.5lb (
15mm thru-axle model
)
• MSRP $675 USD
www.rst.com
---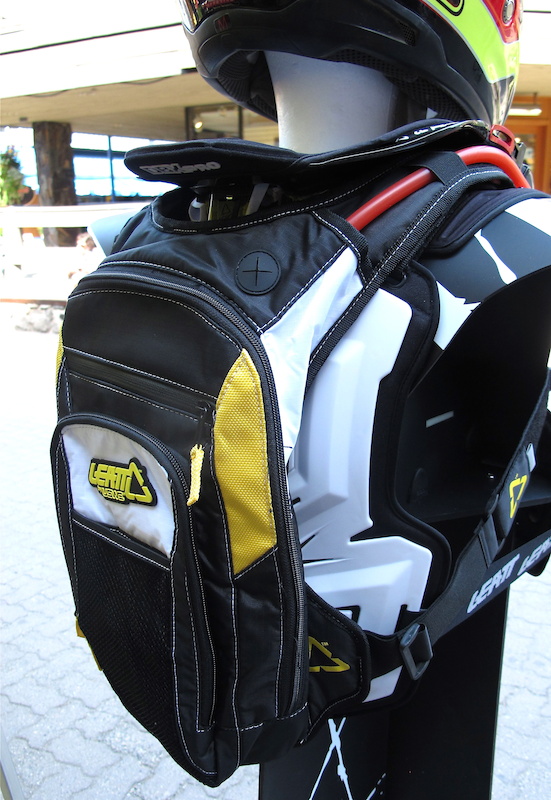 Leatt H4 Backpack
Lifted from their motorsports lineup, the H4 bag has been designed to not shift around on the rider's back, and specifically to not come up and hit the back of the helmet - an especially dangerous thing on a MX bike. Leatt claims that this is prevented by their cross-strap layout that positions the straps in an 'X' arrangement across the rider's chest. All four straps can be adjusted lengthwise via hook-and-loop fasteners, allowing the wearer to fine-tune the fit easily. Downhillers should also take note that it is also completely compatible with Leatt's neck braces, meaning that you can take some water and a few tools with you during runs - not something that enough riders currently do.
We're taking an H4 pack home with us from Crankworx and will be using it over the coming months, so stay tuned for a full test in the future.
Leatt H4 Details
• Intended use: XC/AM/DH
• Harness designed to interface with Leatt brace
• Cross-strap layout to minimize pack shifting
• Can be worn with Leatt upper body armour
• Five liters of storage space
• Include 2.5L bladder
• MSRP $109 USD
The H4's unique 'X' strap arrangement (left) is said to limit bag movement during riding. Five liters of storage space, as well as room for the bladder, means that you can carry tools and other trailside essentials.
www.leatt-brace.com