Five Ten
is the undisputed king of high performance, flat pedal, foot wear. We got our feet into 3 different models as we wanted to really find out what the differences are. Have a look inside to see all the pictures and specs of:
•
The Karver
•
The Freerider
•
The Spitfire
Read on...
Five Ten Karver shoes
The Five Ten Karver
Five Ten's Karver shoe
strikes a middle ground between their low top models and the bulkier and more protective Impact high tops. The unique looking red and black Karvers retain the over the ankle padded protection on the inside of the shoe, but are closer to a low top shoe on the non-bike side. This should be a godsend for those riders who are prone to catching their inner ankle bone on the crank arms, but want a lighter shoe than a full high top version. Further enhancing the Karver's protective ability is a thick padded tongue and stiff toe box area to keep your digits safe. The most prominent feature on the Karvers are its shielding lace covers. While they certainly give the shoes a different look, the covers serve to keep your laces from coming undone and catching in your drivetrain, as well as keeping them (
and your feet
) dry on wet days and debris out when ripping it up in the loam. The Karvers use Five Ten's Stealth outsole that not only sticks to pedals like gum to the underside of a desk, but also tends to absorb more trail vibrations and shock than a standard skate shoe's sole.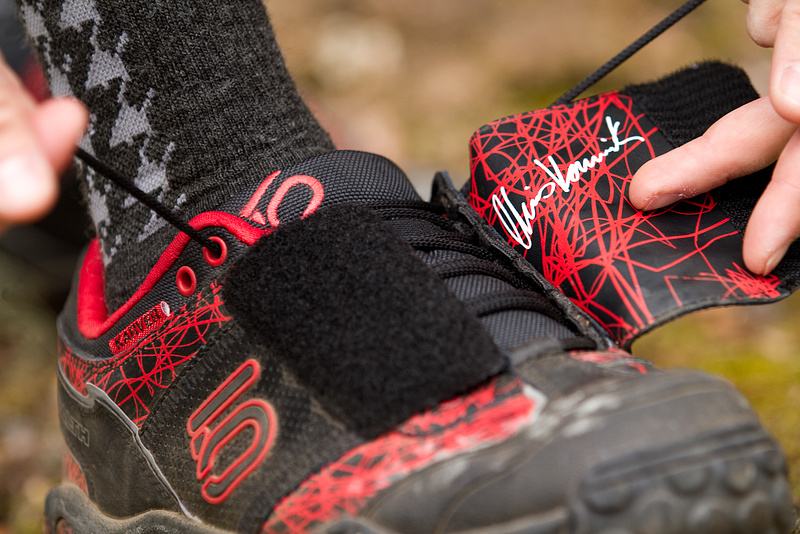 Five Ten Karver lace cover
Five Ten Karver details
Mid height shoe
Inner ankle protection
Integrated lace cover
Stealth S1 outsole
Sizes: 7-12, 13
Weight: 545 grams (size 9)
Colors: black/red
MSRP $114.95 USD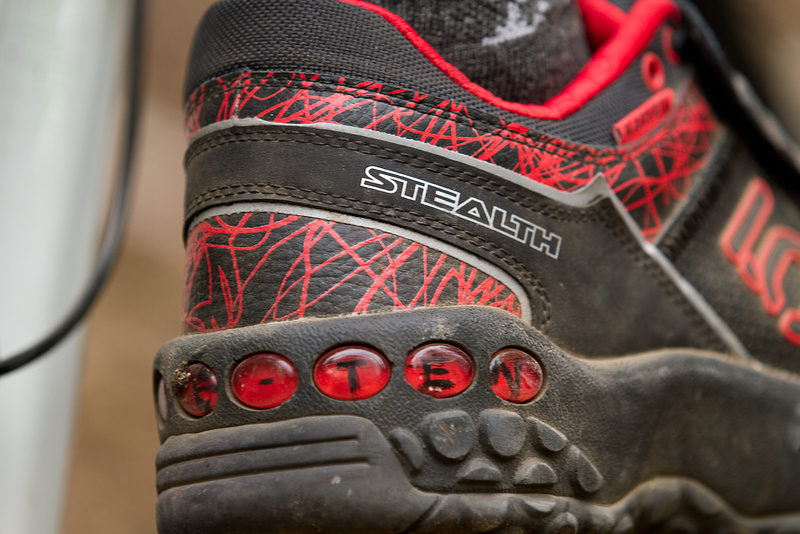 Karver heel detail
I chose to run the Karvers for the nice transition from DH protection to XC performance. One shoe that can do it all for me. The Lace cover keeps the debris out, but the heat in - a little hot on the really warm days.

- Tyler Maine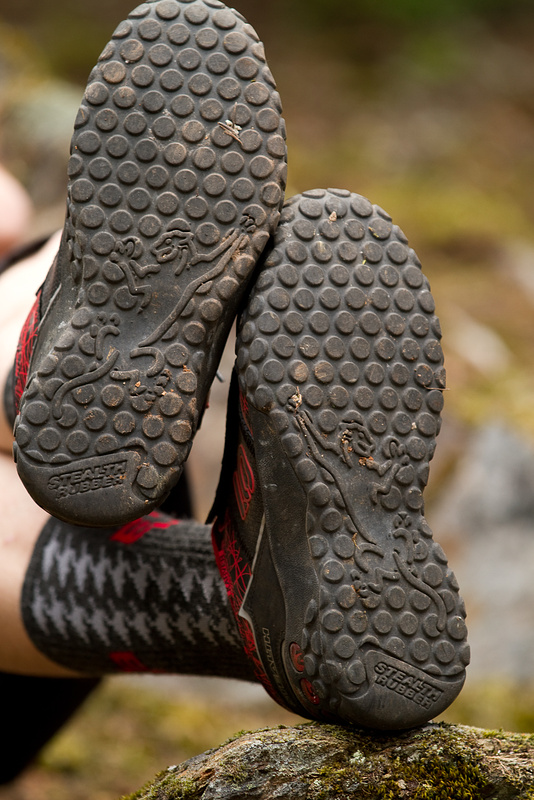 This is where the magic happens
---
Five Ten Freerider shoes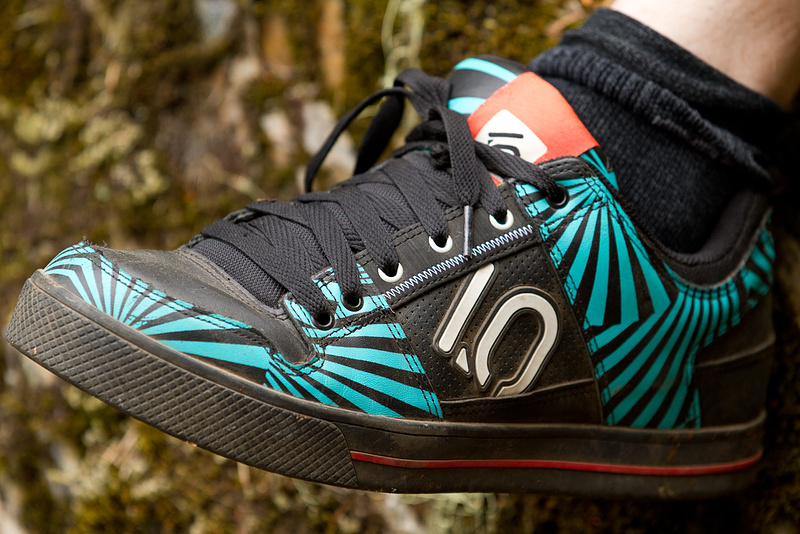 Five Ten Freerider shoe in blue zebra
The
Freerider
is a low top option for riders who want a less restrictive shoe that won't be as hot on those warm days on the bike. Its cut resembles a typical skate shoe, but incorporates bike friendly features like reinforced stitching and protective toe boxes that add a degree of safety that you wouldn't find on a run a the mill shoe. The underside of the Freerider's feature Five Ten's Stealth Phantom sole that is as sticky as ever, but won't mark floors with black skid marks and is slightly thinner than their other MTB specific soles.
Five Ten Freerider details
Low height shoe
Stealth Phantom non-marking outsole
Sizes: 6-12, 13
Weight: 408 grams (size 9)
Colors: blue zebra
MSRP $94.95 USD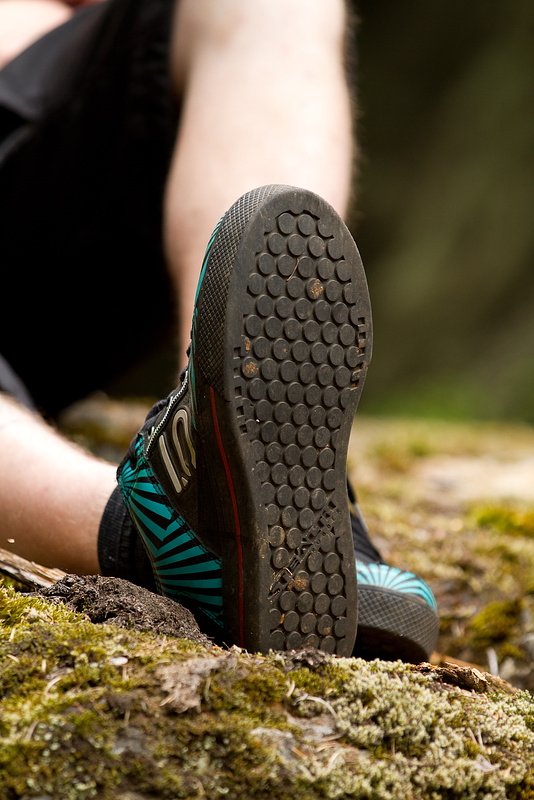 A close look at the Freerider's sticky sole
---
Five Ten Spitfire shoes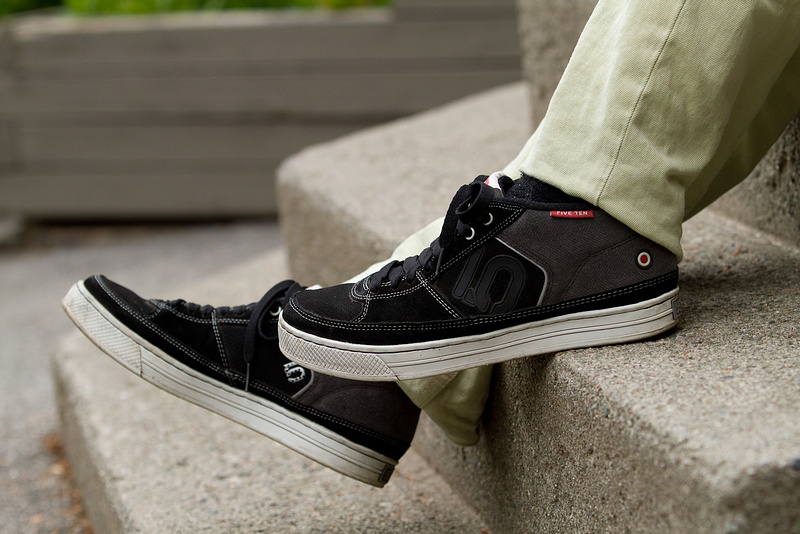 Five Ten Spitfire's
The
Spitfire
shoe combines classic skate style with Five Ten's proven Stealth high friction outsole. This mid top shoe is versatile enough to be at home on the mountain bike or in the skate park, but fashionable enough to wear out on the town after riding, without looking like a kook.
Five Ten Spitfire details
Classic skate profile
Mid height shoe
Dual side ankle protection and support
One piece molded Stealth outsole
Split-grain leather upper perforated nubuck with reinforced double stitching
Perforated nubuck with reinforced double stitching
Sizes: 7-12, 13
Weight: 470 grams (size 9)
Colors: black/grey
MSRP $89.95 USD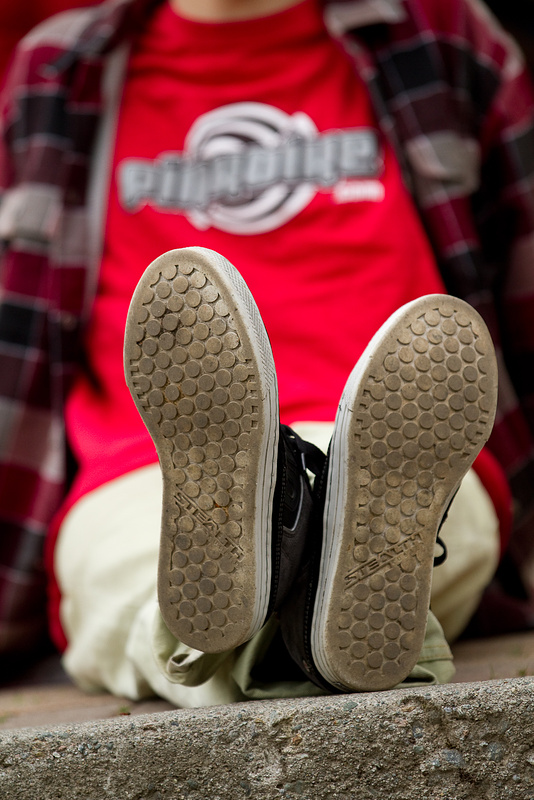 Underside of the Spitfire shoes
Visit
Fiveten.com
to see their entire lineup.