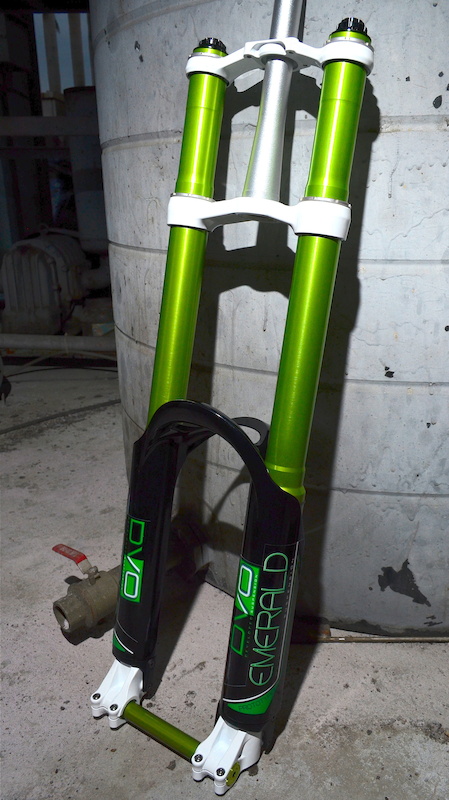 It has been a quick seven months since DVO, short for Developed Suspension, was formed after Bryson Martin and engineer Josh Baltaxe departed from Marzocchi. Bryson, who has been in the suspension game for 23 years, quickly began outlining a plan to offer something different than what consumers may be used to, not just from a product standpoint, but from a company approach that contrasts with what many have come to expect.
''I really wanted to do it right, so we needed everything all under one roof and that's what we have accomplished,
'' declares Martin.
''Now that all the ideas, designing, and engineering all happen in one place, it's a lot easier to set goals and execute on them.
'' It wasn't long before both Tom Rogers (product development) and Ronnie Dilan (head technician) left Marzocchi to join Martin and Baltaxe and plans were laid for DVO's debut fork. Whereas the current major suspension players all offer a massive range of products to choose from, DVO plans on producing a limited selection of high-end products, beginning with the 203mm travel, inverted Emerald shown here on Pinkbike for the first time.
---
We know the benefits to an upside down fork and it's been a very long time since a company brought an inverted fork to market. We wanted to make a statement by executing it when other companies couldn't.
- Bryson Martin, DVO
---
While this is the very first complete Emerald to be assembled, each of the fork's different elements have been tested in some way during development. The Emerald's open bath twin tube damper system, for example, was surely put through real world testing while hidden within another fork maker's chassis, likely making its way down trails and past other riders without anyone taking notice. Martin is understandably coy about what fork the damper was trialled in, but he did reveal that early versions of the Emerald were coil sprung prior to the air spring system being developed. The fork shown here, as well the production model, will make use of an air spring, and DVO is also looking at including an adjustable volume feature that will allow riders to tailor the fork's ramp-up through its stroke. Interestingly, it will employ a coil negative spring that will have an adjustable preload component to let Emerald owners adjust the fork's initial stroke.




Emerald Details


Intended use: DH/FR
Design: Inverted
Travel: 203mm/8''
Stanchions: 36mm w/ molybdenum disulphide
coating


Upper tubes: 43 - 41mm tapered 7000 series
aluminum
Steerer tube: 1 1/8th straight or tapered
options
CTA: One-piece Carbon Torsion Arch acts as
stanchion guard/fender while increasing
torsional rigidity by a claimed 50%
Fork crowns: Forged and CNC machined.
Separate crowns for 26'' and 650B-sized
wheels to preserve trail geometry, direct mount
stem compatible
Spring: Air
Damper: Twin-tube open bath design
External damper adjustments: Separate low
and high-speed compression/rebound
Negative spring: Coil w/ adjustable preload
Target weight: 2,900 - 3,000 grams/6.4 - 6.6lb
Availability: June/July of 2013
MSRP: To be announced

Inverted Design
The DVO team knew they wanted to pursue an inverted layout for the Emerald due to the design's lighter un-sprung weight, consistent lubrication qualities, and ease of compatibility with non-26'' wheel sizes. And while those points are certainly all valid, there is a reason the large majority of suspension forks on the market employ a traditional right-side-up layout: torsional rigidity, or rather the inherent lack of it in an inverted design. Inverted forks are ubiquitous in the motorized off-road world, as proponents of the design are quick to point out, although it could just as easily be argued that weight is much less of a concern on a dirt bike, therefore allowing for massive tube diameters, thicker tube walls, and burly crown and axle clamps, all features that make for a much stiffer (and heavier) fork. But even when similar methods are applied to the front end of a mountain bike, the result can't approach the outright stiffer design of a right-side-up fork. Is that necessarily a bad thing, though? ''
Compliance on a mountain bike can be a great advantage but it must be in the right locations,
'' says DVO's Bryson Martin. ''
As more DH and Enduro frames are made from carbon where stiffness is generally accepted, the suspension must become more compliant - structurally and hydraulically - to optimize the entire bike.
''
---
We feel that the industry puts too much emphasis on stiffness in general. Stiffer doesn't always mean better.
- Bryson Martin, DVO
---
The general consensus for most mountain bikers, though, is that one's front-end can never be too torsionally rigid - it is a mantra that has been drilled home thanks in large part to manufacturers claiming massive gains in stiffness with every new product. But is stiffer actually better? There is certainly a point where too much torsional flex will begin to have a very negative effect on performance, making for vague and unsettling handling but, as Martin alludes to, just the right amount of torsional compliance can also allow the front wheel to track more smoothly on rough ground, something that designers at the top flight of MotoGP, among other sports, have known about for many years. It is a little known fact that, during testing, one downhilling's most successful racers actually cut the arch off of his right-side-up fork in a search for more torsional compliance! So, if a given amount of torsional compliance can be an advantage, the question remains: how to tune-in the desired amount without creating an overweight fork? DVO's answer lies in their proprietary Carbon Torsion Arch, or CTA for short.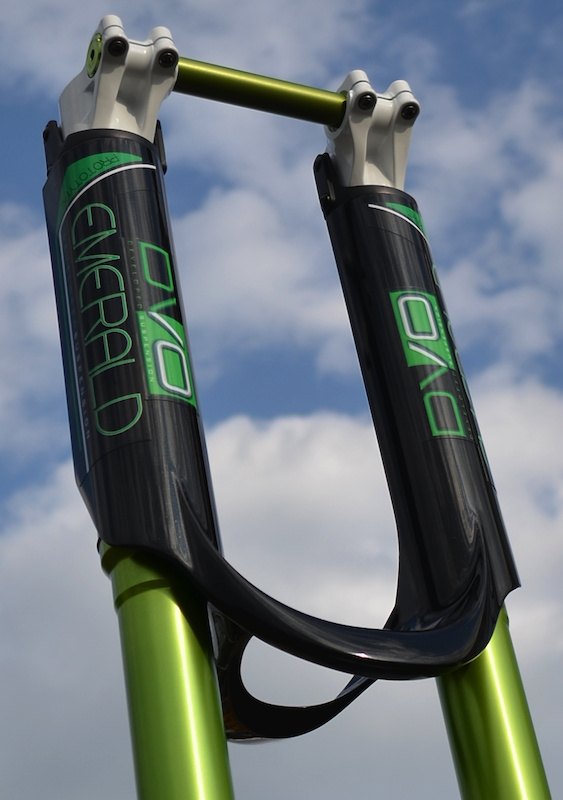 Carbon Torsion Arch
Likely the biggest talking point of the Emerald will no doubt be the carbon fiber, bolt-on CTA unit that serves to not only protect the stanchions from damage and as a fender, but also to tie the lower legs together to increase torsional rigidity by a claimed 50% over the same Emerald fork without the CTA in place. The basic idea isn't new - riders who have been in the sport since the mid-90s will likely recall the inverted, elastomer-sprung and air-damped Halson fork that had its lowers joined together via a brace that traveled vertically by way of slots machined into the fork's uppers. The CTA's execution looks to be much more impressive, but we'll need some trail-time on the Emerald to see just how effective it actually is.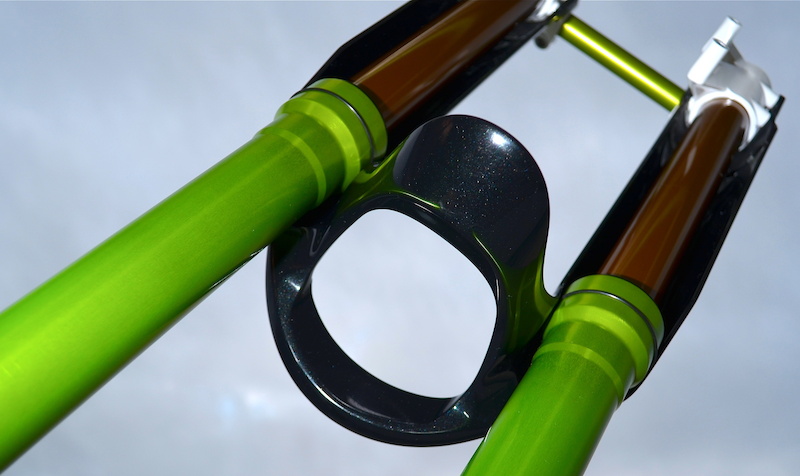 The unit features a unique core (Martin was reluctant to share certain details at this point in time) within its otherwise full carbon fiber construction, with the design said to resist torsional loads while still being light, strong, and durable. DVO isn't simply trying to add as much rigidity as possible by incorporating the CTA unit, though, with Martin stating that ''
This design will still offer some pliability, especially useful in rough, straight line sections, while providing stiffness in corners.
'' A number of different CTA elements are in testing that use varying carbon layups with an eye toward a final design that offers the rigidity and balance DVO is looking for. The idea for the bolt-on carbon element came about well into the fork's development; DVO was investigating how axle size and shape factored in long before the Carbon Torsion Arch was added to the Emerald's spec sheet. Interestingly, the idea of a hex-shaped axle (much liked those utilized on Manitou forks) was nixed when DVO found that increasing the overall clamping surface area of the axle proved to be a more efficient way to control slipping and flex. No, you won't find some oddball-sized axle utilized on the Emerald, but rather a very stout looking 20mm setup.
---
Being competitive in weight is definitely high on the list, but performance, reliability, and strength was more important for us, especially for the kind of abuse a suspension fork endures. 2,900 - 3000 grams is our target and we hope we are close but, more importantly, we want people to be stoked on the performance, adjustability, and durability of the fork.
- Bryson Martin, DVO
---
There is no denying that the Carbon Torsion Arch concept is a clever way to go about increasing torsional rigidity without adding too much weight - DVO claims that it should only add about 200 grams to the package - but the question remains as to why such a design hasn't yet been put to use in the motocross or enduro realms. If the CTA unit is as effective as DVO asserts we may see it pop up in other places as well, including an inverted single crown fork further down the road, although that could be a ways out at this point. "
We always want to look at each project individually and design a product that is optimized for its specific use.
'' Martin continues, ''
It follows our plan to stay focused and not just throw gizmos and features into a product that ultimately drives up cost and over complicates things for the end user.
''
Twin Tube Damper
The two most common damper layouts currently being employed within forks are either a sealed cartridge layout (FOX with their FIT cartridges, and RockShox, who turn the stanchion tube into the cartridge body) or an open bath cartridge (ala Marzocchi), with advantages and disadvantages to both designs when it comes to performance and weight. The Emerald doesn't make use of either one, though, instead employing an open bath twin tube layout that DVO feels is much better suited to long travel applications. ''
A pure open bath system can have issues with aeration and cavitation, as well as having too much oil that adds unnecessary weight,
'' Martin says. ''
Twin tubes solve those issues, keeping damping consistent and oil volume to a minimum.
'' And while damper design is a topic that often results in endless arguments as to what actually does function best, the twin tube system is is found within some of the most acclaimed off-road moto suspension designs, especially those created by a certain highly rated Swedish company. A moto-inspired philosophy is one that rings true through much of DVO's thinking.
While DVO is adamant that the open design of their twin tube damper makes the most sense for a pure DH fork, we might see something entirely different utilized within any shorter travel forks they may or may not produce down the road. According to Bryson, "
There is more of an advantage to running a closed system on a fork with less than 160mm of travel compared to using the same system on a fork with 203mm of travel..
" This train of thought is in contrast to some other suspension companies who employ the same basic damper philosophy throughout their high-end fork lineup, be it a cross-country or longer stroke downhill offering.
---
When it comes to damping, it isn't about reinventing what has been proven in other areas, but about delivering value and performance to the end user, without the gizmos and hard to service designs.
- Bryson Martin, DVO
---
The twin tube, open bath damper is exactly as its name would have you believe, with a secondary tube that sits within the fork. The damper piston travels up and down within this tube, but as opposed to it being sealed, oil ports on the wall of the tube allow damping oil to circulate between the inner and outer tubes, and through the valving. This layout should result in less cavitation (the formation of bubbles and foaming of oil under hard use), making for more consistent damping, and an optimized oil level that also acts as lubrication to keep the fork cycling smoothy through its stroke. Enclosed in the damper body is DVO's 'Emerald Valve', otherwise known as the piston. DVO has gone to great lengths to create a piston that permits a lot of oil flow via smooth, open porting. This lets them control the fork's damping characteristics with more shims than would otherwise be required of a lower-flow piston, the advantage of this being a large degree of tuning by way of using more and different shims. The fork also uses shimmed rebound damping as opposed to a ported system, which is what some other suspension companies employ. Ported damping refers to oil flow through small holes, known as ports. One potential issue with ported damping is that at times oil simply cannot flow fast enough through the ports when required, resulting in very inconsistent damping. Shimmed rebound, on the other hand, allows for the same dynamic damping (the shims flex more or less depending on the forces involved) as found on the high-speed compression side of the piston.
User Tuneable Damper
The moto-inspired approach continues with DVO's decision to not only allow Emerald owners access to the entire damper assembly, but actually encouraging them to try their hand at tuning it. This is the exact opposite strategy that most suspension companies within the mountain bike world have taken throughout the sport's history (Manitou is an exception, though, with their Absolute Plus Tuning kit), with many riders being downright scared of opening up their fork or shock as a result. Yes, a certain amount of knowledge and skill are required, not to mention the correct tools for the job, but it is far from being rocket science. DVO will offer not only tuning kits, complete with shim layout suggestions and the expected results, but also on-line videos that will guide owners through the process. Taking it a step further, they also plan to hold in-house tech seminars for those who really want to jump into the deep end of tuning.
---
Since we rely heavily on piston and shim stacks to handle our damping, we have designed our pistons to be easily accessed so individual shim stack tuning can happen. Once the rider becomes comfortable with working on the suspension, it is very interesting to test different settings tailored to specific riding areas and skill level. We are committed to teaching riders all about suspension and we will provide a lot of information on how to tune our products so you can become your own suspension tuning guru!
- Bryson Martin, DVO
---
Further helping matters is the Emerald's 'bottom loader' base valve that should allow owners to make changes to the damper without having to perform a full rebuild. Simply flip the fork (or bike) upside down, unscrew the compression base valve from the bottom of the fork leg, and pull it out. Minimal, if any, oil loss should occur. All dials are contained on the assembly, meaning that you won't have to fiddle with near-microscopic set screws or any tiny indexing ball bearings or springs. We've long said that most mountain bike suspension companies seem to go out of their way to make damper service and tuning a huge hassle, and it is a breath of fresh air to hear DVO's approach - garage tinkerers rejoice.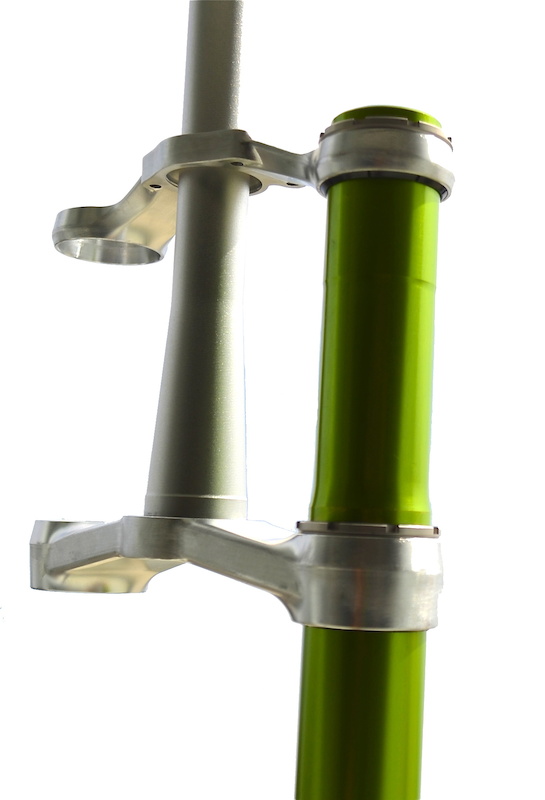 Titanium Collet Clamps
All current double crown forks in the MTB and the MX world utilize some sort of pinch-bolt system to hold the upper tubes in place, but DVO is considering a different method: collets. The collet system used on the Emerald consists of tube sections with vertical splines and an external wedge shape. Tightening a threaded ring (with the required spanner wrench) that is positioned above pulls the section upwards, locking the fork tube in place due to the wedge-shaped internal profile of the section. It is very similar to what is used to hold tool bits securely into high rpm machines (drills and CNC machines for example), although this would be the first time that a collet setup has been put to use to hold fork tubes in place. One upside of the collet design is the large and even clamping force it provides, but the system could also result in a lighter overall package compared to the more common pinch bolt arrangement. While all of the above sounds good on paper, and the design should present no technical issues due to the robust upper tubes of the Emerald fork, production costs may keep the collet clamping system from reaching production. If so, a standard pinch bolt design will likely be used on 2014 model year forks, with DVO hoping to put the collet system to use on 2015 products.
26'' and 650B-specific Crowns
While we're seeing 650B wheels infiltrate the mid-travel full suspension market at an alarming rate, the 26'' wheel is still firmly entrenched within the longer-travel downhill scene. That very well could change in the near future, though, and DVO plans to be ready for the shift. The Emerald's inverted design lends itself to being compatible across a number of wheel sizes by way of different fork crowns, with each setup optimized to preserve the same trail geometry, and therefore handling, across the board. Trail refers to the measurement aft of the steering axis that is created by the fork offset, head angle, and wheel size - a larger trail figure can improve high-speed stability, while less trail can create a more nimble handling bike. Messing with trail figures can have very adverse effects on how a bike handles, so it is vital
that the number remains largely unchanged, a trick that employing differently offset fork crowns on an inverted chassis can accomplish. The 650B fork crowns will be slightly taller to handle the larger diameter wheel, as will the Carbon Torsion Arch unit. DVO is undecided as to if they will offer 650B conversion crowns and the CTA as an aftermarket item for the Emerald, but we're betting that we'll see them at some point in the future as the 'tweener wheels make their way onto true downhill race bikes. There is no word as to if DVO will offer a set of crowns and CTA that would allow 29'' wheels to be fitted, although if that did happen we would also expect the fork's travel to be docked slightly.
Shots Fired
While DVO is just now assembling their first complete Emerald forks, and production units aren't slated for release until Summer of 2013, we feel that there is a lot to look forward to from the newly formed company. Bryson Martin and his team are responsible for much of Marzocchi's most successful products, but moved on as the landscape of the Italian company began to shift.
''We spent decades at Marzocchi, and they were a major player for a long time,
'' says Martin of the Italian company's glory days.
''Things started going sideways with Marzocchi many years ago, though. These were issues outside of our control and we just held in there until we couldn't anymore.
'' It is still very early days, but Martin's separation from Marzocchi may have spawned a new suspension authority, one that aims to respond to what many consumers have been requesting for years: reliable suspension that is not only easy to work on and understand, but that also looks to mimic much of the principles found in the moto domain. And yes, it will be available in colours other than green.
---
Carbon fiber upper tubes and crown? The clamps are currently not a one piece unit, but we are working on it for a future version. A one piece carbon assembly involves a lot of testing, and it is something that we don't want to rush into.
- Bryson Martin, DVO
---
Only time will tell if DVO's approach to high-end suspension will culminate in a winning product, but they certainly look to be on the right track. The Emerald may still be in the early stages of its evolution, but Martin is already talking up a version of the fork that will use a one piece carbon fiber upper assembly, not to mention the possibility of an inverted single crown fork added to the lineup. A rear shock is also being developed concurrently with the Emerald fork, and there is no doubt that it will carry the same moto-inspired DNA. No, DVO may not be looking to take a share of the large entry and mid-level suspension market, but it's fair to say that the reigning suspension powers are likely looking over their shoulder when it comes to their high-end offerings. We'd by lying if we said we aren't looking forward to seeing them rock the boat. Exciting times ahead.
www.dvosuspension.com
Follow Mike Levy
@MikeLevyPB