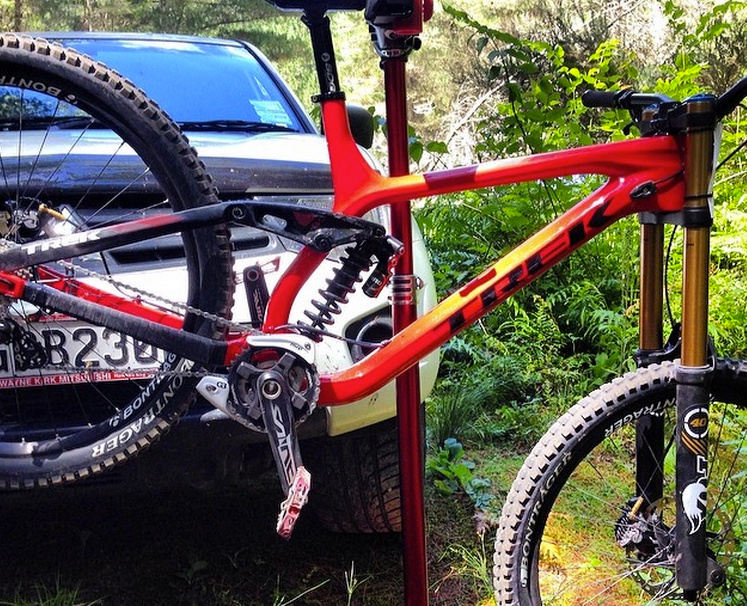 Photo: Brook MacDonald, Instagram
New Zealand's Brook MacDonald just uploaded a photo of his prototype 650B wheeled Trek Session race bike, the machine that he'll be aboard for this weekend's National Championships in Rotorua. While there's no real concrete info at this point, it's clear to see that the bike employs the same ABP and Full Floater suspension layout that the Session has used in the past. Comparing the frame to the current production model does seem to show some slightly different shaping in the carbon tubing, however, and it is very likely that this prototype sees different geometry to work with the larger wheel size when compared to the standard 26" wheeled bike.
It's also worth pointing out what looks to be a more developed version of the prototype FOX RAD-spec shock that we
spotted at last year's World Champs event
. Its adjusters are much cleaner than that early version, and the shock's piggy back also appears to be quite a bit shorter as well. The fork is a FOX 40 Float RC2 with 650B compatible lowers with seven millimeters of added offset compared to the 26" model in order to correct for proper trail geometry, and it's likely that its internals have been given the RAD treatment that includes different valving, lower friction seals, and Kashima coating applied to the damper and air rods.
Stay tuned for a detailed bike check
www.trekbikes.com